From the moment I set eyes on our hall bathroom I had a mirror in mind for it.  I didn't know where I would get this mirror but I knew the shape it was calling out for.  Luckily I was at an antique store shortly after and found the perfect mirror for the space.  Unfortunately we realized the new mirror would require us to move the electrical boxes in the bathroom, bummer. After moping around for a little bit I realized I needed to stop and make a plan.  I came up with some ideas to help the bathroom feel more 'us' until we later on did a full redo.  Luckily most of the hard finishes we inherited are decent.  The bathtub has plain square white tile and the floor is a small square brown tile.  The floor tile isn't my favorite but it's not the worst thing in the world either.  I'll talk about the vanity counters further down in the post.  Based on ideas I'd been collecting here is the mood board I came up with: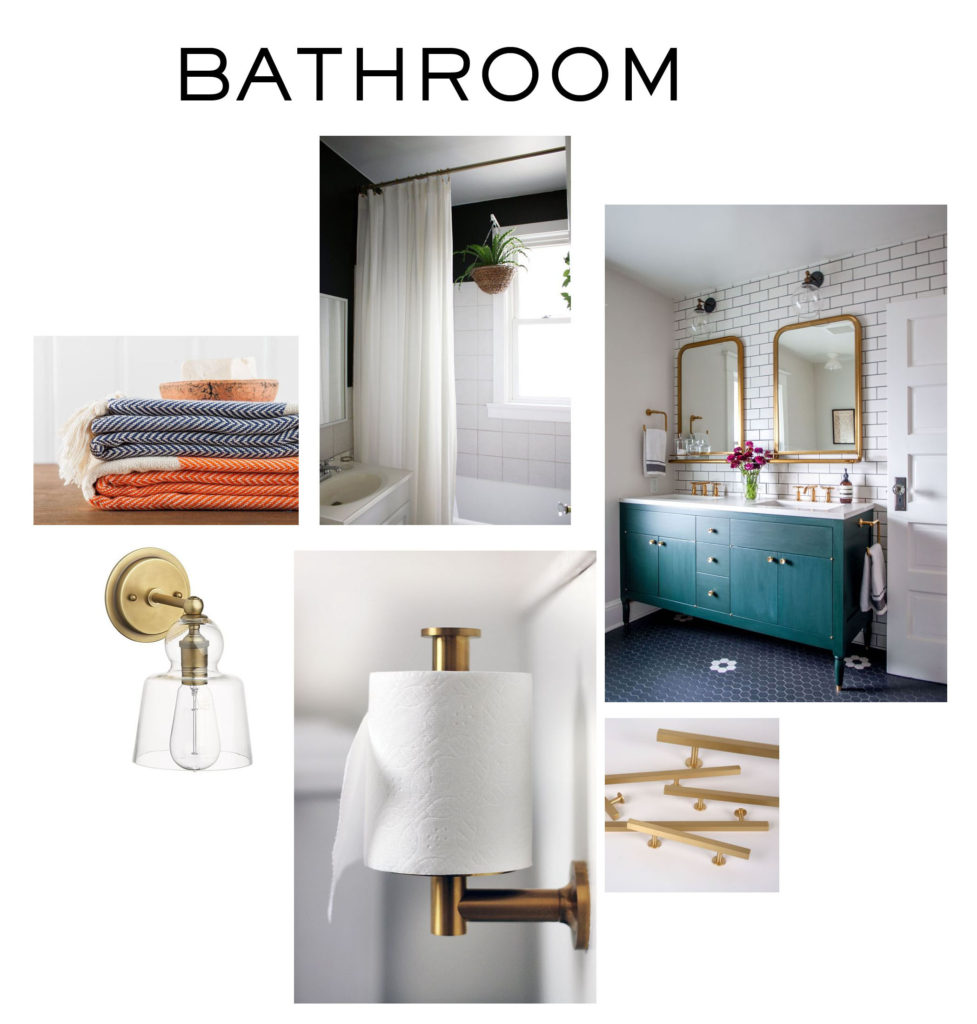 Before I continue I want to say that if you don't have the ability to make a mood board that's A-OK.  I would argue most people won't be making a mood board, so don't beat yourself up over not doing one.  I am a visual person and felt like nothing in my house was making sense so I created a series of mood boards to help me see a more overall picture of where I wanted my home to go.
The board helped me pair down lots of ideas that I had floating around, and tho my bathroom isn't a total copy of above it did help me determine things that I knew I did want.  I decided early on that I wanted to paint our bathroom vanity.  Our vanities are original to when the home was built and they aren't anything special.  The counter tops were swapped before we bought the house.  They aren't our taste at all.  However knowing that eventually I want a new bathroom they don't make the cut list for me to change now.  Painting the vanity felt like a no-risk, win-win, situation.
THINGS I KNEW I WANTED:
Gold Hardware:  It's definitely trendy at the moment but I like it. Since I'm not attached the the vanity and hardware is overall inexpensive so I went for it.  I didn't replace the toilet paper holder because we have a similar one in chrome.  (As a side note, the open end toilet paper holder is a game changer for getting people to change the toilet paper roll!)
Those lights had been on my list for this house since day one and were a no brainer for the bathroom.
Peshtemals:  I had been wanting to join the Turkish towel game so this was the time to add some in.
Floor to Ceiling Shower Curtain:  They make small bathrooms look so much bigger.
Ok – so fast forward a few months to us digging into the electrical work for the bathroom.  We realized that the mirror wasn't going to work with the lights (BOO).  I was super bummed since those had been on my wish list since the very beginning.  But the search for gold sconces started.  I had never bought scones for a bathroom before so this was a first for me.  As someone who always over agonizes about decisions, making the choice was hard!  I was sad that the ones I had my heart set on weren't going to work.  I really loved the gold finish and our home has lighting with other gold finishes so it felt like it would create good flow.  In the end I narrowed it down to a few different options, here are the ones I considered:
One thing that wasn't on my mood board was the wall color.  My house has a lot of brown.  It's a very warm tone house.  Early on I figured out that bright white in here can look 'off'.  Well friends, learn from me in this instance.
The entire time I had been planning this room I was planning on using a warm, creamy white.  We have this color in lots of places on our main level, installed a similar color in our basement to begin with, and it seemed like a good fit with the existing tile and changes I was going to make.  Dun, dun, dun – at the last minute I didn't do it.  I had a full gallon of pure white paint in the garage that I had picked up for another project but ended up not using.  I rediscovered it the day before I was going to paint and despite in my gut knowing I shouldn't do it, I painted the bathroom bright white.  The whole time I was painting it I knew it was too bright and not right – but I pushed through it and did it anyway.  (WHY?!)
I've heard professional designers say that if you are using bright white in a cream toned house that a bathroom is the place to do it. This is because bathrooms naturally have white elements (sink, toilet, tub).  After it was all painted I realized that the only white element in the room that could be seen was the toilet.  Even worse, the room was so white that it made the counters the previous owners had installed stick out horribly.  Until I painted the room I didn't fully pay attention to the fact that the sink and countertop (an all in one moulded plastic thing) were cream/gold/orange.  Additionally I could not add a floor to ceiling white waffle weave curtain as planned.  It would have been WAY too much white.  I briefly looked around but in the end decided to DIY a shower curtain out of a painters drop cloth and grommets.  I went with the drop cloth because it was already finished around the edges and I thought it would bring an imperfect but good texture to the room.
Friends, this is where decor and styling can really save a project.  The room felt like a failure to me for a few days.  There was no art on the walls, no shower curtain, just a lot of white paint, an orange (in italics because it's not really orange, I just kept seeing orange) counter, and gold light fixtures (which seemed SO gold, and not in a great way).
I had several people tell me that the white paint was great or looked fine.  I just couldn't get one board. Luckily in this instance, I'm a bit of an art and decor hoarder.  So I started shopping the house. I began to pull out any art or accessory that I thought might work.  I gathered everything in the bathroom and started playing around with things until I started to feel balanced in the space.  The first incarnation of wall art was slightly different.  Instead of the large watercolor in the photos I pulled out a different watercolor I have at my house.  It is similar in size but the colors are muddier. I would have kept it in here except the following week I was at Salvation Army and found this watercolor.  It came framed for $5! I knew the shinier gold frame and bolder colors would be better – and they are!
Here is the listing photo with the previous owners decor: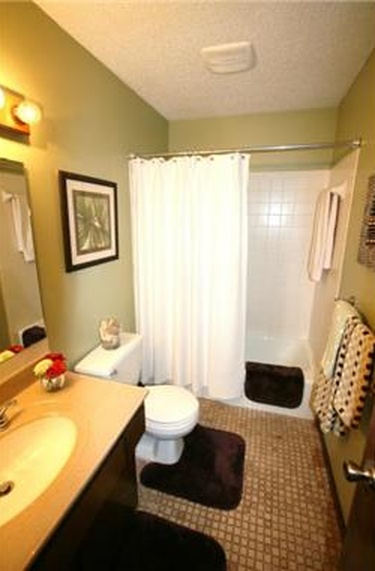 This room is hard to photograph because it's small.  I had to get in the tub to get some of these shots!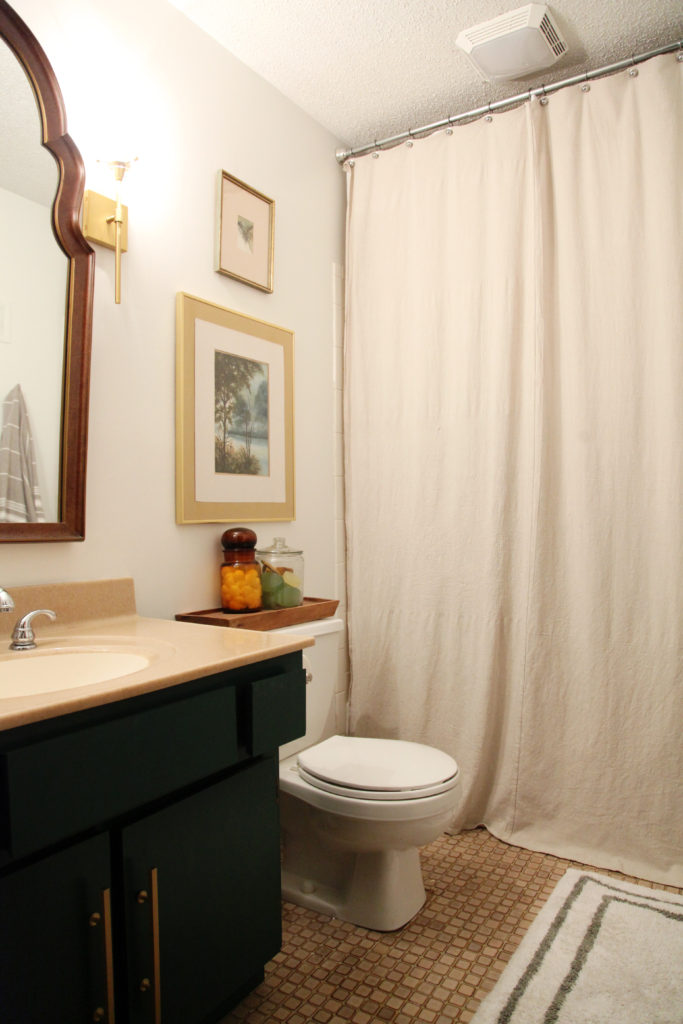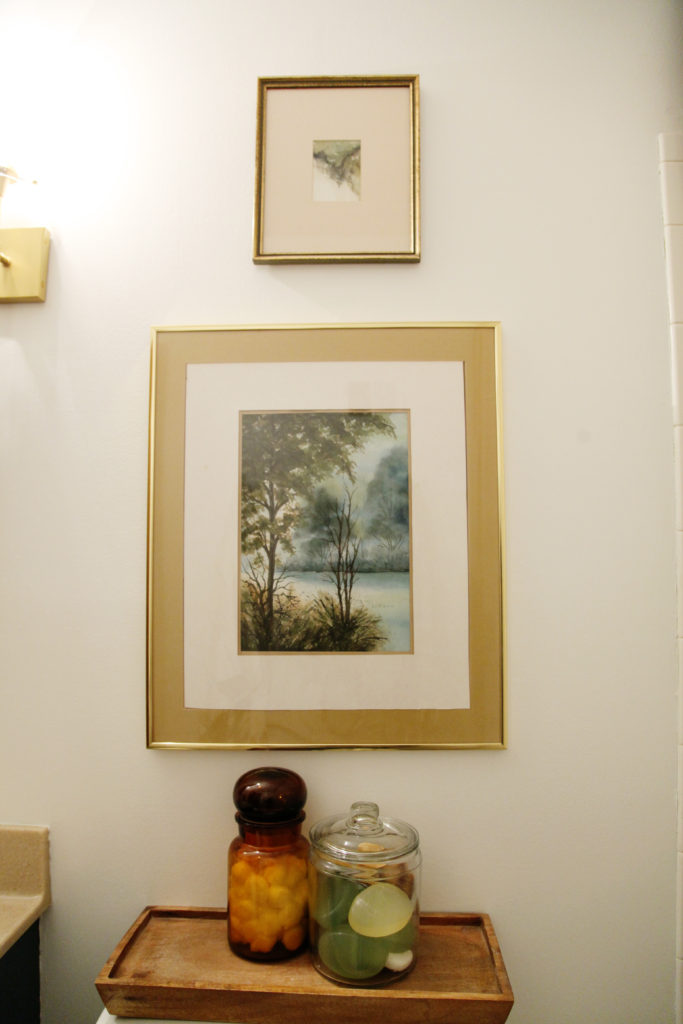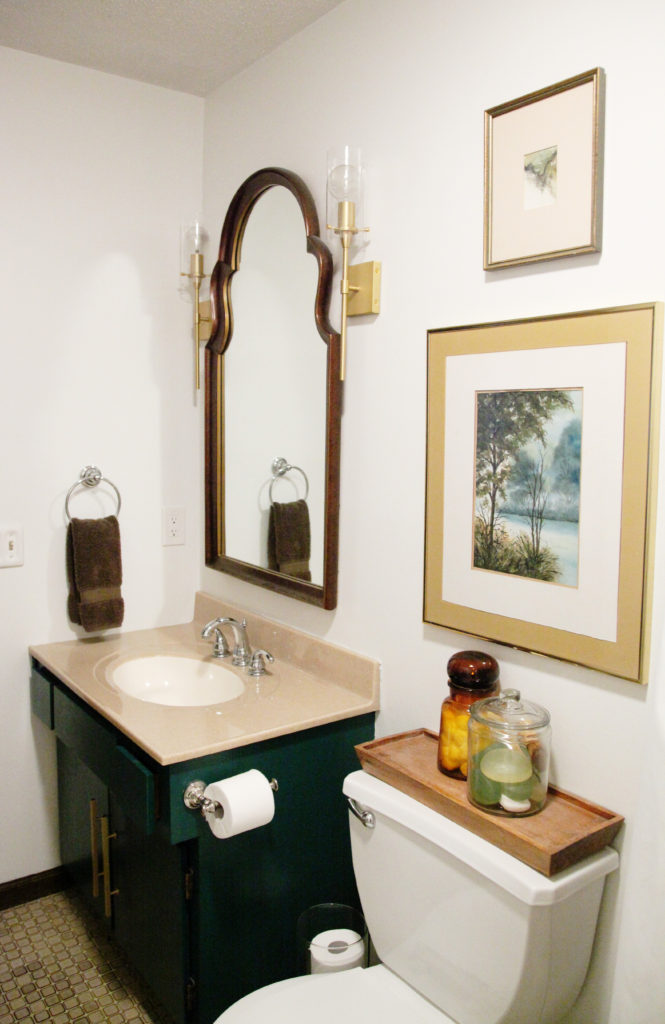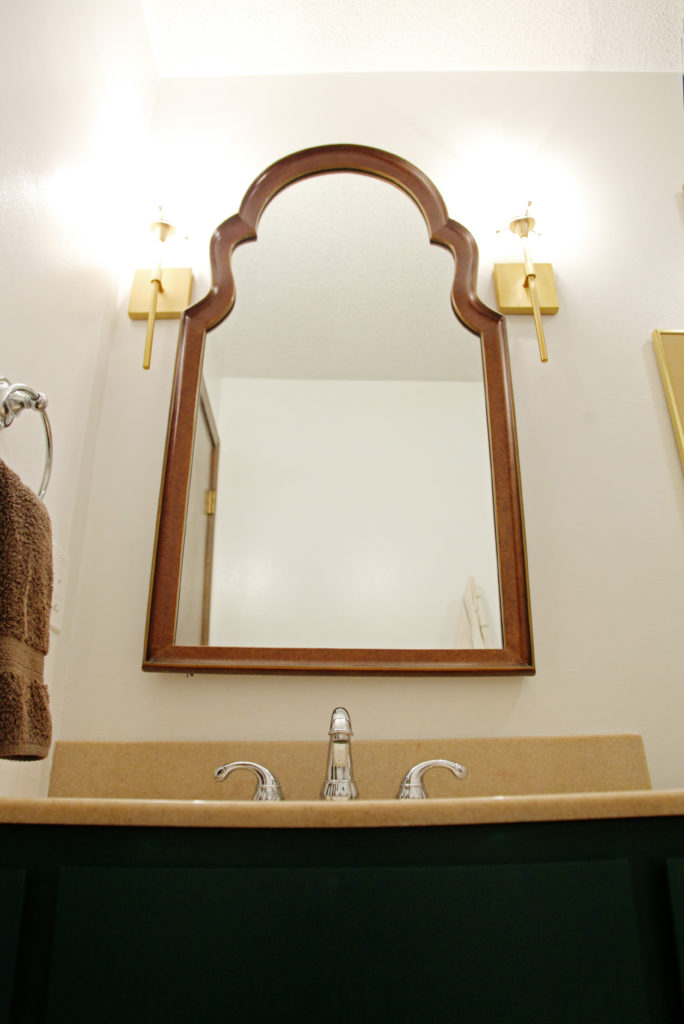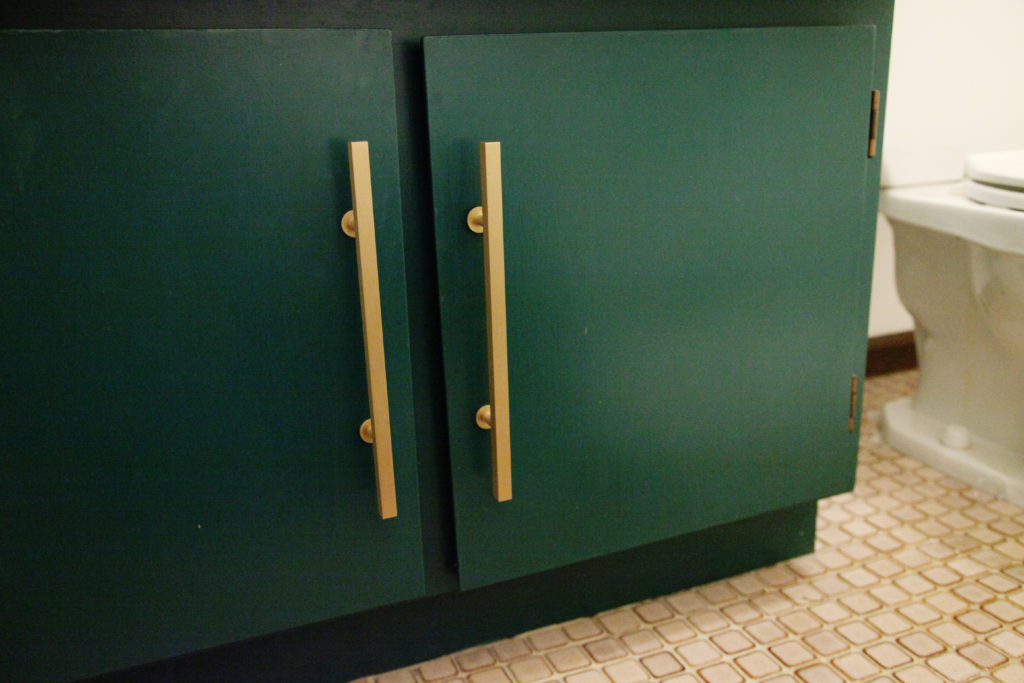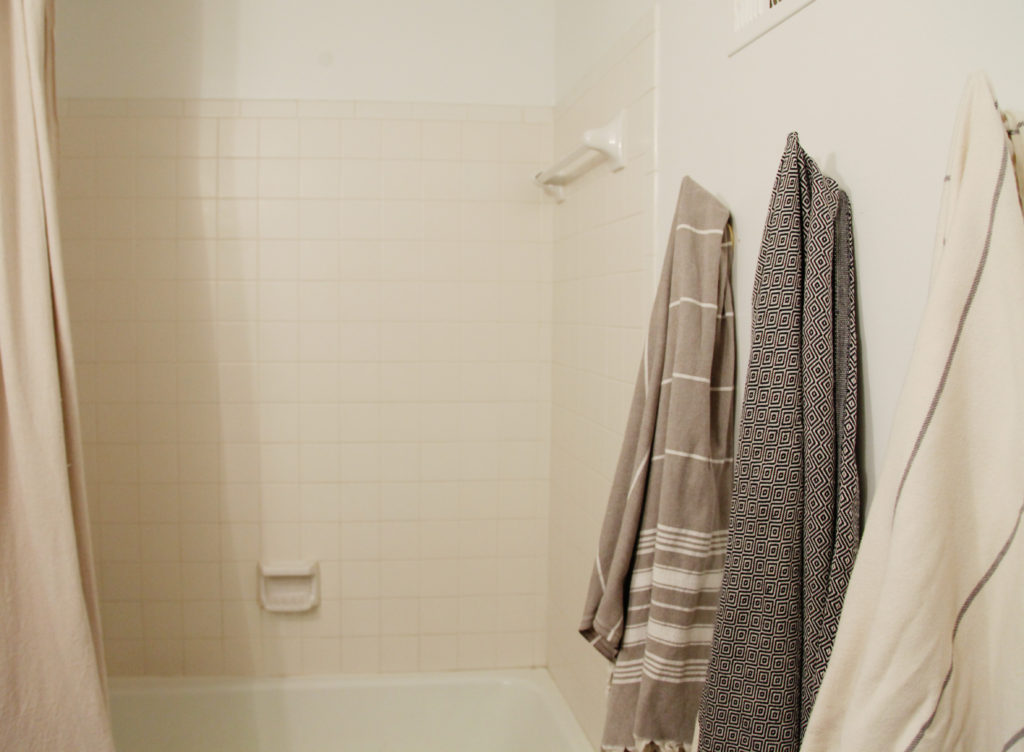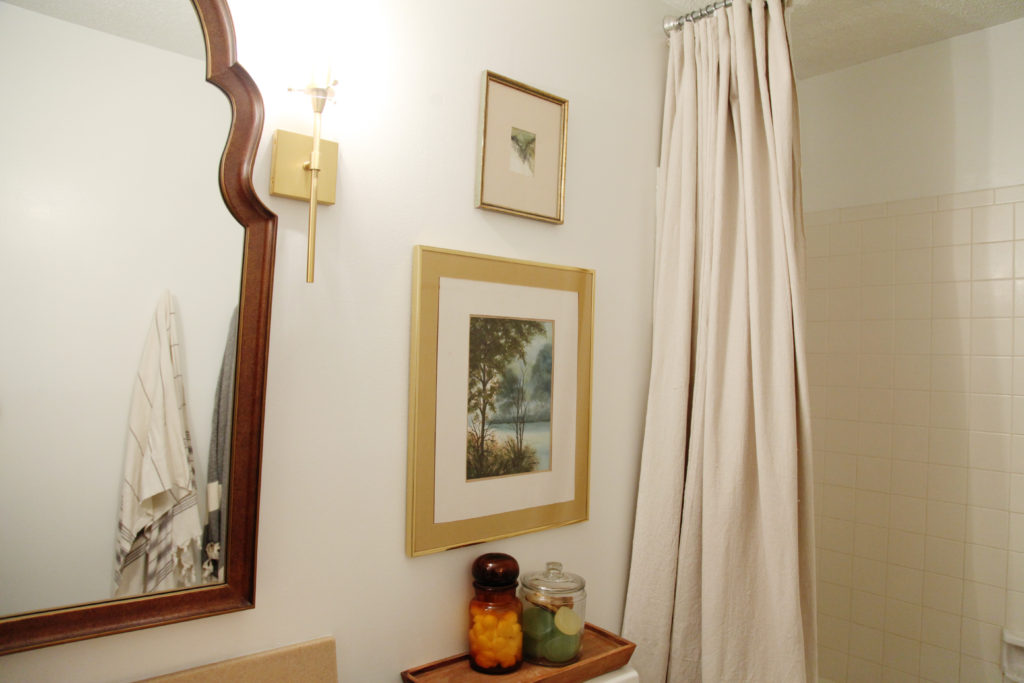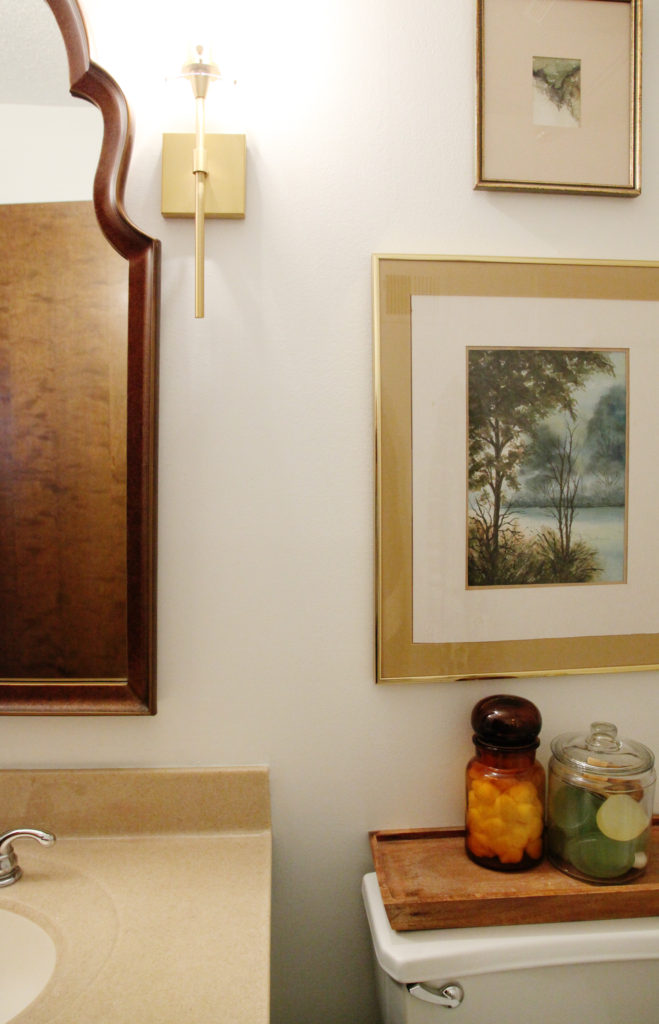 In the end I like this room.  Down the road I see us redoing all of the hard finishes, but it is not anywhere near the top of the list.  In the short term I will likely repaint to a warmer white and swap the sink/counter for a solid white vanity top.  Truthfully I think those two swaps will do wonders in my overall happiness in here.
Looking for something in this post?  Shop through the links below:
Don't forget to pin!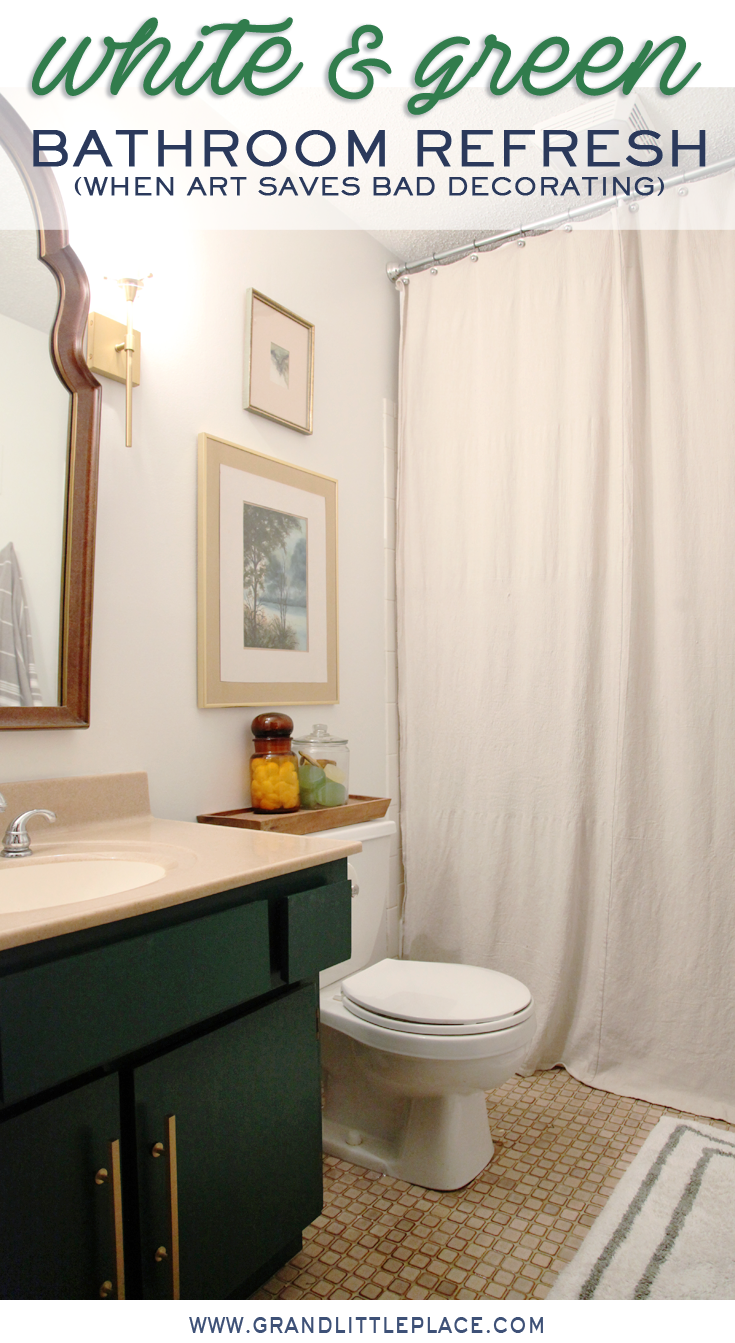 Some of the links in this post may contain affiliate links. That means if you purchase from the link I may receive a small commission. I only recommend products that I absolutely love and stand behind.