Everyone knows that kitchens and baths sell homes, right? Well if you're selling and your kitchen is less than stellar then today's post is especially for you.  You can trust me on this one because I lived with a less than awesome kitchen for 9 years and my house sold in 17 hours for over asking price!  (Lots of that is because I worked with a great realtor.  If you're in Kansas City call the Engle Home Team!)  Today I'm sharing my 4 best tips to staging your kitchen so your home sells fast.
Let's get a few things straight before we dive into staging your kitchen.  It is ok if your kitchen is outdated.  You don't need to embark on a kitchen renovation. There are instances where a new kitchen might be a sound investment.  Some of my good friends invested in a wonderful kitchen remodel and it was a huge payoff for them. They were positioned correctly for that situation. They were the exception not the rule.  For the purpose of this post I am going to assume that we are working with what you have.
Buyers are also accutely aware of the 'new granite countertop' trick.  New countertops do not mean that your kitchen is updated.  It means that you have old cabinents, backspash, appliances, and floors that do not match the shiny new granite countertop.  So again, unless it makes sense for your kitchen just skip it.  If you have an outdated kitchen it's ok to make improvements to it, just talk with your realtor about what makes the most sense for your homes location and selling price.
Our old kitchen was outdated.  (Heck, our new one is too….)  Out of all the spaces in our last house the kitchen was the one room we showed NO love to until we were nearly ready to move.  When we bought the space it had wood wainscoting, peeling wallpaper, no pantry and outdated everything.  I consider it the room that got away 😉  Knowing that we needed to do something but also knowing that we weren't going to do a full remodel, we spruced it up enough for it not to be the total eyesore of the home.  We replaced the counters with off the shelf laminate from lowes because the old counters were worn through in spots and were original 1970's.  We wanted to improve the space without over improving for the location and price of the home.
Our stager recommended we paint the cabinets and replace the appliances.  We opted not to because we felt like we wouldn't recoup that investment.  Since the cabinets are custom built some of the style choices are outdated, painting them wouldn't have masked that. We did consider replacing the corner glass to something more plain but didn't find a great alternative so we just let it be.  The wains coating was removed.  The plaster walls were in really rough shape.  We took a risk and ordered a paintable wallpaper from Graham and Brown.  It is a textured, paintable wallpaper.  To be honest we were really nervous that the wallpaper was going to be a bust.  It ended up being AWESOME.  It was great at covering up the lumpy, bumpy walls and provided us the ability to paint the walls.  Done & done!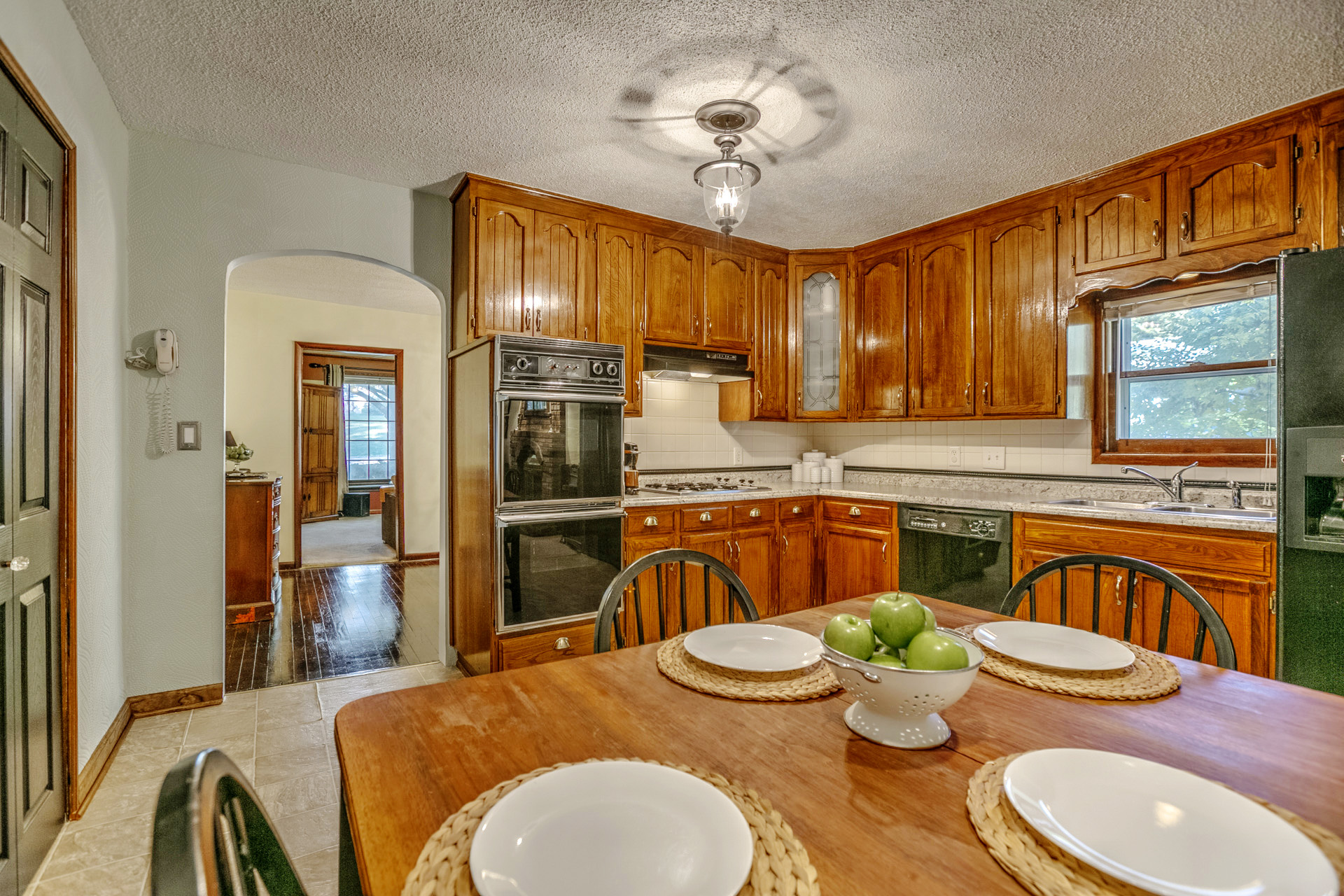 Take a good hard look at your kitchen.  Is everything in working order? How does it function?  Now think through things that you know could be an objection to a buyer.  Think through how the room functions and then think through how it looks.
Counters should be cleared.  It's ok to leave your canisters out unless your kitchen is very small.  If your counter space is teeny keep the counters totally clear.  You want buyers to see that there is ample space for food prep.  When you wipe your counters down for the last time before the photos use window cleaner – it helps everything shine. 🙂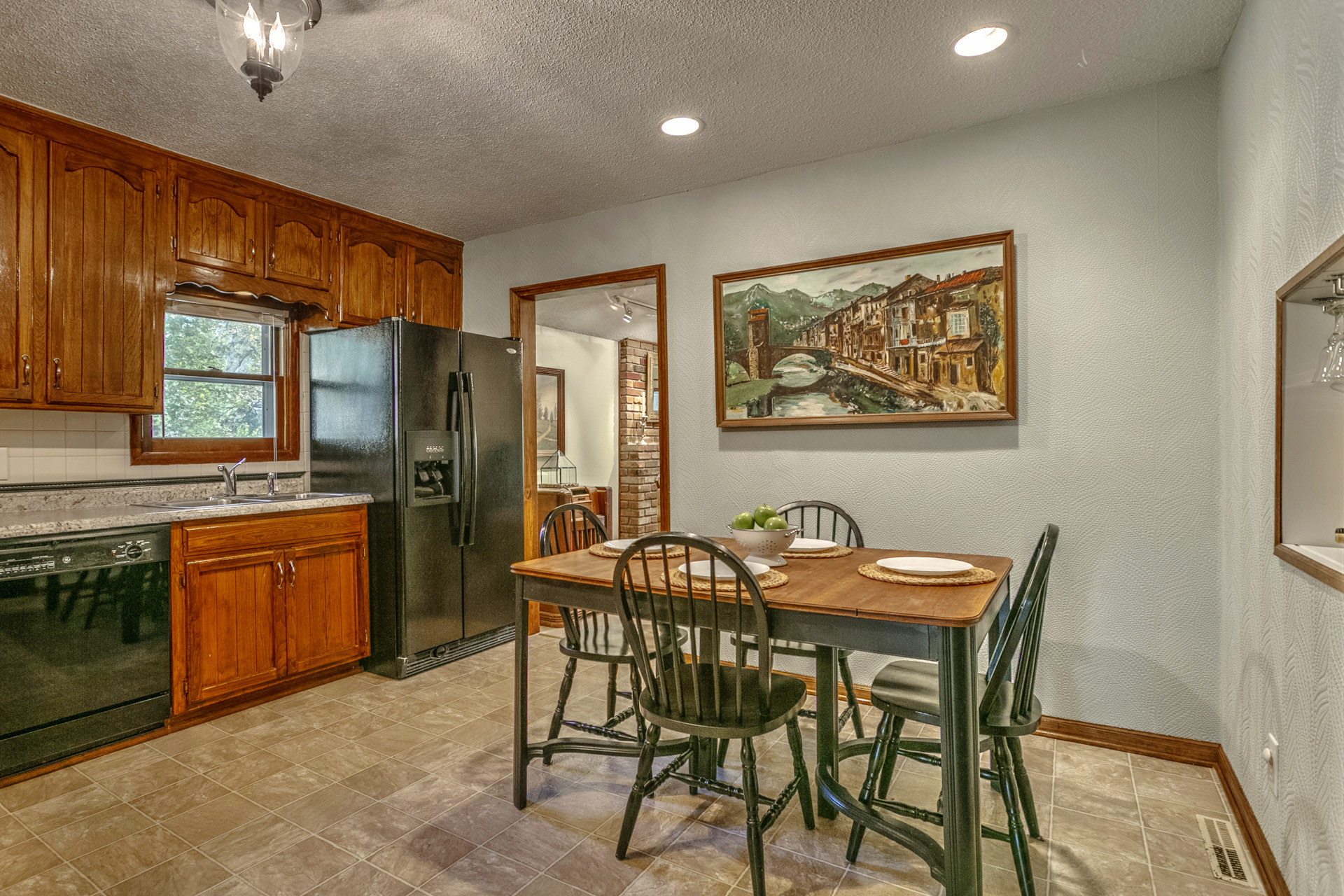 When staging your kitchen and dining tables you want to tell a story (just like every other space in your home).  It's easy to over set your tables so think in terms of texture and layers.  Don't busy the table with excess color, stick to neutrals.  For my table I pulled out round woven place mats, white plates, my white colander, and I grabbed a bag of green apples from the grocery store.  Don't worry about adding flatware.  It's small and just reads as  excess clutter in photos.
Shop my table (affiliate links):
4 Easy steps to stage your kitchen to sell fast:
Declutter

Don't forget to remove all the magnets from the refridgerator

Clean!
Organize cabinets and pantries.  Buyers love to see organization!
Tell a story

Set your table simply with neutral table settings
Set up small vignettes in specialty areas (coffee bars, islands, etc)
For those of you who have sold your home recently, what are your best tips for staging a kitchen?
Don't forget to pin!