When you are staging your home to sell you want to make the most of each bedroom & bathroom.  After all most people decide the size of home they want to buy by the number of bedrooms & bathrooms it has!  When your house is photographed it is going to tell everyone available on the internet how they can expect to live in your home.
As a rule master bedrooms should convey that they are a retreat to relax in.  Guest rooms should be inviting and comfortable.  Children's rooms should be tidy and in keeping with the tone of the home.  Neon colors and character themes should we swapped out for more neutral colors & tones.  Extremely bright colors generally turn buyers off and are a sign that a new owner will immediately need to paint.
As I covered on my blog earlier this week, What is Home Staging & Should I do It?, the first thing to do when staging is to declutter.  Buyers love to see tidy and organized closets.  Go ahead and pre-pack your off season clothing along with anything unusual that doesn't need to take up extra space in your closets.  This goes double for linen closets and bathroom cabinents.  Get rid of any lingering products under your bathroom sink and wipe out all of the drawers.  Organized storage spaces convey a message to buyers that the house has been maintained well, even down to the smallest spaces.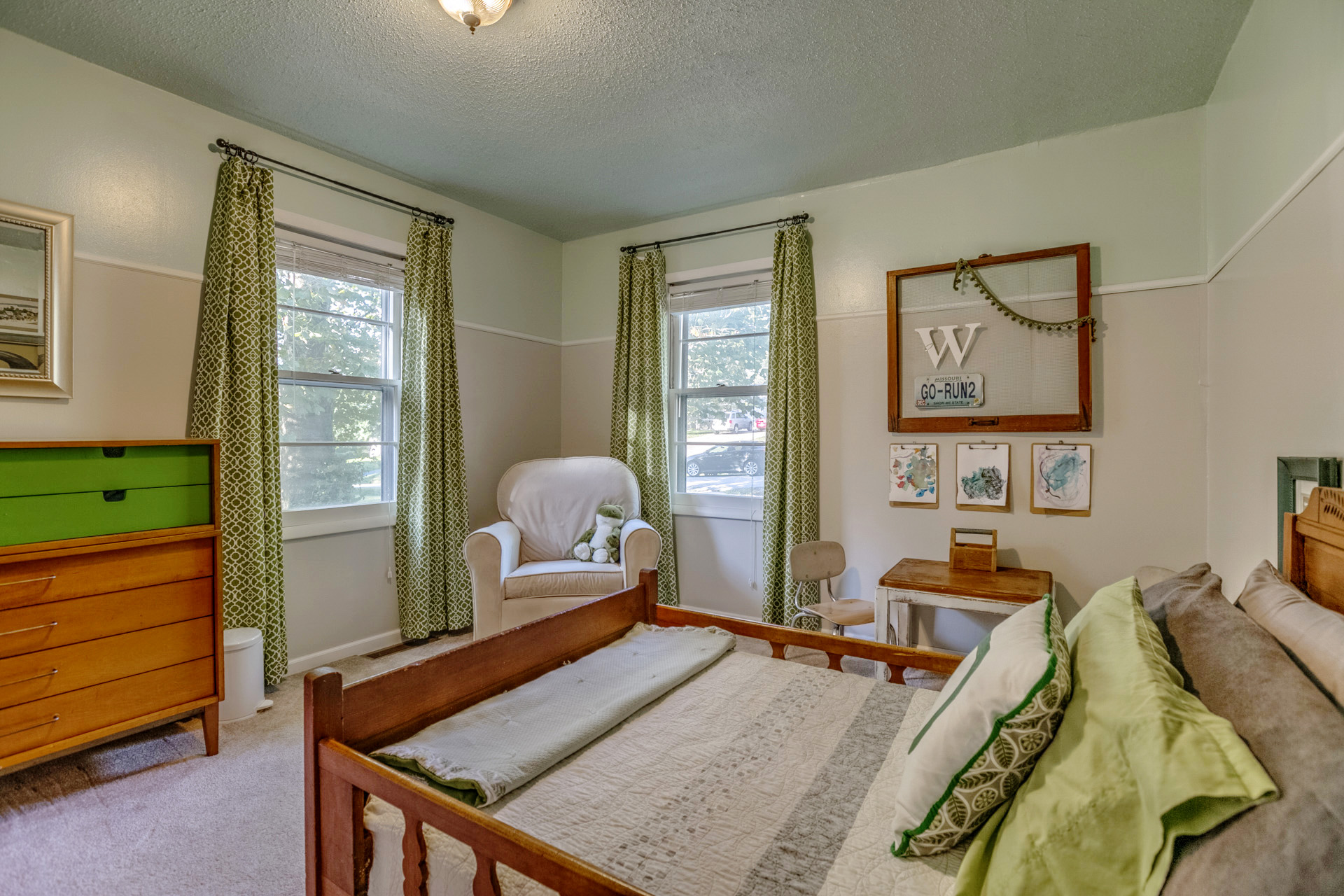 A bedroom should contain a bed and at least 1 dresser.  If there is enough room more furniture can be in there but if space is tight consider storing some pieces until the house sells.  The goal of staging your home is remove objections from buyers.  Small bedrooms can be a big objection. To make the most of your space use only furniture that is appropriately sized for the space.  Dressers should not be stored in closets.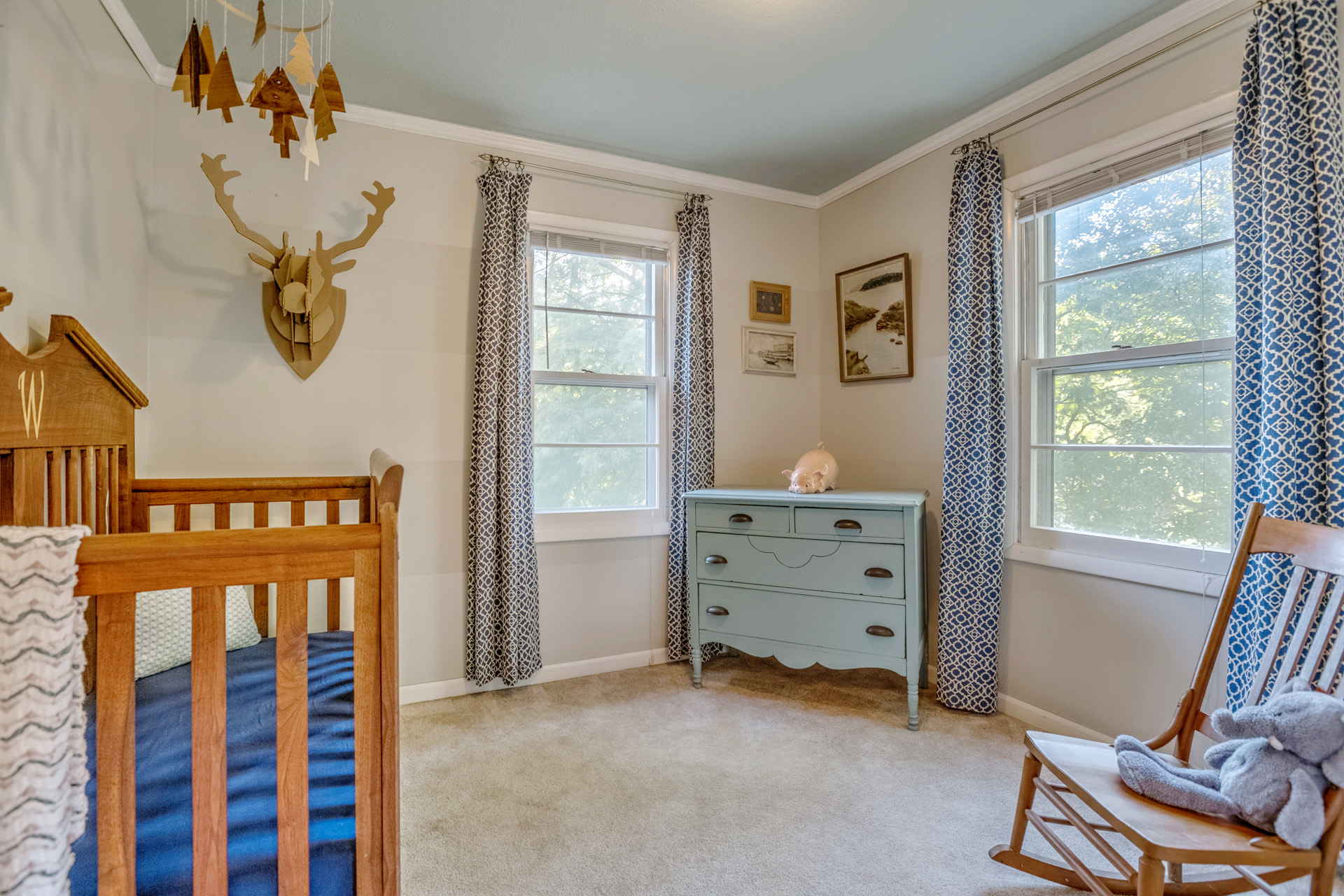 Your master bedroom should be set up as a retreat from the world, no matter what size the room is.  The easiest way to do this is to make sure your bed looks cozy and inviting.  No matter the season if you have a down comforter/duvet make sure to have that on your bed, the extra 'puff' will translate great in the photos.  If you don't have a fluffy comforter layer up some extra blankets under your quilt or bedspread and then fold a blanket at the foot of the bed.
I know a lot of people struggle with how to style the pillows on their bed.  For a professional looking bed there should be at least 3 layers of pillows, sometimes 4.  Closest to the wall are your sleeping pillows, in front of those are Euro Pillows or Shams and at the very front are your bed shams or decorative pillows.  This guide from Randi Garrett Designs is a great resource:

If you have an empty bedroom or room that could be set up as a bedroom I LOVE this idea from DIY Home Staging Tips about how to fake a bed using an air mattress and plastic crates!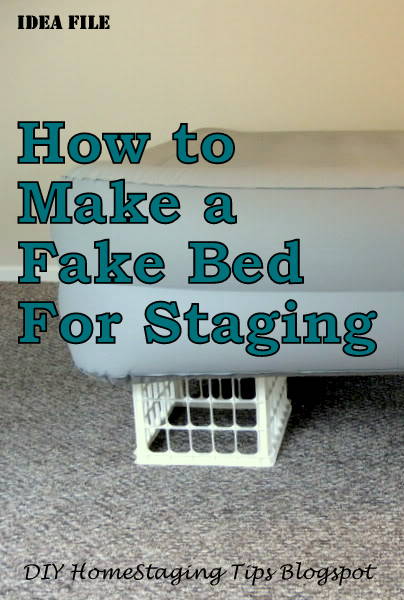 Alright, let's talk bathrooms.  Bathrooms are easy to stage.  As a rule in this room less is more.  Remove all personal hygeine items and neatly store them in a drawer or somewhere hidden.  If you have accessories in the room keep them painfully simple.  (Cotton balls in a glass jar, soap in a jar, etc.) In most bathrooms a single piece of art will do.  Your bathrooms should be clean, tidy, and as spa-like as possible.
Fluffy towels are the main item to display in the bathroom.  This is a good tutorial on how to wash old towels to fluff them up.  If that fails use a designers trick and fold two thinner towels together to give the illusion of thicker towels.  Or of course you can always buy 2 new towels (with coordinating hand towels and wash clothes) also.  Fold your towels over the towel bar and layer the hand towel &/or wash clothes over the top of those.  Make sure their is also a hand towel near the sink.  If you are going to purchase any item for staging make it nice, white, fluffy towels.  (Unless your bathroom is white then choose something neutral.)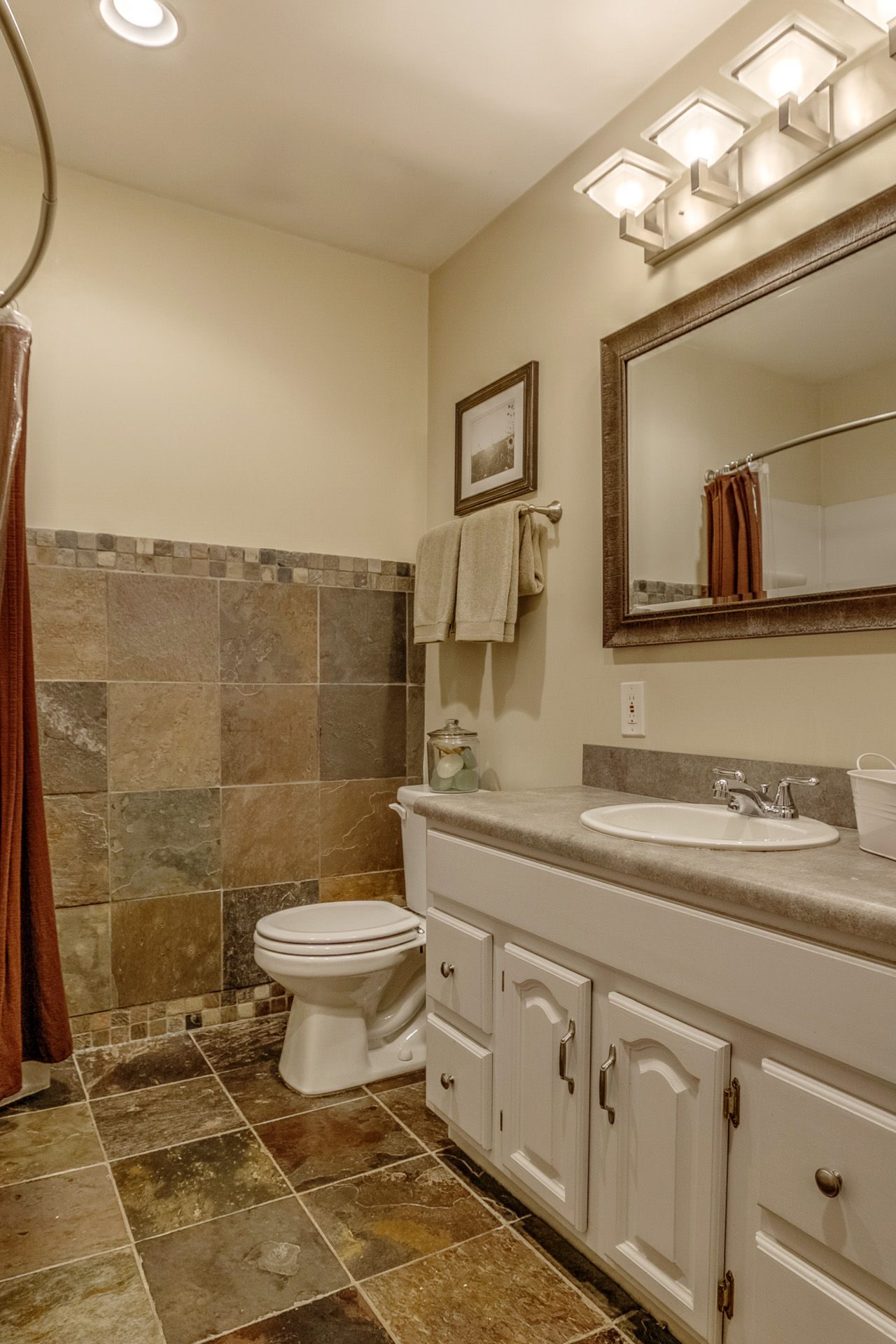 Shower curtains should be neutral, without loud or distracting patterns.  White waffle weave shower curtains are always a classic choice.  If you have the option to hang your shower curtain then hang it at the ceiling and buy an extra long shower curtain, it will automatically make your bathroom seem taller.  When it comes time for the bathroom to be photographed pull the shower curtain half open.  Buyers are buying the shower, not the curtain.  Make sure to remove all products from the shower and to store any bath toys in a cabinet.
Go through every cabinet and linen closet, declutter, purge, clean, and organize – and then do it again.  Your bathroom should be spotless.  Toilets, sinks, tubs and showers need to be cleaned to perfection!  Afterall, would you want to buy a dirty bathroom?
Selling your house is no easy task, to help you keep on top of your staging priorities I've created an easy PDF checklist and guide.  The printable gives tips to help throughout your home staging as well as ample room for you to write your specific plans.  To get your copy subscribe to my email list and you'll get immediate access!

Don't forget to pin!