After purchasing our first house I found myself lamenting that we hadn't gone for something with more character. That we had bought a less boring house.  Our home was the largest we could afford on our barely-adult salaries.  The house had interesting things about it and it certainly ended up being something we loved in the end.  But one thing about owning a ranch home, is that more or less, the spaces are pretty straight forward.  They can be boring if you don't really dig into them.  Rooms are going to be mostly square, you'll have hallways, and ceilings will be average height.  It's an average space, especially if you're scrolling social media and seeing everyone's cute as a button cottages.
This drove me crazy for a looooooong time.  Then I had an epiphany – I didn't have a single thing in my house bossing me around. NOTHING.  My house was WAITING for me to make it un-boring!  And the only thing that could stop me from making our house awesome was me.  My rooms were totally blank canvas's, they were a DIY'ers dream.  They were better than blank.  They were spaces that were easy to change, which meant that the sky was the limit for what I could do!  Suddenly my boring house exploded with possibilities.  Click here to take a tour of our ranch home.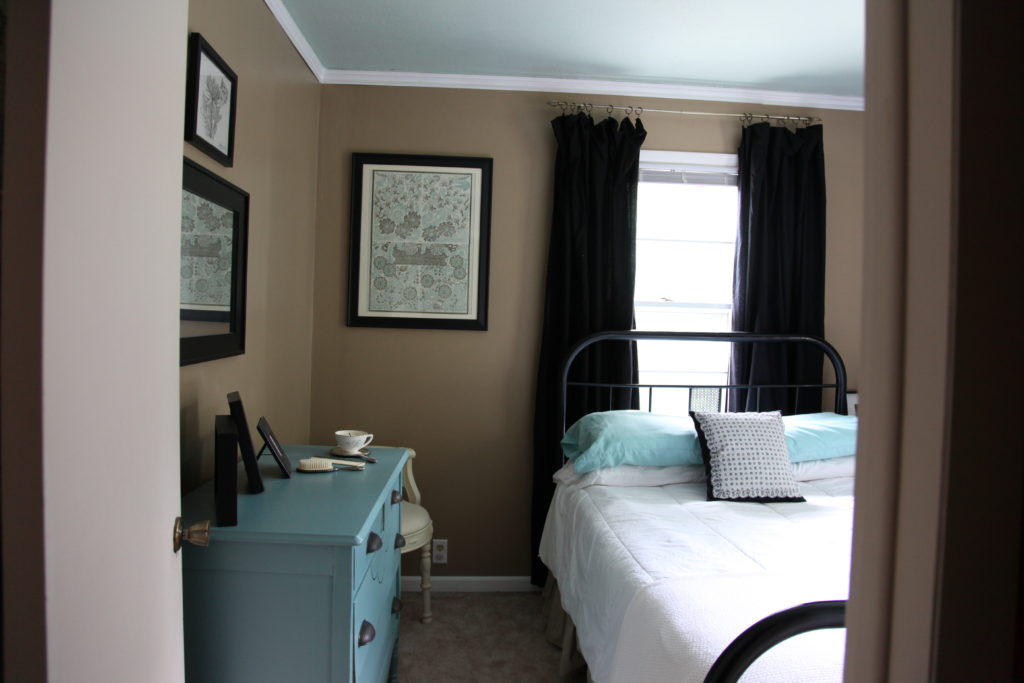 We first re-imagined this room as guest room. It's amazing what trim, paint, and decor can do for a space.
If you are living in a plain little house feeling intimidated by all of the high ceiling, architectural, historic wonders of Pinterest, I am here to encourage you.  In fact, I'll even give you permission to LOVE your boring house.  Your dream home is the one you are currently living in.
EASY AND AWESOME WAYS TO SPRUCE UP YOUR HOUSE TODAY:
Swap out your bathroom mirror:  Do you have a huge sheet mirror in your bathroom?  Take it down (it is usually just held up there with screw in clips) and hang a regular wall mirror in it's place.  This will take you less than half an hour and will make your bathroom look SO custom!  Here are a few of my favorites that would look awesome in a bathroom (and are super affordable too!)
Hang curtains:  Curtains get overlooked way too often.  If you think your room looks flat you then you need to soften the lines of it with curtains.  The room will instantly feel cozier.  Remember, don't hang your rods on your window trim.  Hang the rods as high as your curtain panels and ceilings will allow.  Curtains should graze or puddle on the floor – no high water panels please!  (This is a great guide for how and where to hang your rods.)  Here are some that I love:
Change your light fixture:  Don't be intimidated by the electrical work involved in changing out fixtures, it's pretty straight forward.  Here's a good tutorial on how to do it.  There are so many options these days, even if your ceilings are lower – just be sure to go with a flush or semi-flush mount.  Here are some flush and semi-flush mounts that would work great in a room with average ceiling heights:

There are a million ways you can customize a basic room.  What's the favorite thing you've ever done to a space?