(This post may contain affiliate links.  If you shop from one of these links it helps support this blog.  Products do not cost more when you shop through an affiliate link.  To read all of this blogs disclosures and policies click here.)
Guys I'm about to fess up to a project that we should have done 2 years ago – peel and stick tile.  Read on for how to update your house in as little in one day by laying peel and stick tile.
When we moved in we had to add carpet to the basement.  There is a small 'landing' outside of the basement door that was covered in carpet (that matches an adjoining staircase). When it came time for the new carpet to be added we thought it would look odd to have a seam where the two different carpets met.  Additionally the carpet on the landing area was looking a bit dirty and matted since it's the entrance to the house from the garage.
After pulling up a corner and seeing that there was laminate under the carpet, we decided to go ahead and pull out the carpet square.  Eventually when the upstairs floors are redone this little square will get updated too.  Our thought was to just live with the old laminate until we got around to the rest of the flooring.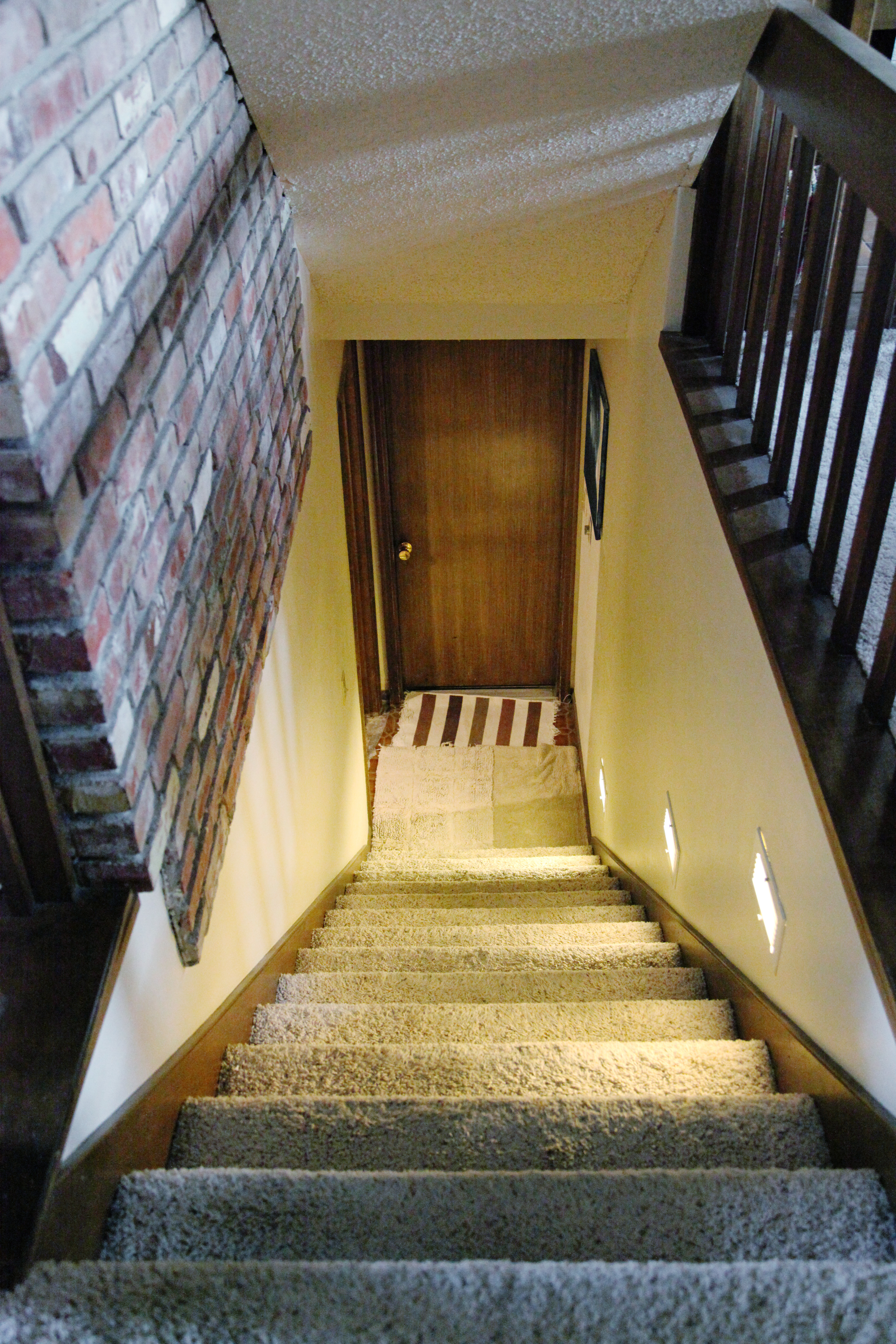 We quickly pulled up the carpet and pad.  Things were looking fine until we looked at the threshold of the basement door.  The vinyl was ripped and part of the cement basement floor was showing.  At this point in owning the house we were just trying to settle in and this spot was not a priority at all.  So we threw down a mish-mash of left over throw rugs that we weren't using and called it a day.  That was 2 years ago.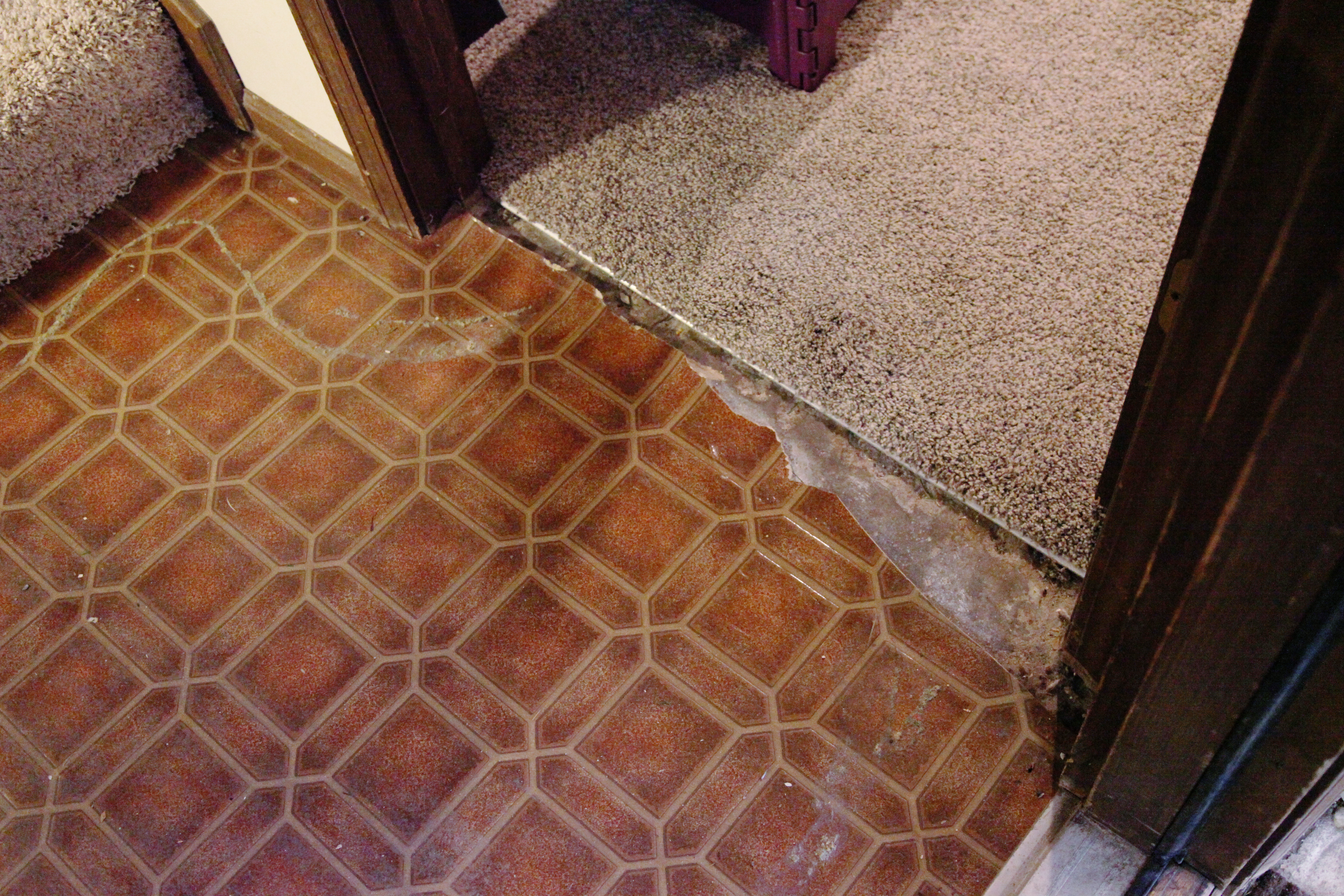 We have been working on our basement since we moved in.  It's been a loooong process but it's finally starting to really come together.  We've taken on our biggest DIY to date and it's looking great (I'm biased, but it looks awesome).  While we've been down there that little landing mish-mash keeps catching my attention.  My side-eye keeps catching that little landing patch.  So I was at Lowes on another supply run, this time getting paint mixed.  I had a few minutes to wait so I started wandering around.  I have another project in mind with tile so I wandered over to the flooring section.  While I was there I stumbled into the peel and stick tile. Hmmm, the wheels started turning.  I snapped a few pictures of the different color options, grabbed my paint and headed home.
I floated the peel and stick idea to Chris and he didn't balk at the idea.  On my next supply run I grabbed 14 planks of peel and stick fake wood tile.  We have a lot of wood in our house so I wanted to try and find a tone that wouldn't immediately jump out and clash with the existing wood. Each tile cost 0.98.
Chris was still working on the ceiling when I got home so I got to work pulling up the laminate flooring.  I've never removed laminate vinyl flooring (the kind that's in a roll) so this was a new experience.  I would equate it with removing a very thick wallpaper.  The bulk of it came up easy.  The patterned top layer peeled right off.  I think all of the patterned area was off in about 15 minutes or less.  But similarly to when you removed wallpaper often the bottom layer is trickier to remove than the top, and that was certainly the case here!  I started this project Sunday late afternoon and I have to say my arms were not ready for the workout!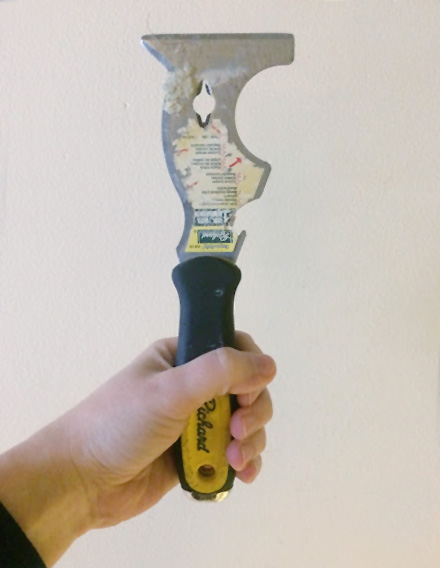 I used a 5 in 1 tool to remove the vinyl.  (Other than a hammer that I used to remove any errant nails around the perimeter.)  I started scraping the glued on vinyl backing and quickly realized it wasn't working.  That glue was serious!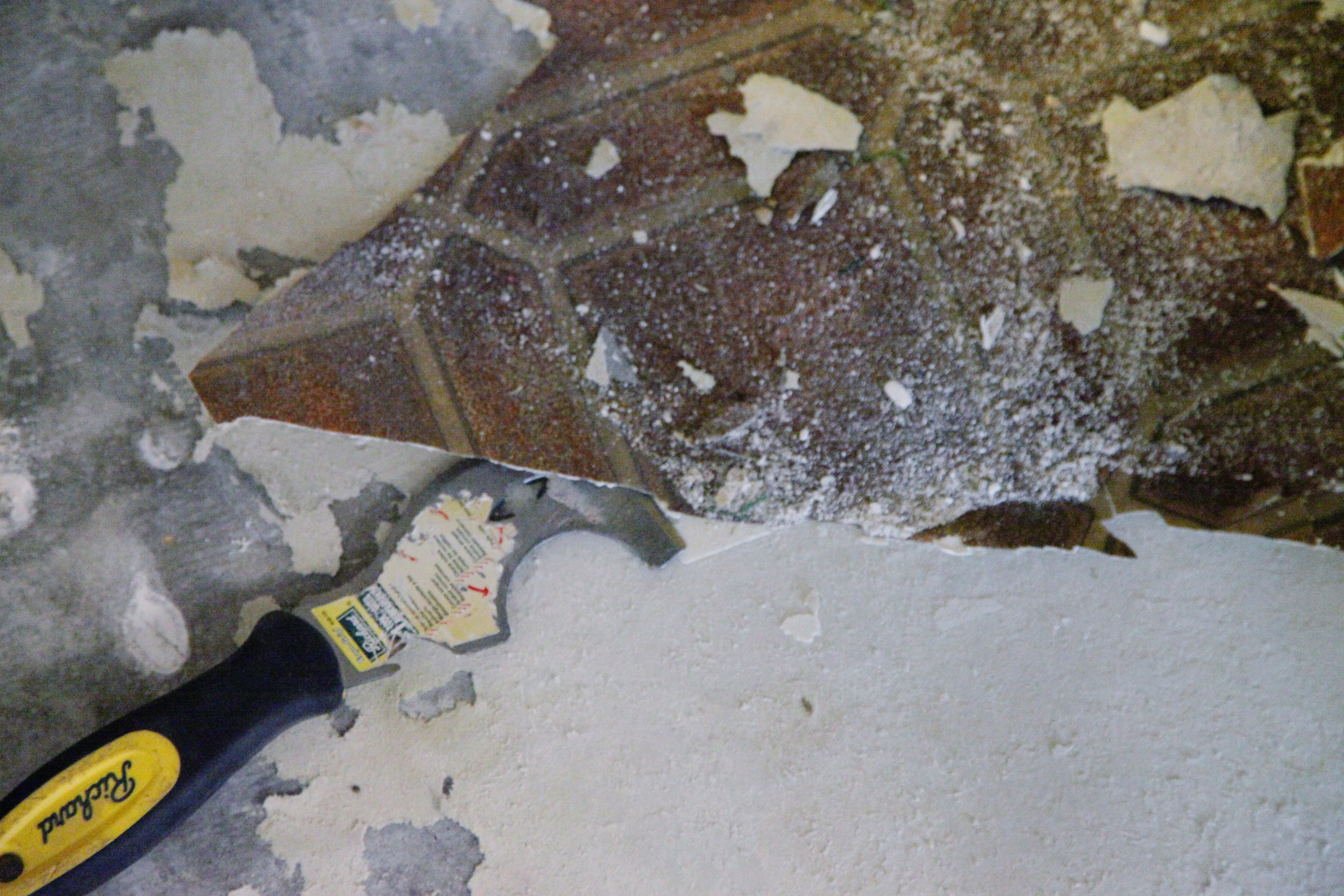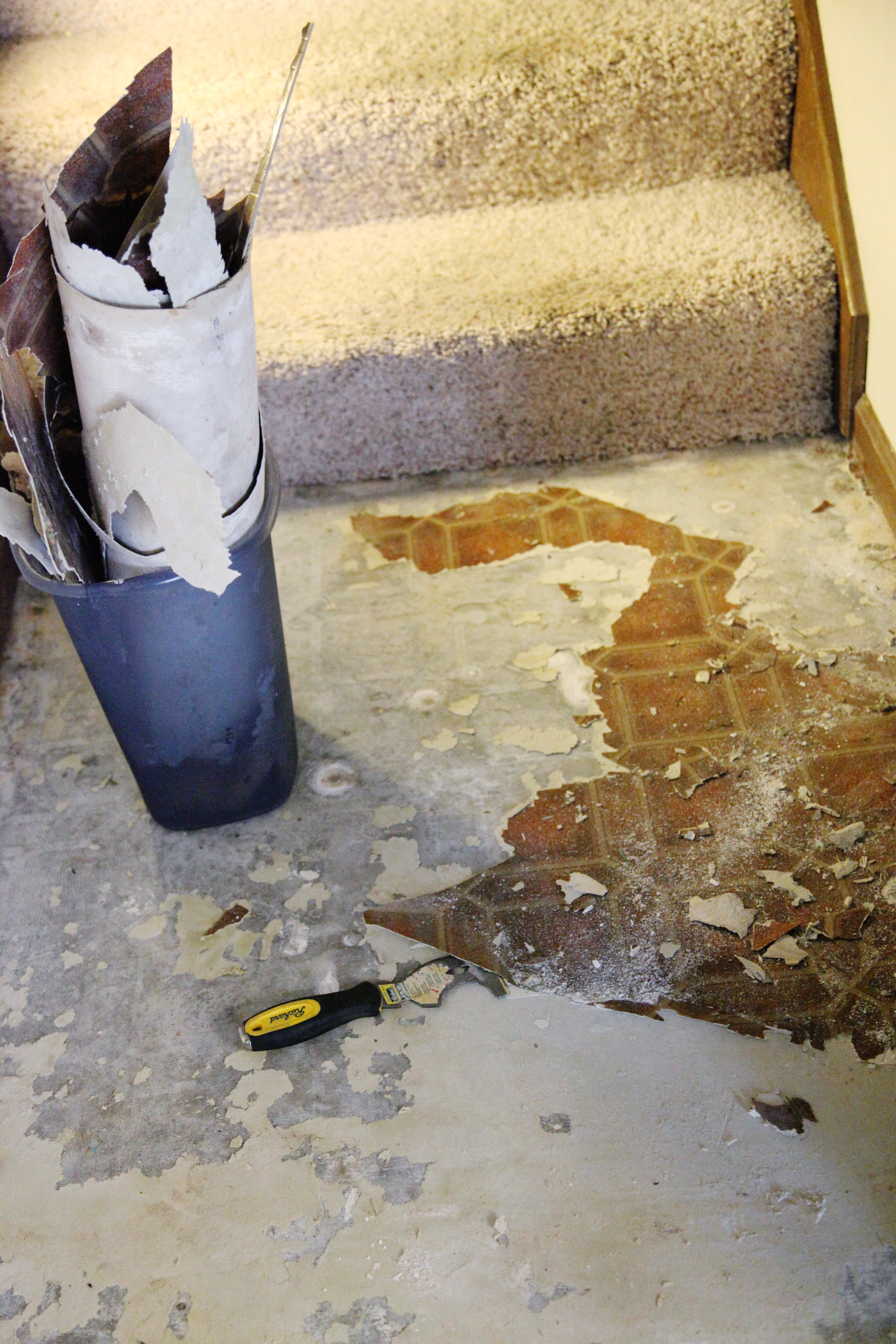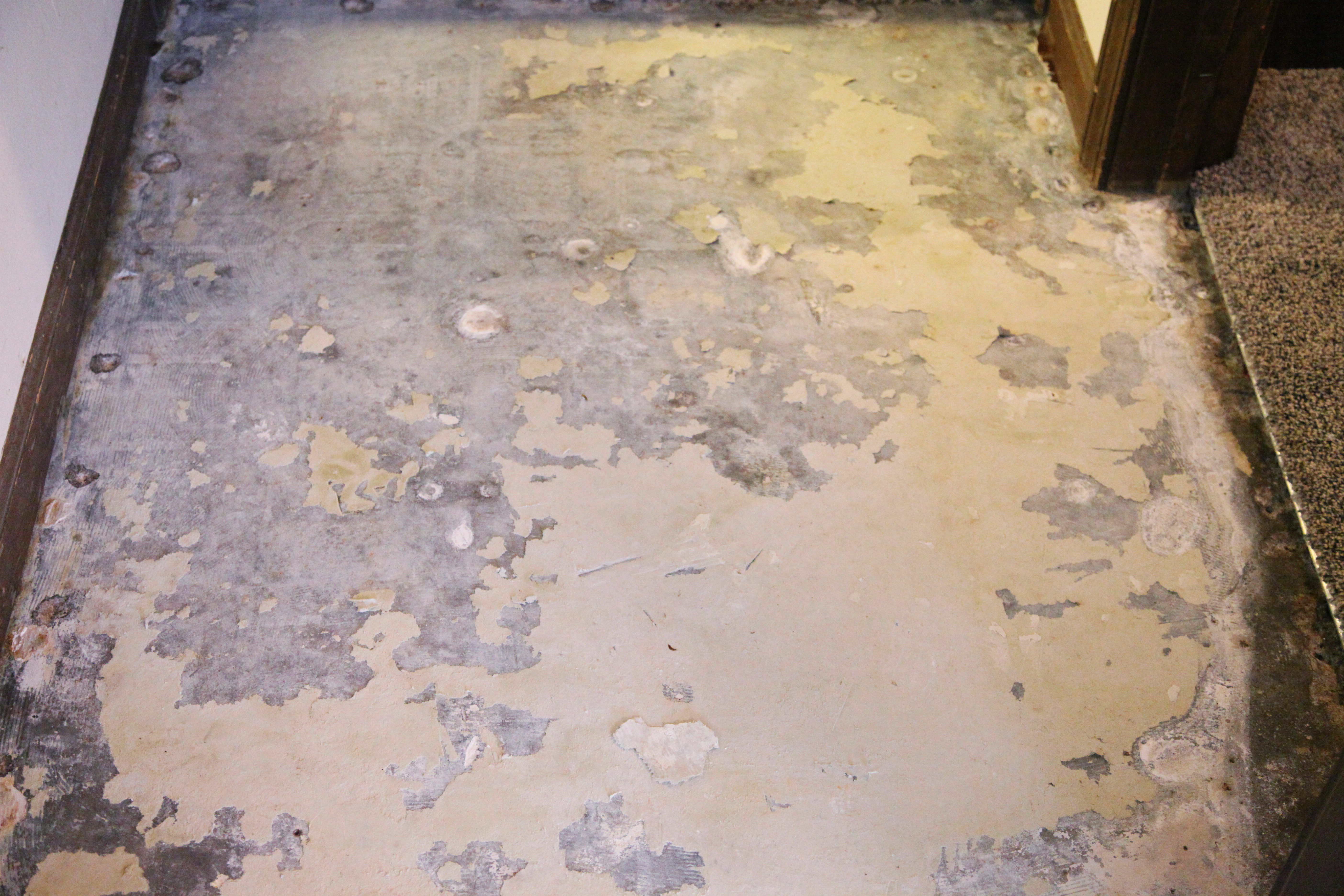 After thinking it over for a minute I decided to rely on my wallpaper removal background (aka our entire first house).  I pulled out a spray bottle and filled it with hot water.  Then I went back to the floor and sprayed the paper that remained.  I find it's best to spray, wait for it to sink in and then spray again.  Once you've sprayed/waited a few times it will be MUCH easier to remove.  I still had to put quite a bit of arm work into it to get it all up all the glue but it all came up.  In total I spent about 1-1.5 hours getting the vinyl up.  After you get it all removed use a shop vac to get any little pieces and particles left behind.  Also wipe the concrete and let it 100% air dry.  You can not lay the peel and stick tile if there is dust or water on the floor.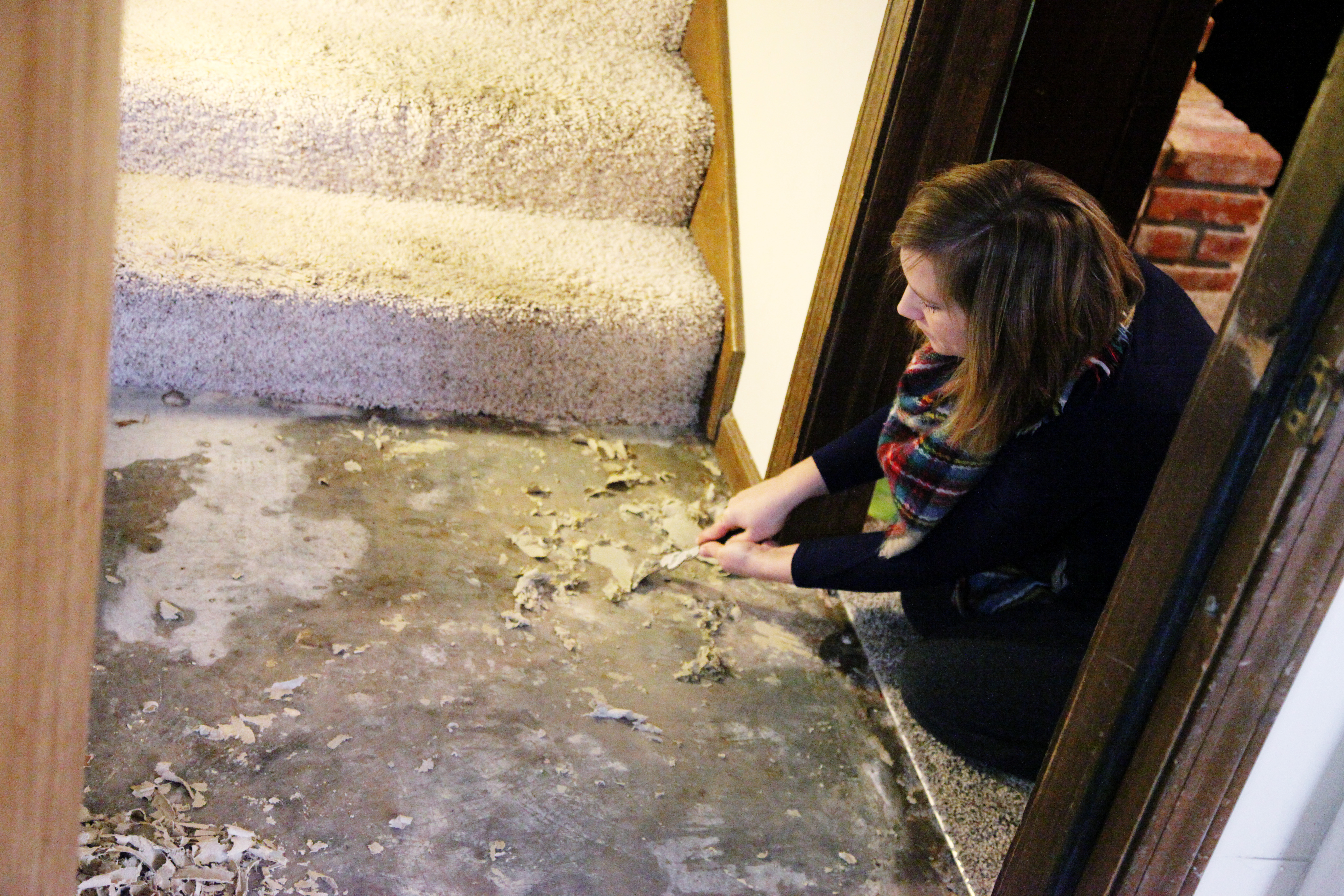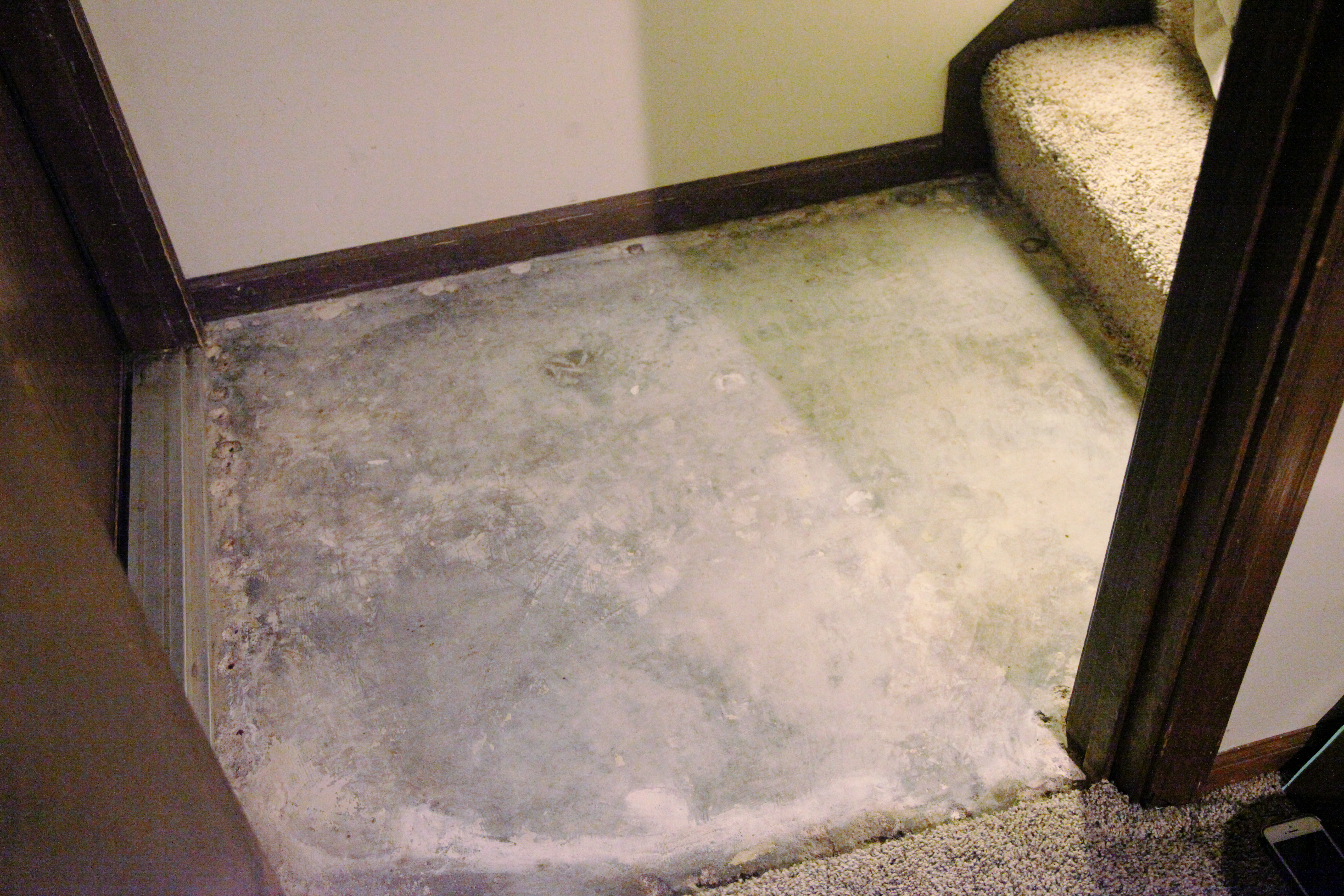 The next morning I woke up determined to finish this project.  45 minutes later I was 100% complete!  I had let the concrete floor air dry over night but I went back over the floor with the shop vac a few more times to make sure there was no dust.  During your install you may want to keep your shop vac handy.  I found as I was working that errant dirt kept appearing.
You'll notice from the image above that there were some spots that the concrete wasn't 100% even.  I probably should have used some sort of leveling agent to make sure the surface was totally solid and level.  I didn't do this because this area isn't a focal point in my house.  Therefore it wasn't worth the time, effort, and expense that leveling it for the purpose of adding sticker tile.  Call me a renegade 😉
Cutting the tile is very easy.  For most of the cuts I used a straight edge and box knife to score the paper side of the tile and then bent the tile until it snapped.  This resulted in very clean straight cuts.  Towards the end I had a few small areas that needed some curved cuts that I couldn't do with the box knife.  After trying the knife several ways I decided to use my kitchen scissors.  I used those because they are the most heavy duty scissors we have and I can sharpen them.  (I scrubbed & sharpened them when I was done.)  The scissors worked perfect!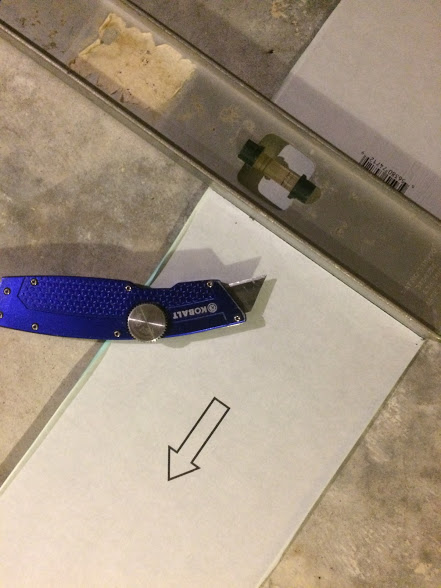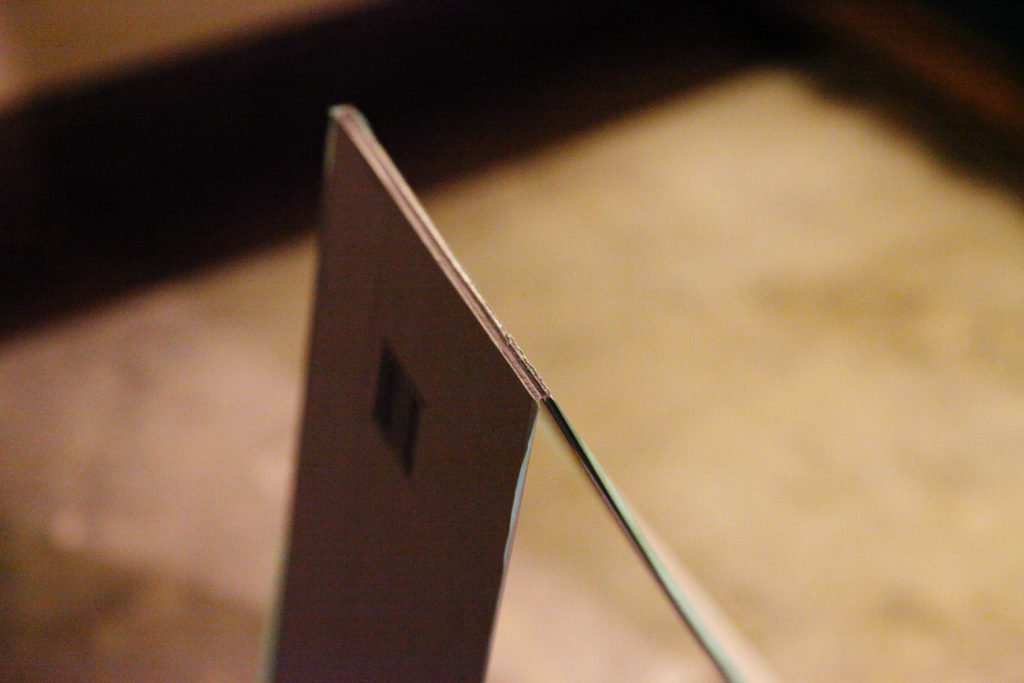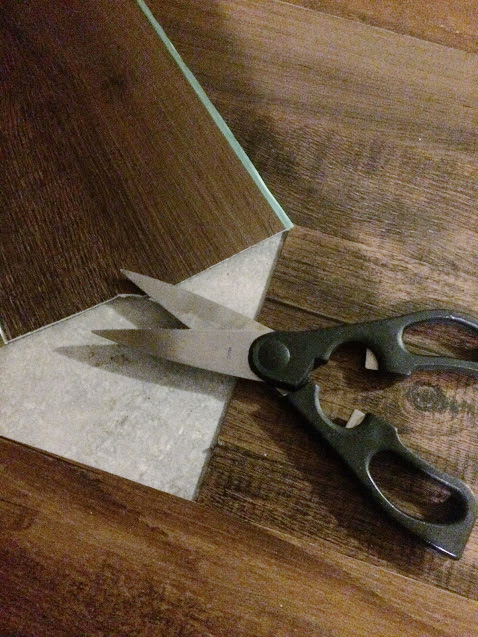 How to lay peel and stick tile:
Dry fit all of your tile pieces and plan what pattern you want to use.  While laying out the pieces figure out which direction they should lay and what the center point should be.
Choose a piece to start with. Laying the peel and stick tile is very straightforward.  My area was square and didn't require a specific center focal point so I laid my first piece against the wall.
Double check for any dust on your floor, vacuum as needed.
Carefully remove the paper backing.  The adhesive is very sticky.  Once you lay a piece you won't be able to relay it.  You will be able to remove it from the floor but it probably won't stick in a 2nd location well (which is why you should continue checking for dust).
Lay your tile on the floor and firmly press down.  I had a rubber mallet that I used to gently tap them around the edges.  I'm not sure that it made a huge difference but it made me feel like they were getting 'stuck' a little more.
Once you have your first piece in, simply continue laying them in the pattern you had originally settled on.  Continue checking for dust and vacuum as needed.
I didn't add a transition trim piece because my tiles fit perfectly against the carpet transition so it felt like a step that wasn't 100% needed.  I kind of figured that I'd watch and see what happened to see if I should add one later.  We have been walking over the edge for a month now and there doesn't seem to be any issues or need for a transition.  Of course you will need to judge this for yourself, I would guess that it would be a good idea in most instances to add one.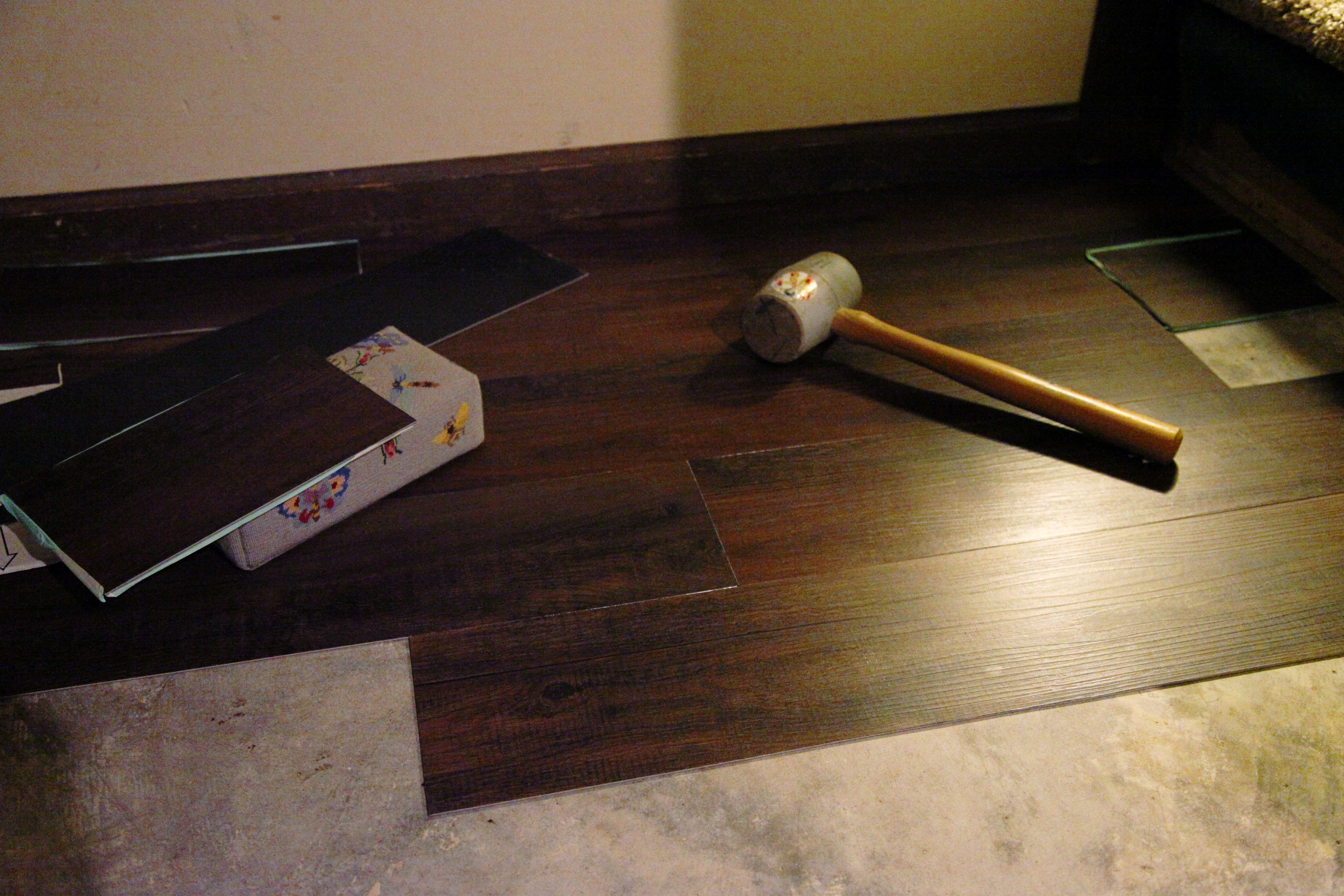 I purchased 14 tiles and ended up with 4.5 left over!  That means that this project cost me less than $10!  I already explained how & why I ended up deciding to try peel and stick tiles but in the effort of transparency – these are still peel and stick tile.  They made a HUGE difference in the functionality & enjoyment of this small space. I would personally be a little more leary of using them in a space much larger than a bathroom.  They don't feel like tile or hardwood, and there is a definite 'vinyl' feel.  BUT for $10 and 2.5 hours was it a good semi-temporary solution?  YES!  I'm linking below to everything you'd need to complete this project for yourself.  If you're evening considering it I highly recommend you do it!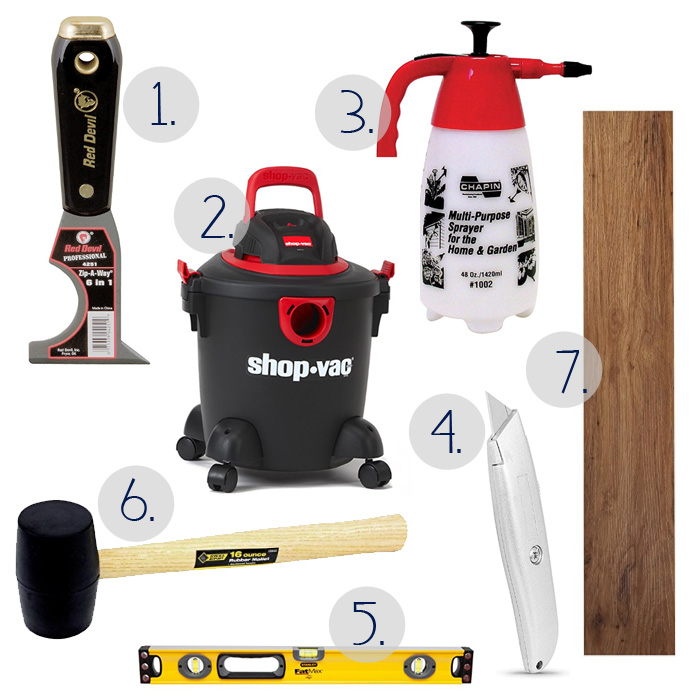 1.)  5-in-1 multi tool  2.)  Shop Vac  3.)  Water Sprayer  4.)  Box Knife  5.)  Level  6.)  Rubber Mallet  7.)  Medium Oak Vinyl Stick Floor Tiles 
We have lived with mish-mashed throw rugs in a high traffic area for 2 YEARS.  Not only did it look terrible, it wasn't overly safe as the rugs were always moving around.  They also collected a ton of dirt.  At some point we want to add hard wood flooring and update the tile upstairs.  When we do that we'll upgrade the flooring on this area too.  But until then – this is amazing!
There are many peel and stick tile options, I probably used the most basic design!  There were even ones you could grout so it had a more 'real' look and feel.  Would you be willing to try peel and stick tile? How do you feel about making 'in-between' upgrades to your home?
Don't forget to pin!