There is something about guest rooms that I honestly love. At my core I'm a hostess and I love when people come to visit.  Growing up we never had an official guest room so when we bought our first house I was over the moon excited when we had a third bedroom that we were able to decorate as one.  This was the first room we ever fully decorated.  As 23 years olds with lots of second hand furniture it was all done on a budget with lots of DIY!
Before we even began looking at houses I tore out a page from Domino magazine (there was no pinterest back then, ha!) that had a dining room with creamy tan walls and a robin eggs blue ceiling.  I loved the color combination and that is how I came up with the colors for this room.  This was the first room I ever painted a ceiling in.  I loved it so much I did half of the other ceilings in our old house and never looked back.
We started our marriage owning a fair amount of furniture, all from childhood or given to us from our parents.  I think it's pretty common that the guest room is often the recipient of older pieces people own.  In this room we had a full size bed frame that was mine and a dresser that my parents gave us.  The dresser was an auction purchase that had cycled through my brothers, me, and my husband.  It had seen better days.  Knowing that I wanted to use the tan and aqua color scheme I painted the dresser aqua.  There is a small groove detail on one of the drawers so I used a black sharpie and traced that groove to bring in out. The bed had been painted white but was in need of a new paint job because the previous one had chipped and scratched.  I wanted the bed to go black and black spray paint did the trick.
How to spray paint an iron bed:
Lightly sand the bed with sandpaper or an electric sander.  I started with sandpaper but the paint was so old it was flaking off fast and easy.  I switched to an electric sander and had the entire bed stripped to metal in less than an hour.  The main goal is to get rid of any flaking or chipped paint, it is not necessary to strip it all the way back if the paint has overall good adhesion.
Wipe down the metal to remove any paint dust.
Using your spray paint of choice (I recommend one with a built in primer) begin with a thin even coat of spray paint.  It will take several coats to get an even and full finish but it's better to go slow than to glop it on and end up with drips.  If your paint doesn't have a built in primer you may want to begin with a metal primer (this is available in a spray also).
After your bed has been painted take a paper bag and tear off a piece.  Rub down the bed with the paper.  This will smooth out the texture.
Finish your bed with a clear top coat.  You can find this with the spray paints.  This helps keep the bed from scratching and provides a longer finish.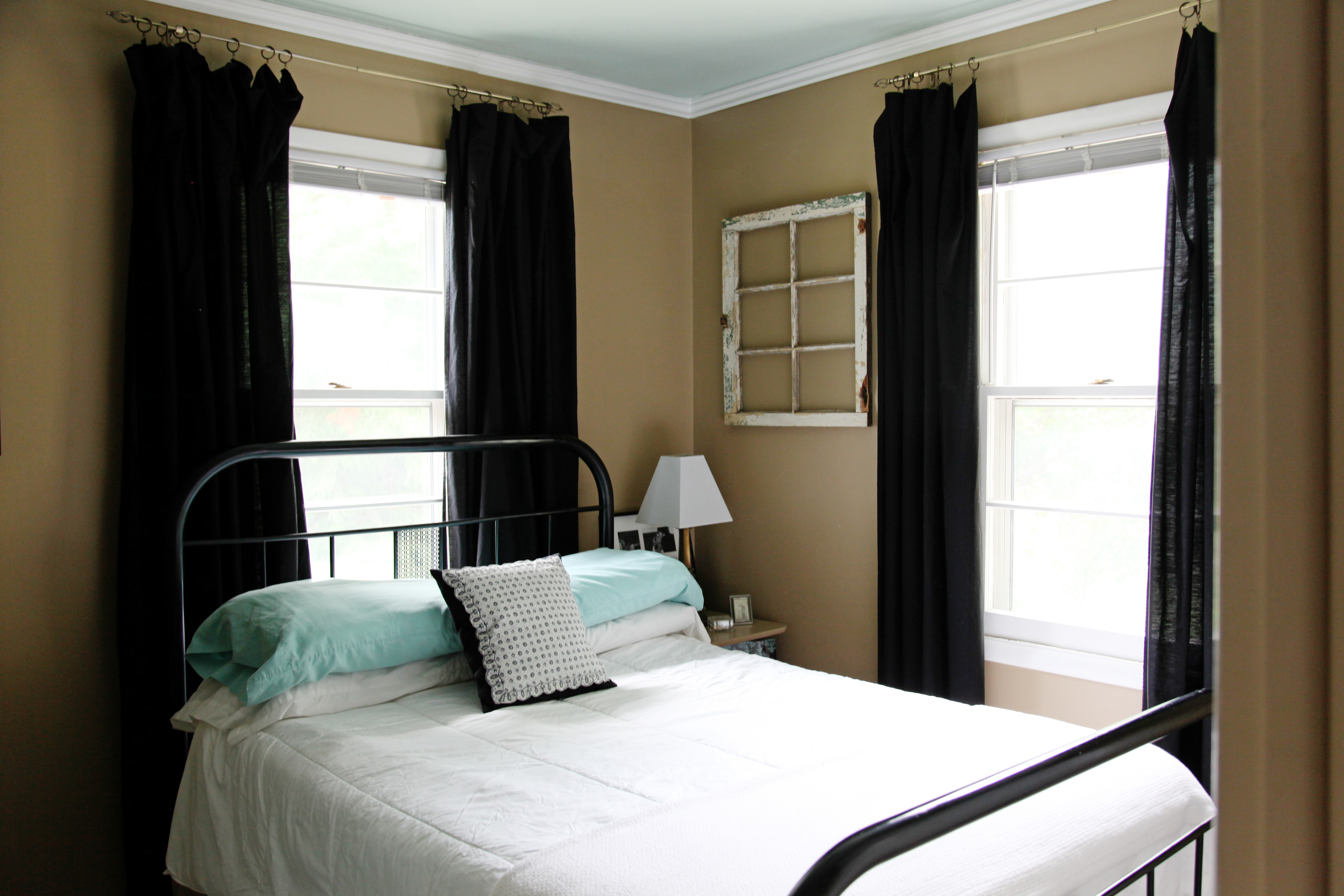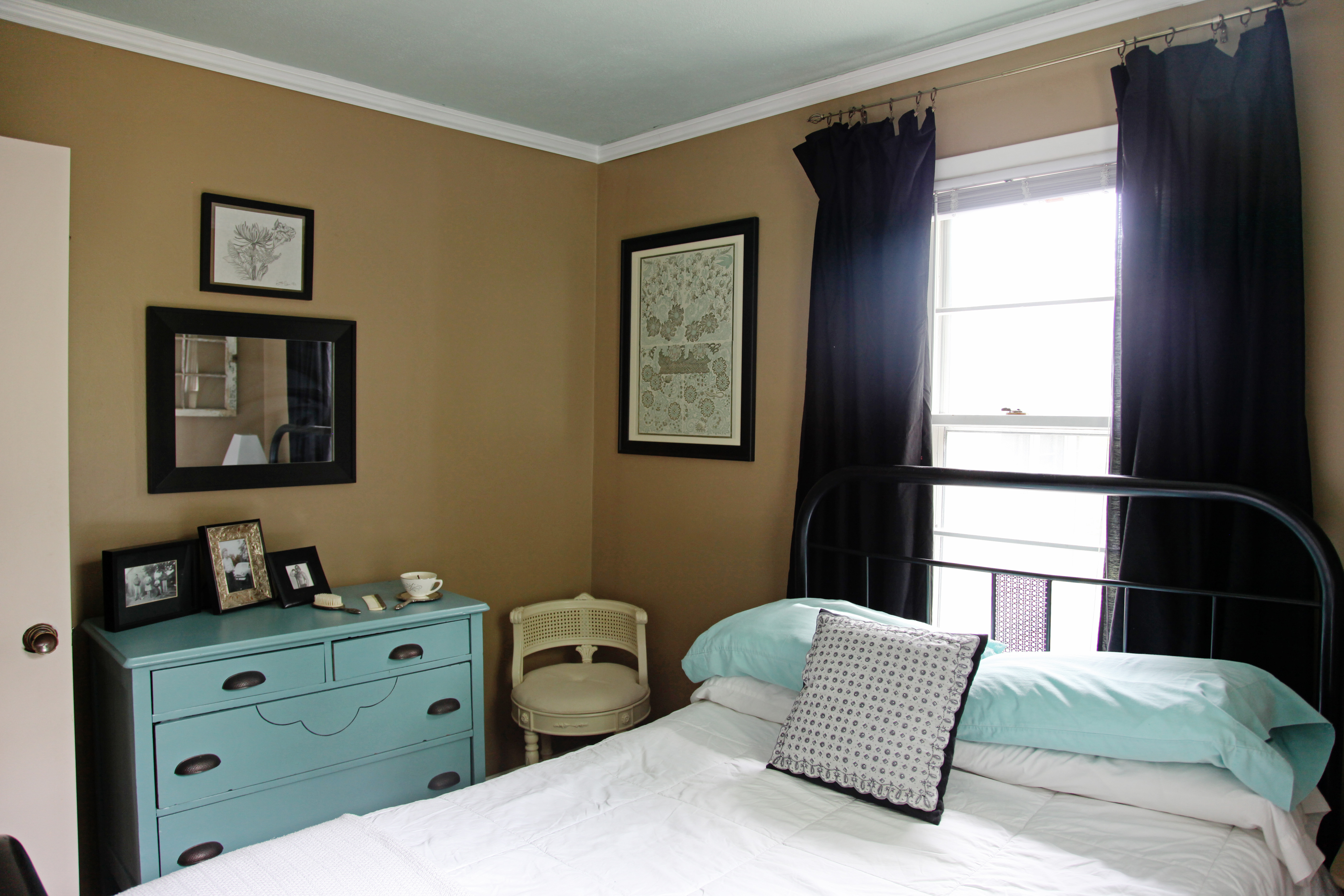 Because this was a guest room and my family was going to be the ones mainly using it I printed off several old family photos and sprinkled them around the room.  I used various black frames to tie into the black bed.
I used white bedding in here because to me white always feels the most fresh and inviting but also to help balance the black.  This room never felt dark and depressing despite the black curtains, partially I believe because of the lighter bedding.
Now let's talk curtains.  These days I'm knee deep in curtain thoughts but back then I barely had any thoughts of even hanging curtains.  One day I was talking to an older lady at work who told me that you could use bed sheets as curtains.  I honestly hadn't even owned a house long enough to think about purchasing them but when she suggested that I felt like I had to try it and see – HA!
How to use bed sheets as curtains:
The 'curtains' in this room are $5 black twin bed sheets.  They aren't for everyone but they tied in with the room, provided contrast and quite a bit of black out, despite the fact that they weren't meant for it. To use a sheet as a curtain all you have to do is thread your rod through the top part of the sheet.  Normally there is about a 4 inch fold at the top, often it is just looped not sewn.  If it is sewn pop out the stitches on the ends and thread your rod through.  Because the sheets were so wide I ended up switching to curtain clips instead of using the rod pocket.  In retrospect I would have clipped them differently but at this point who cares. 😉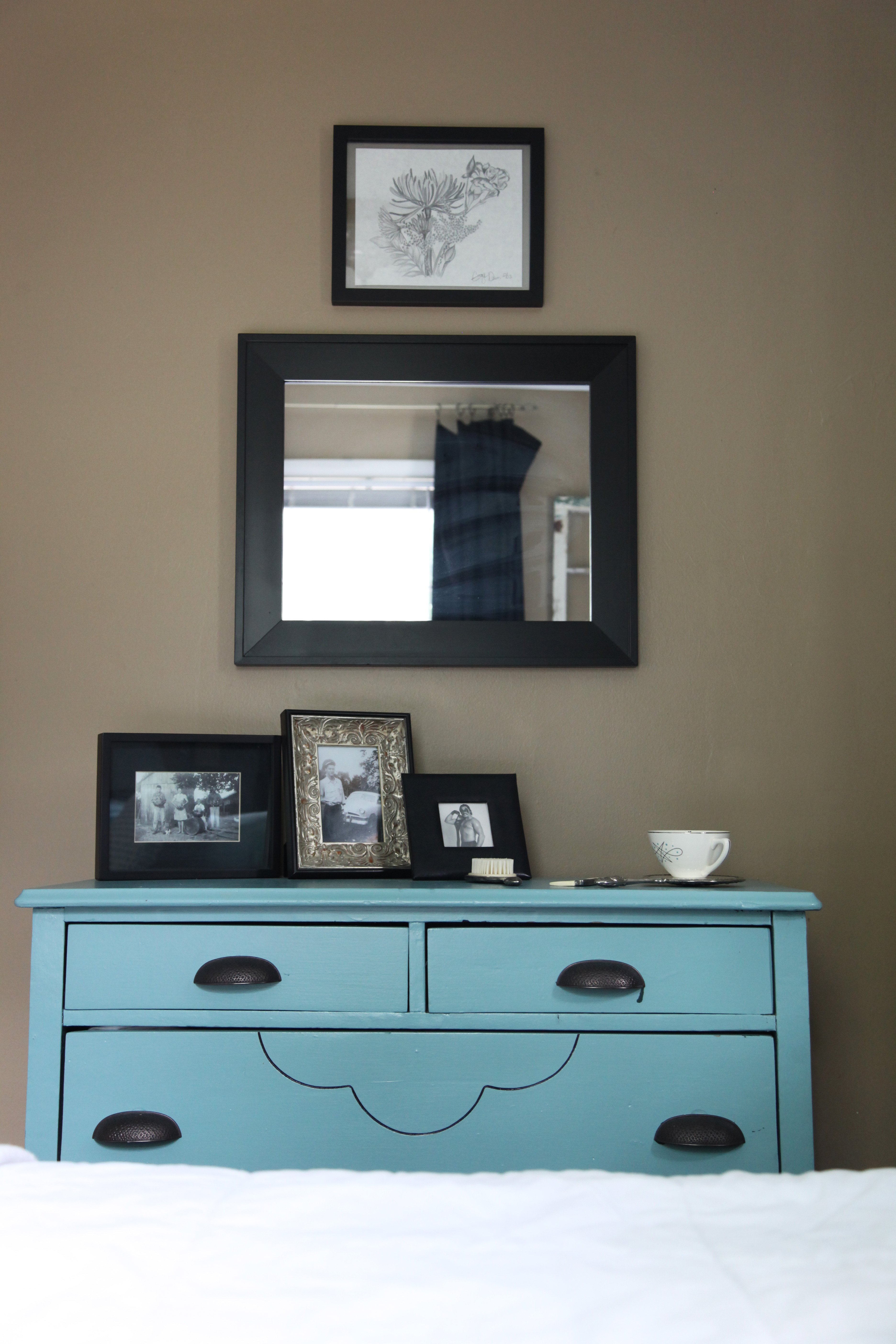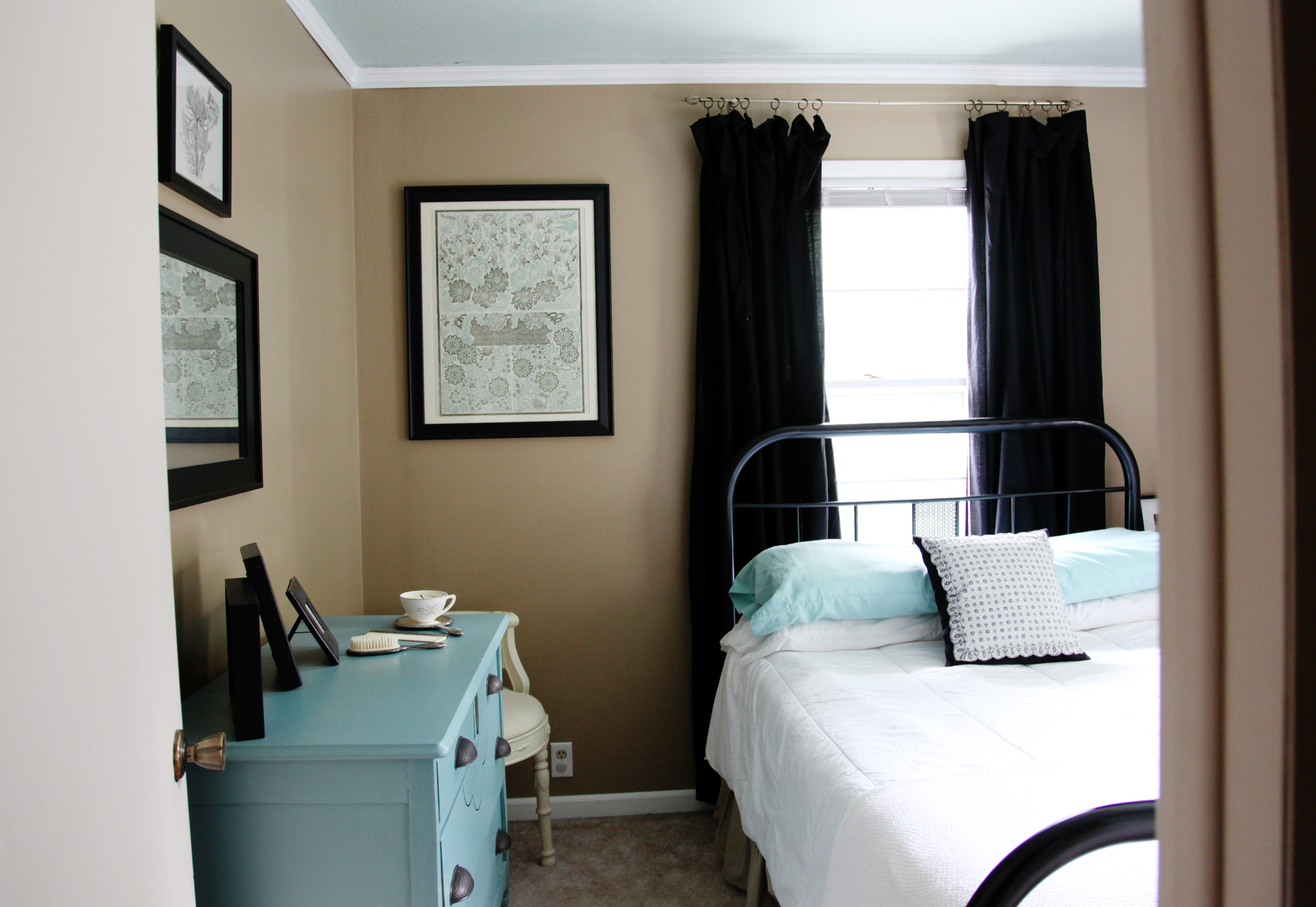 This room was really small, like 9 x 11.  We later transformed this into a sweet nursery for our youngest son.  To see how the room looked after we changed it up click here.  Do you have a guest room?  If so is it the landing space for hand me down furniture too?
Don't forget to pin!