With fall nearly here I think it puts most Americans in a collective mood to sit outside on a cool night around a fire.  Maybe not, but that seems to be the mood here in Missouri.  My husband, Chris, worked for a landscaping company all through high school and college so when I suggested this DIY fire pit he was all in.  A fire pit is a very simple diy that can be completed and enjoyed in as little as one day.  It is so simple that it was at the top of our list for our current house when we moved (and was one of the first projects we tackled here).
You can spy our current fire pit sitting in the corner of our patio in the summer yard tour I shared a few months ago.  We put the fire pit in that spot because there was already a circle feature spot on the patio there.  Since we knew we wanted to add a fire pit to the backyard, and we also wanting to overall de-feature our small backyard it seemed like a good spot.
In our previous house we had a much larger backyard with nice old growth trees.  We chose to position our fire pit under a section of the trees that had a lot of shade and thus not much grass already.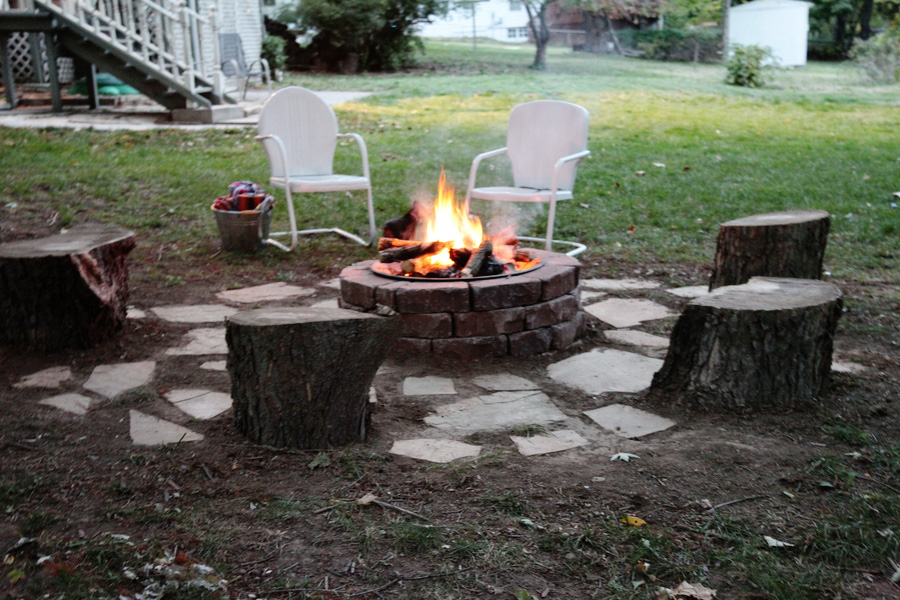 We had to have some trees removed from the edge of our property and the stumps were so big and heavy we decided to place a few around the fire pit.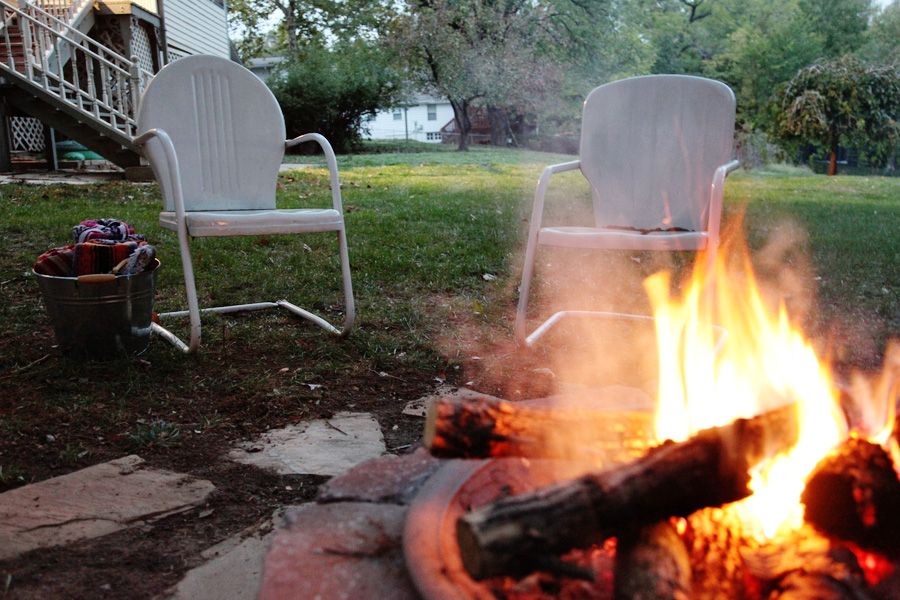 Gah, now I just want to curl up by a fire.  For real.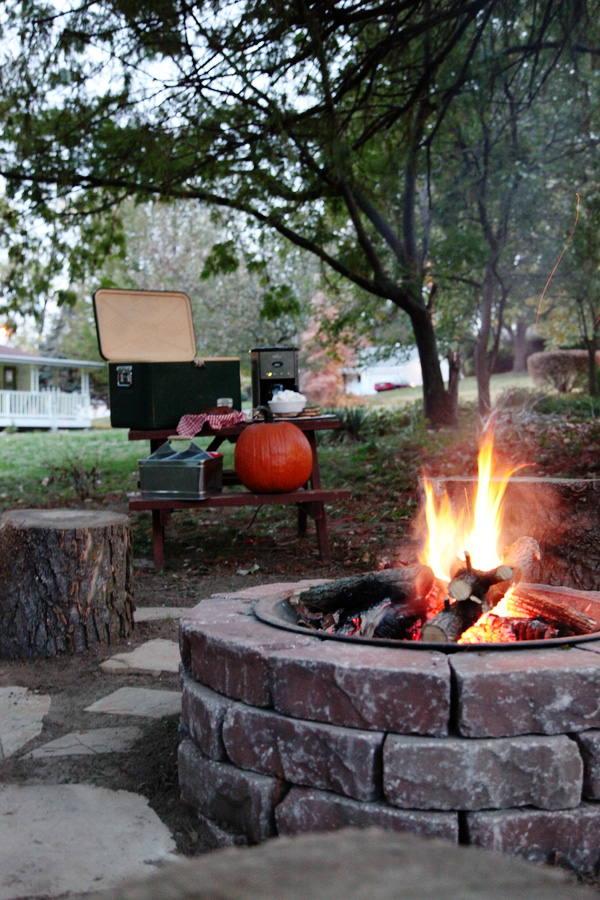 After Chris finished the firepit we hosted an inaugural lighting and brought out all the plaid, vintage, s'mores, beer, blankets and everything cozy we could (because that's how I roll).  And everytime I think about a firepit I imagine this night and setting in my head again.  #fallismagic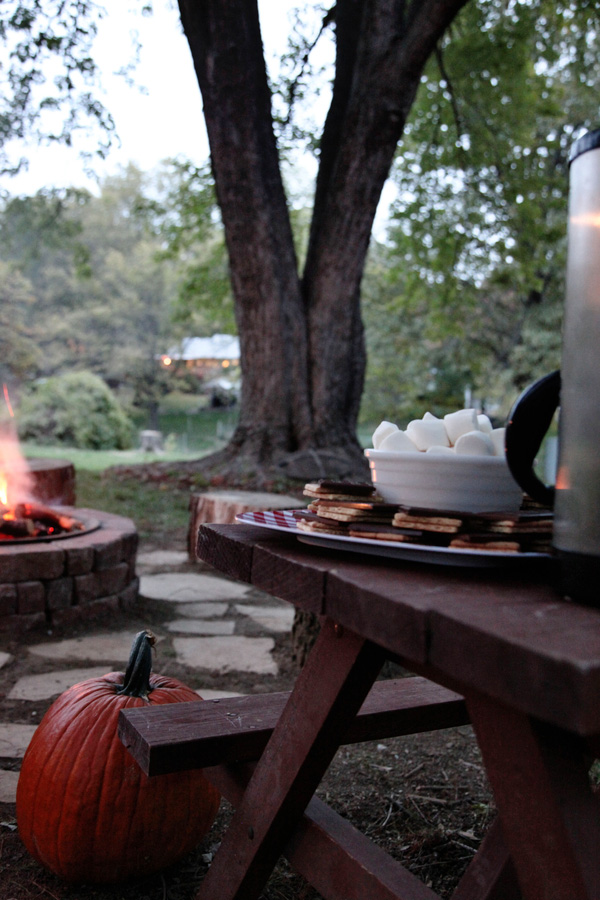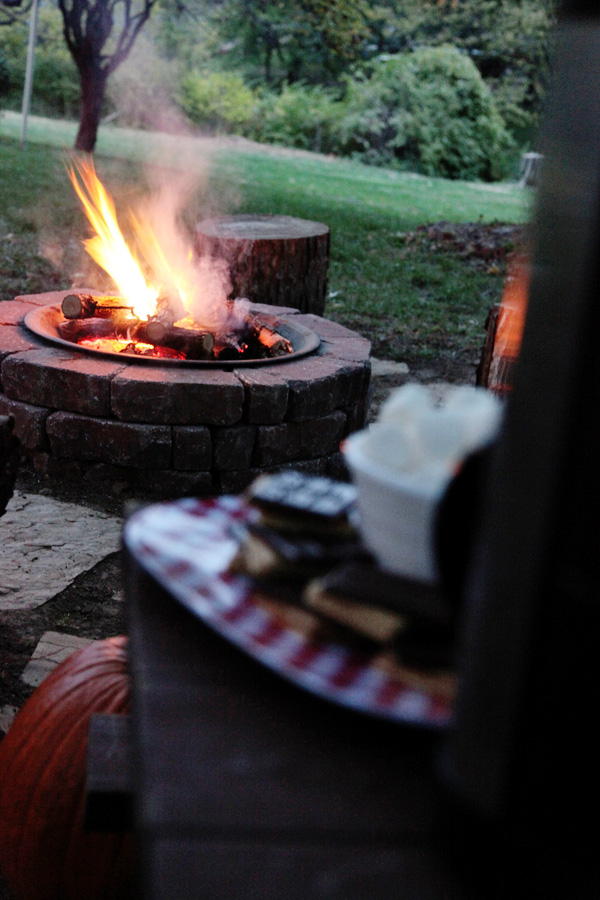 Here are my best tips to help you create your own magical bonfire night:
Decorate:  it may sound silly but find ways that you can add small touches to your fire pit area to help set the tone.  On this night I pulled out my vintage cooler and buffalo checked platter along with colorful throw blankets.
Make sure it's comfy:  Have enough seats for everyone to sit in and be comfortable.  Set out throw blankets for those who like to curl up.  When possible I like to have a pot of coffee out too.  Something about coffee around a campfire is so comforting.
Food & Drink:  It's always a good idea to have food to nibble on when hosting any event.  If you are inviting people over to enjoy a night around the fire pit you had at least have s'more fixin's!
Music:  I always think music in the background sets a tone.  In my house classic rock, old country or bluegrass puts me in the mood to sit around a fire.  (That could just be my country roots showing through tho!)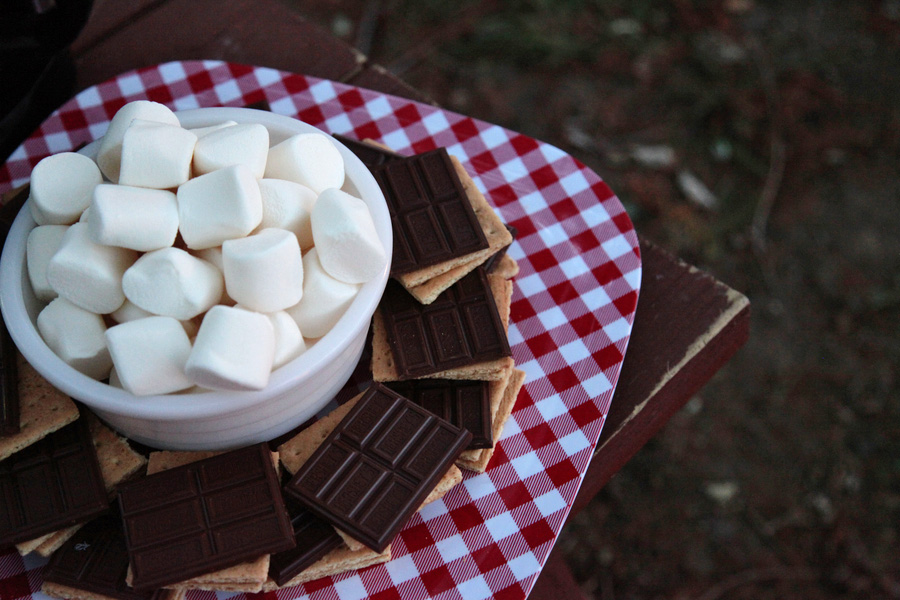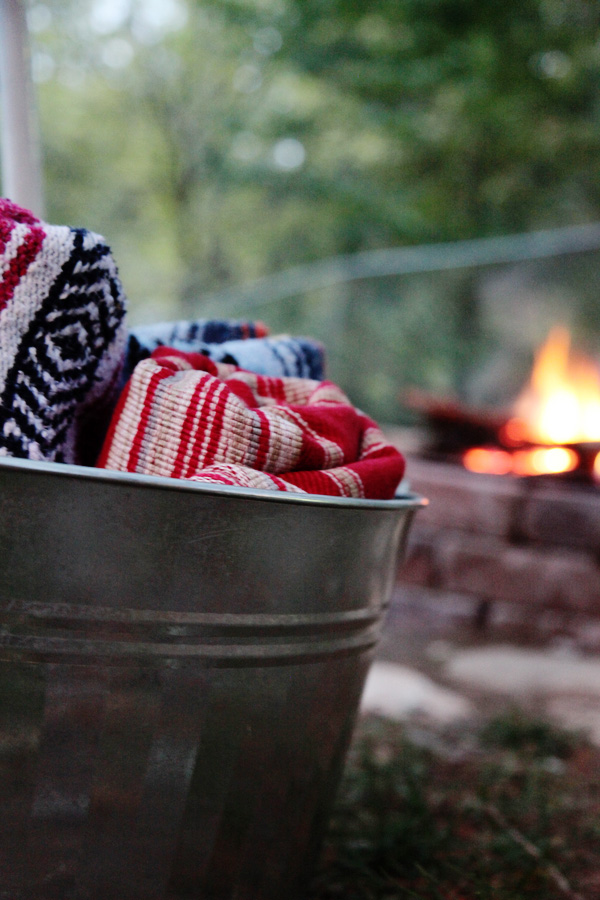 Lastly, I'm including the photo below to show that sometimes our surroundings aren't perfect.  Our house had a wonderfully large backyard that was open to all of our neighbors yards – until one of them decided to put up an 8 foot chain link fence.  All of the neighbors were upset, but there wasn't anything we could do.  We didn't love it (at all).  I did however love these little tealight holders when I spotted them at target so I made the best of a bad situation and used the fence for the candles.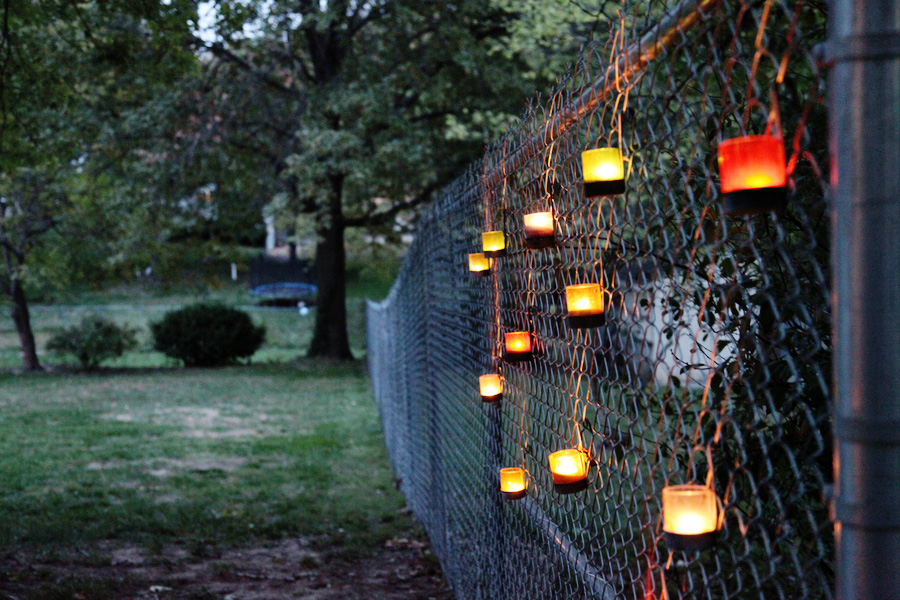 I know this wasn't a tutorial for our fire pit.  I didn't take progress shots because it was before I was blogging.
Here are some of the fire pit DIY tutorials I've got pinned in my Backyard Designs & Outdoor Plans pinterest board:
Now I'm ready to fire up our fire pit – what about you guys?!
Don't forget to pin!