Sadly I'm not sure I'm hosting any large holiday gatherings this year, but that didn't stop me from setting a Thanksgiving tablescape perfect for a feast!  I had so much fun putting this together, let's dive into the details!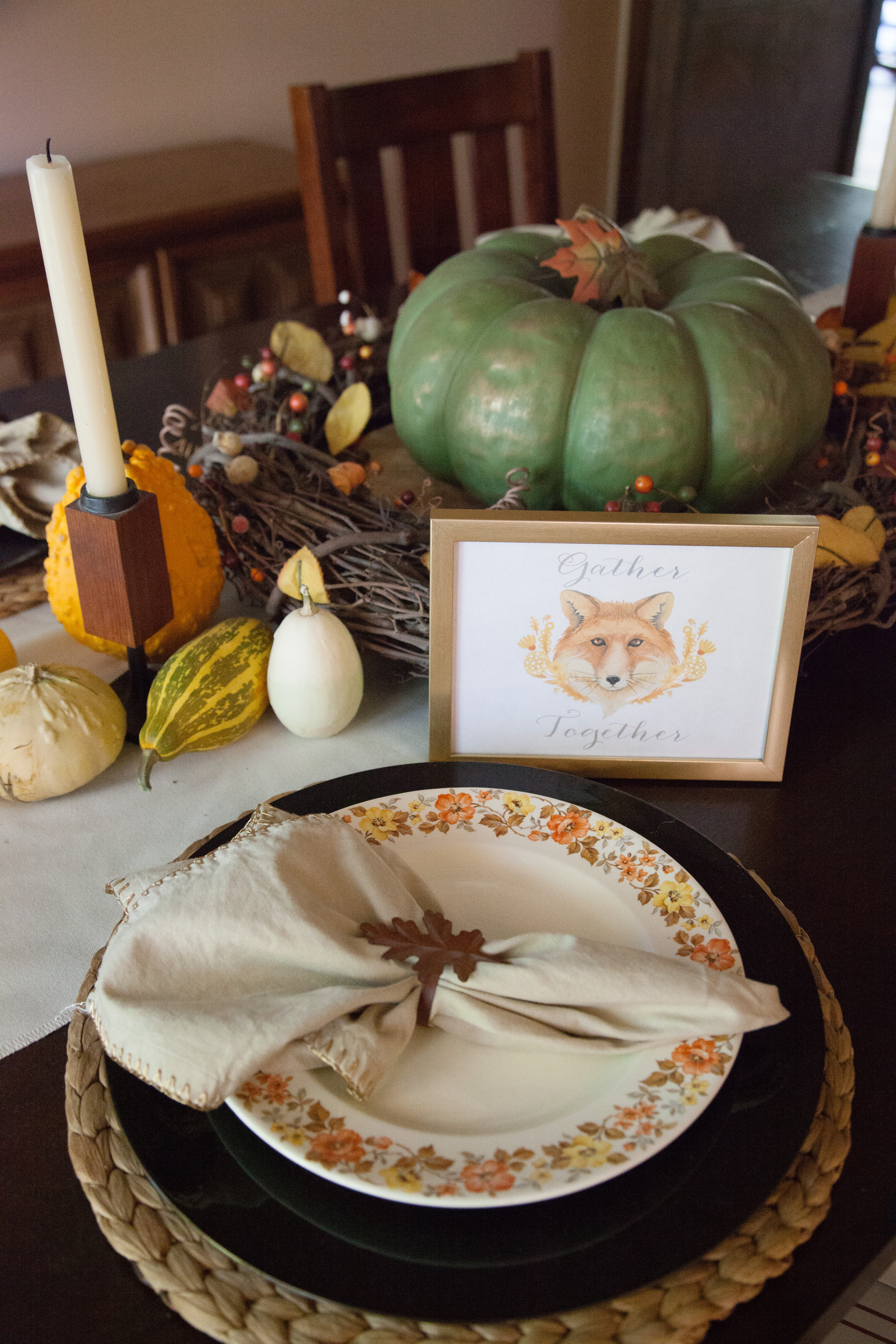 The jumping off point for me were these wonderful vintage plates I recently found.  I don't buy a lot of dishes these days because it's too easy for me to be overrun with it when I do.  But these stopped me in my tracks.  The colors are darling and ooze fall to me.  (You can grab that little fox printable here.)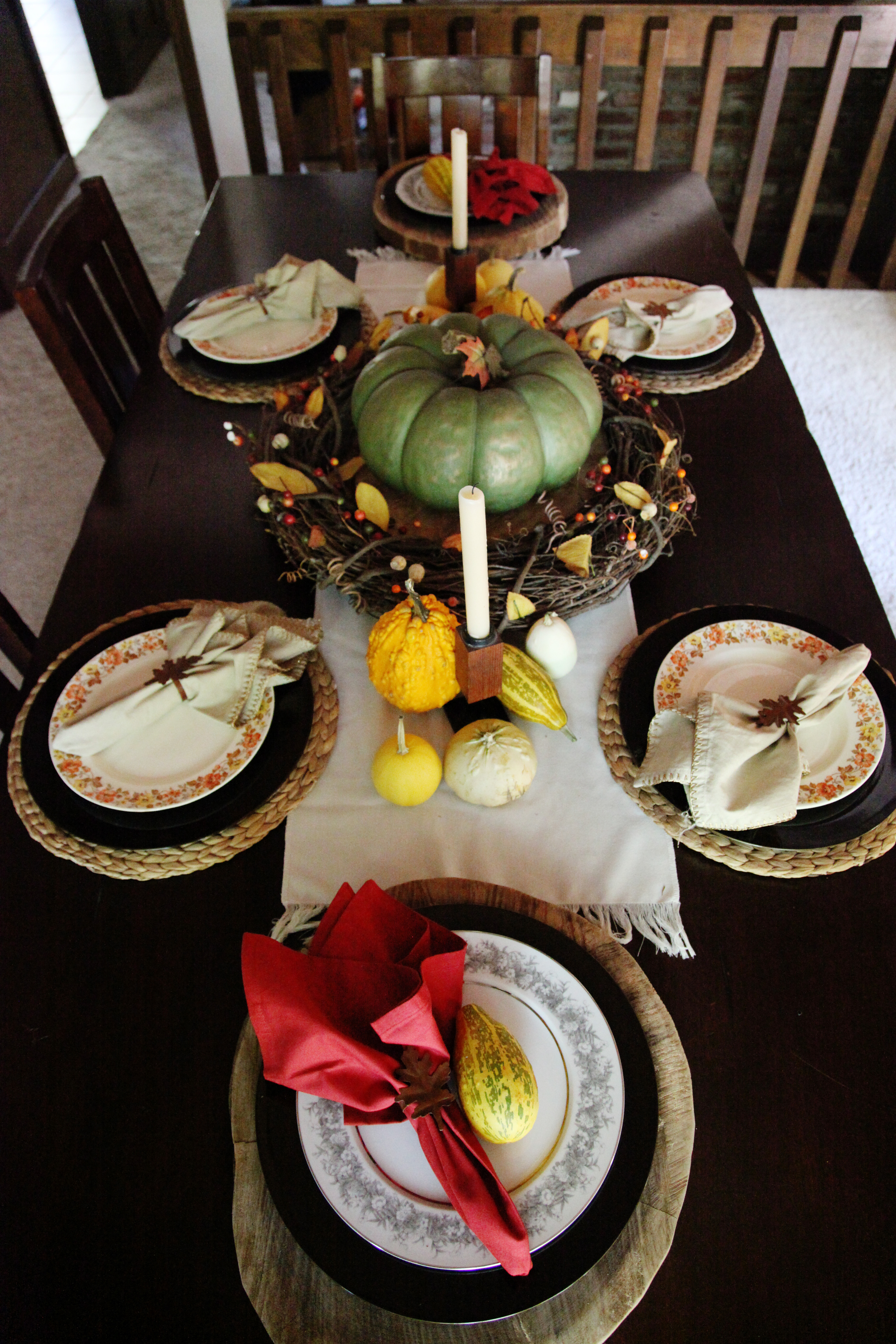 I go back and forth between using a table cloth or keeping the table bare.  The last few years it seems I prefer the table with just a simple runner and this one works for me most of the time.  These irregular wood chargers are straight from the farm where my dad cut them.  I don't use them often but I like how they add a layer and texture to the table.  Since the vintage plates I found came with 4 I pulled these gray beauties out of the basement and mixed them in to set the table for 6.  Don't be afraid to mix and match!
Do your kids love these little gourds?  Mine do.  And really I guess I like them too – but I never know exactly how to use them or what to do with them once they are home.  My parents have begun growing them for our boys, which the kids LOVE.  The only downside is that as soon as Labor Day hits I'm overrun with gourds, ha!  This year tho I was thrilled that I was able to use them to extend the color, texture, and width of the tablescape.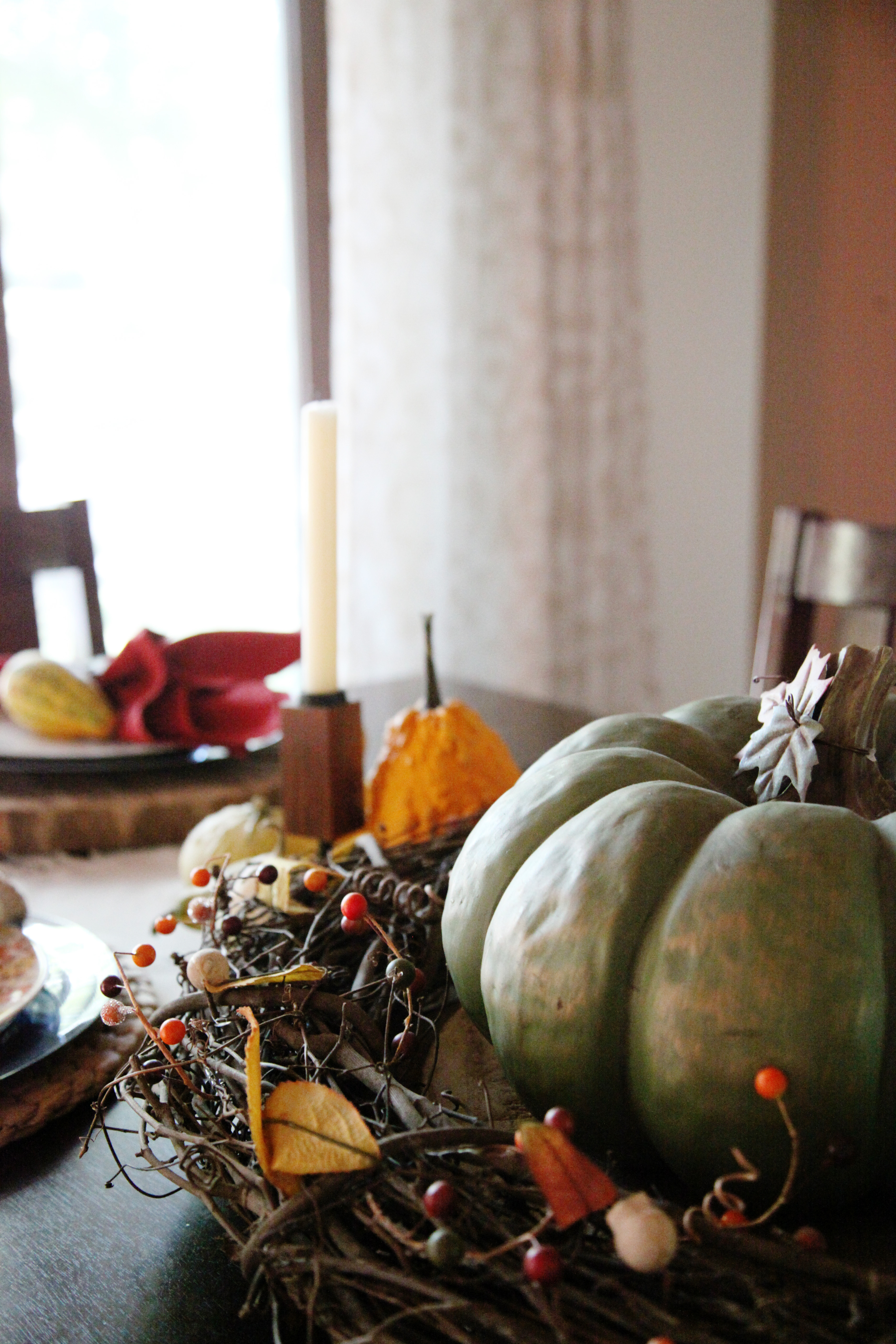 This centerpiece checks off all the boxes for me.  It has a little height (but not too much), lots of texture, and isn't too 'perfect'.  Often when I place vases or objects as a centerpiece the specific lines of it bother me because it can feel like the the item is floating on the table instead of pulling it all together.  I've had this vine wreath forever.  It doesn't work on the door in my current house very well and I was debating letting it go.  I'm SO glad I didn't!  It is exactly what this table needed!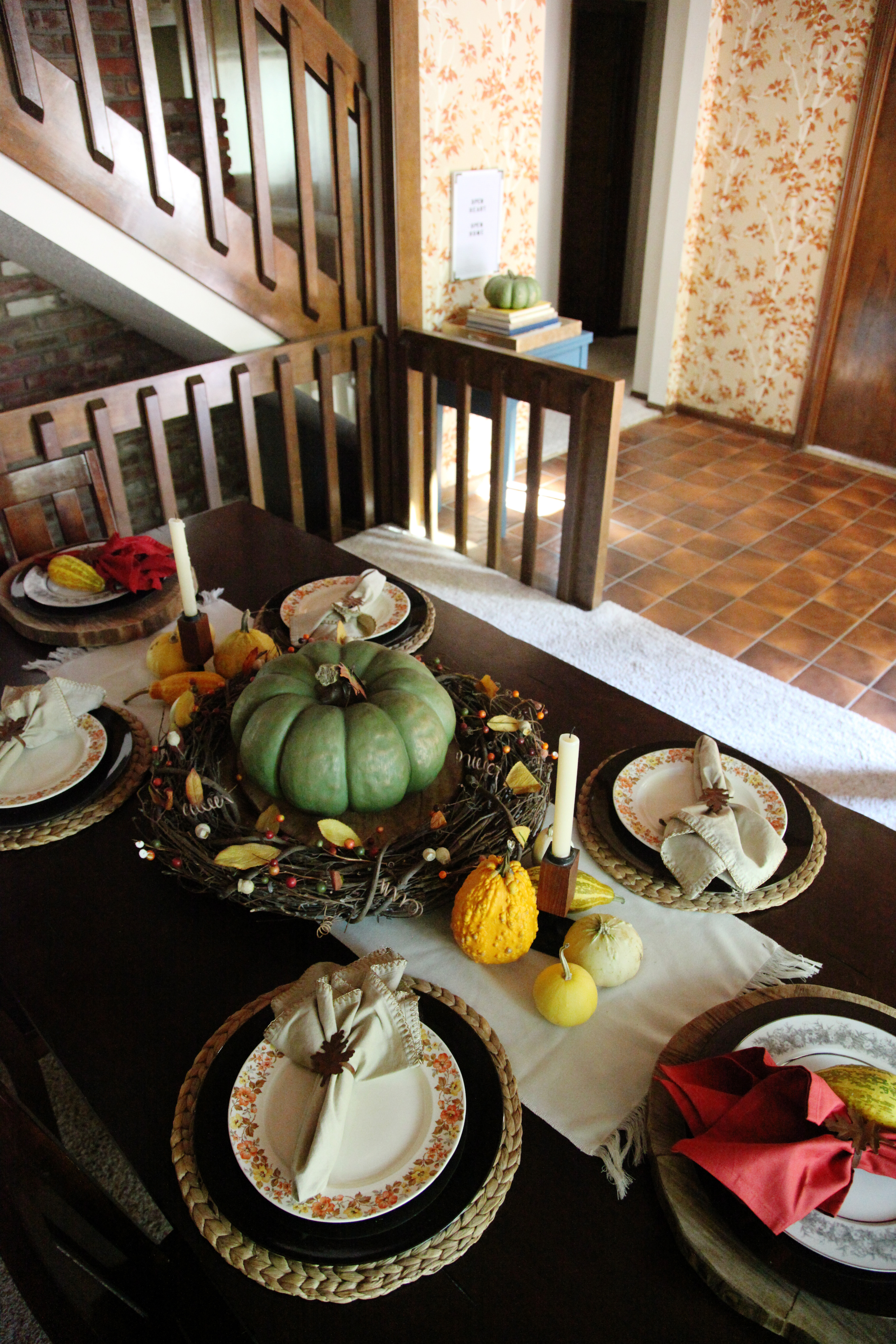 Yep, the wallpaper is still there but at least it matches the plates.  Haha  #nailedit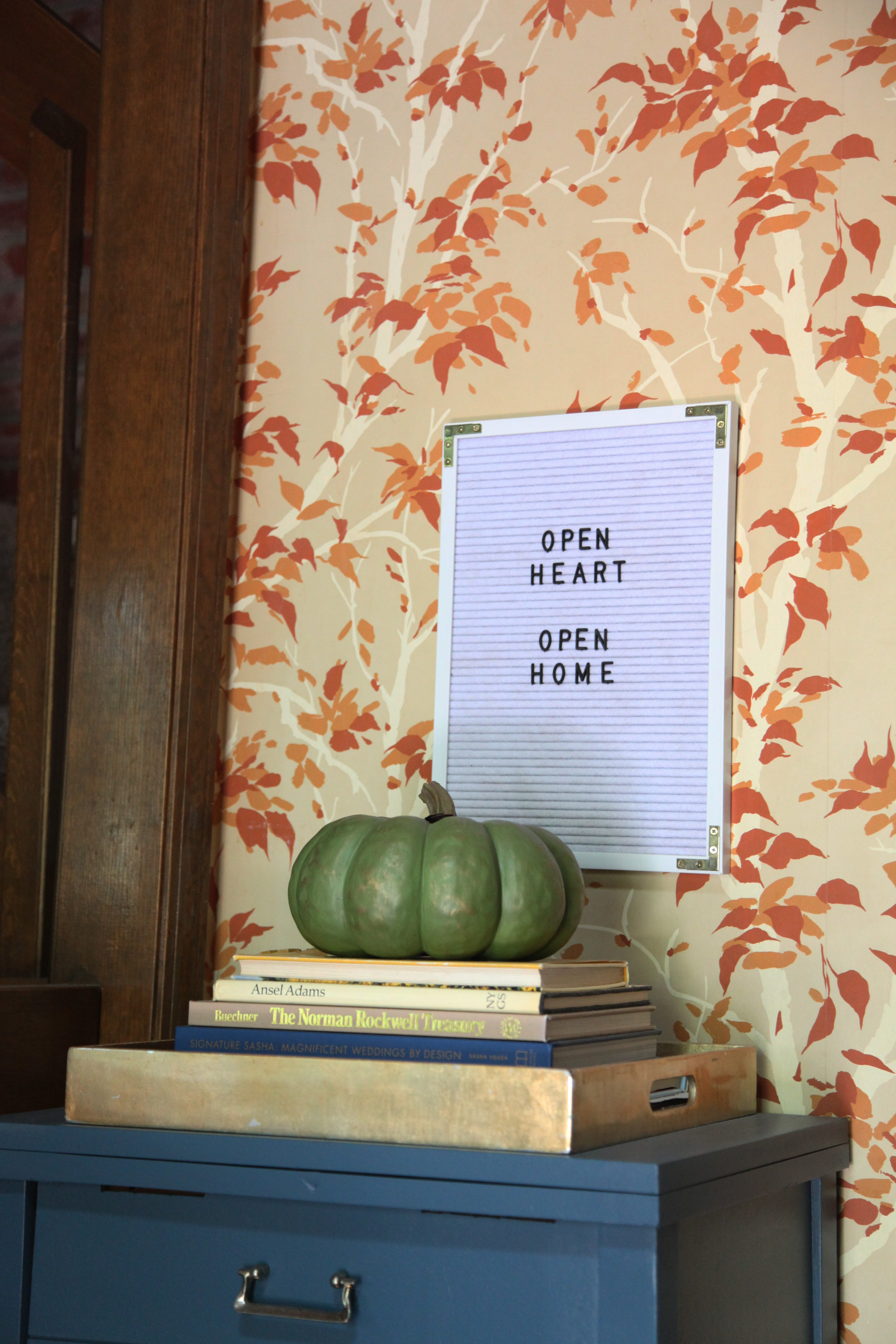 The letter board and entry (see the letter board update here and the table project here) got a fall touch as well with a smaller green pumpkin and 'Open Heart Open Home' phrase.  This idea has been on my heart so very much lately and it seems like the perfect mantra for the holidays.