We have 2 young boys in our home who love all things gross, 'scary', and ghoulish.  I'm pretty sure that's just bred into boys because no matter how much I try to 'nice' it up they still love it.  LOL  So when Halloween rolls around and they start seeing decorations go up in yards and stores they BEG for us to decorate our house.  Although they've never seen zombie movies/shows there is a yard close to school that has an entire zombie theme that my kids LOVE.  (YIKES!)  That's never happening at my house but I knew that I needed to do something to help endear our boys to our own home.  I began looking for fun Halloween porch decorations that would walk the fine line between me and the boys and I think I landed on a perfect combo.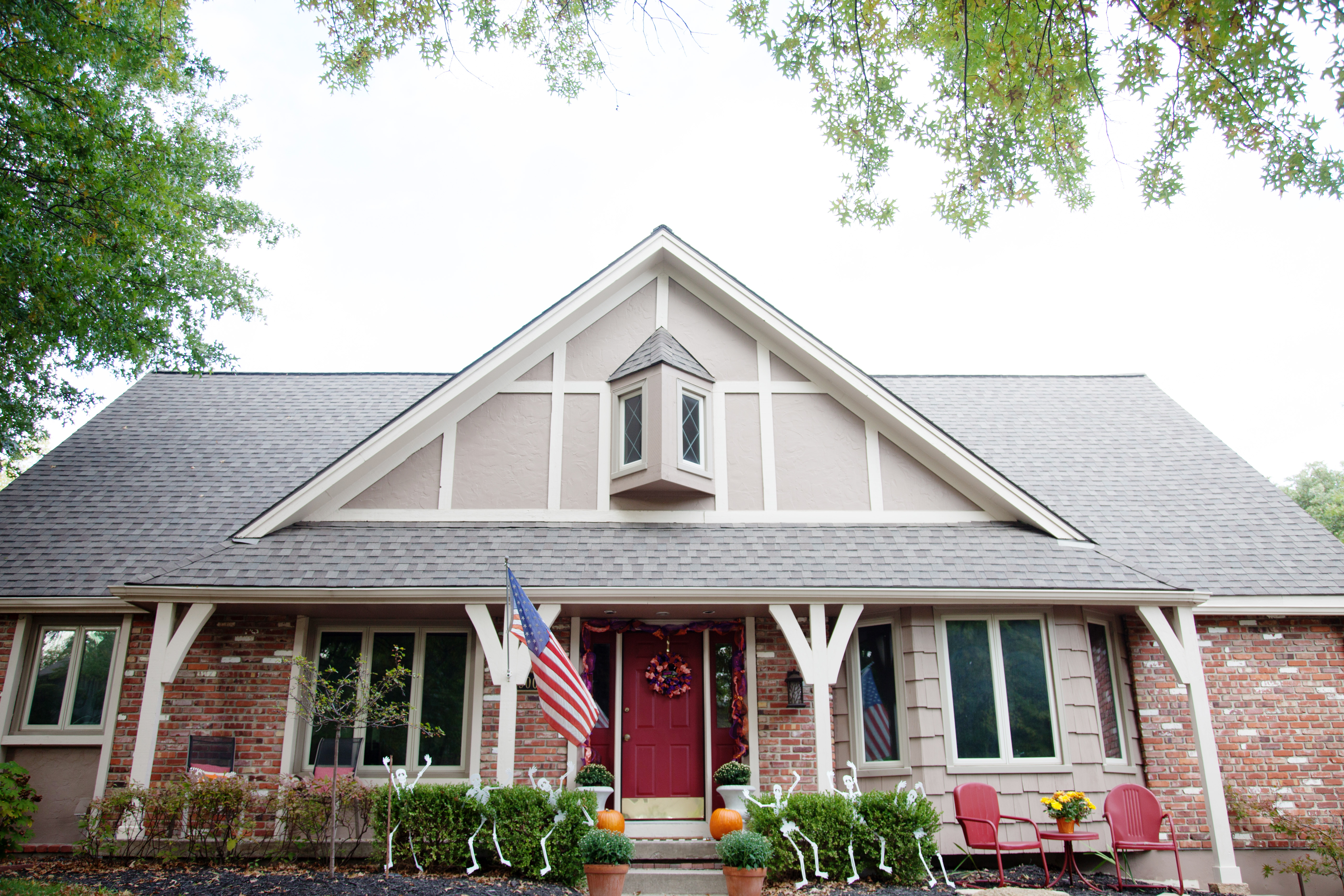 A few years ago I decided I needed to learn how to make deco mesh wreaths.  (WHY?  No idea.)  When I figured it out (so easy, btw) I went a little crazy and made deco mesh everything.  Personally I think it works great for Halloween! The garland may be on it's last leg thanks to poor storage but the wreath is still going strong.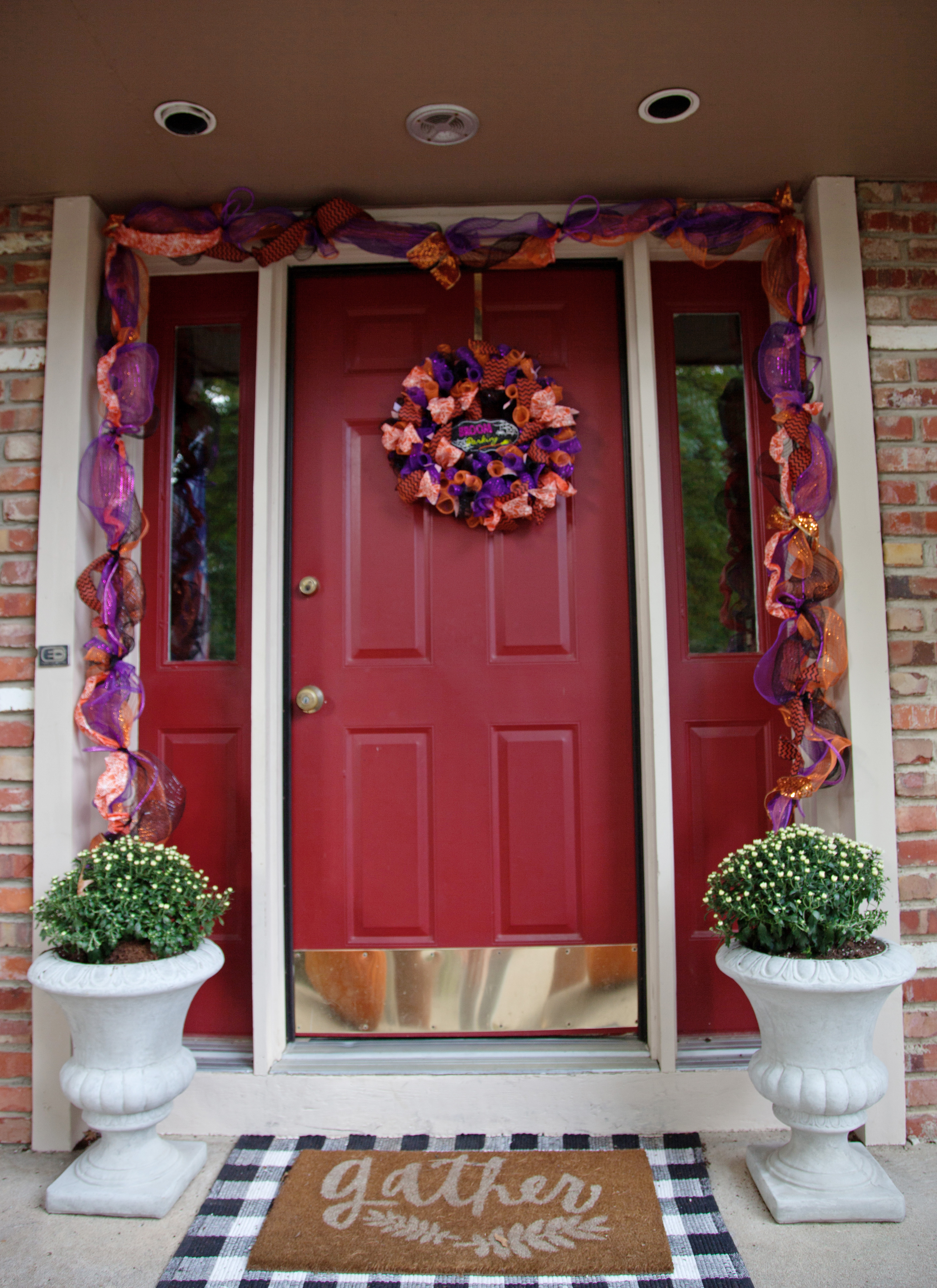 These skeletons won't win any awards for their scare factor they get an A+ in my book for fun and they are really what take this yard up a notch.  My boys love them too, despite them not being gross or gruesome, and think it's hilarious to rearrange their bodies (especially in the morning so our neighbors think they move overnight 😉 ).  These guys were $1 each at the Dollar Tree and have been well worth the investment!  I also love that they fold up really small so they don't take up much room to store.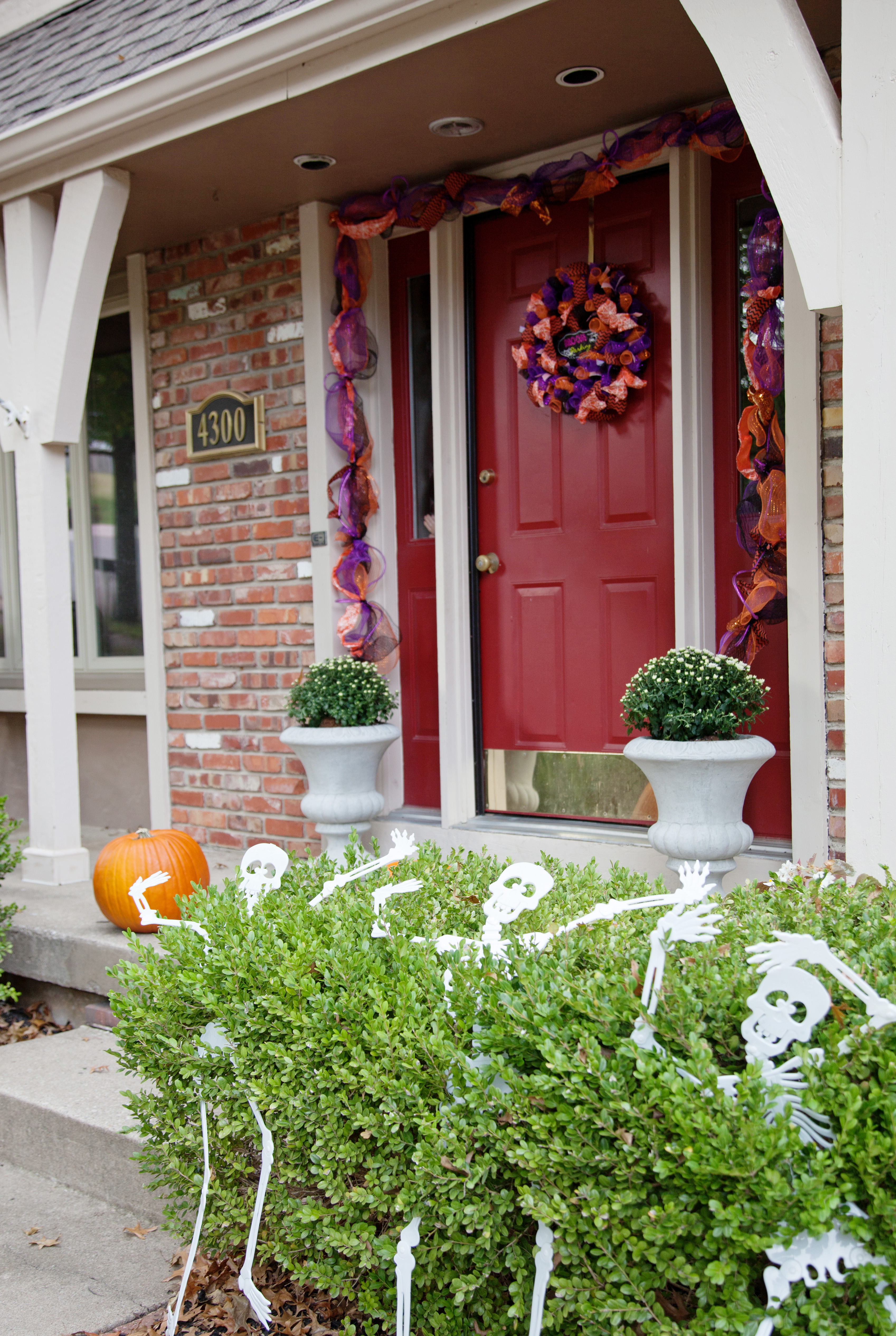 Of course no Halloween or fall porch decorations would be complete without pumpkins and mums.  I'm a little light on pumpkins because we still haven't hit the pumpkin patch this year.  I finally got mums planted but of course they haven't bloomed yet.  Give me a week or so and they'll be great!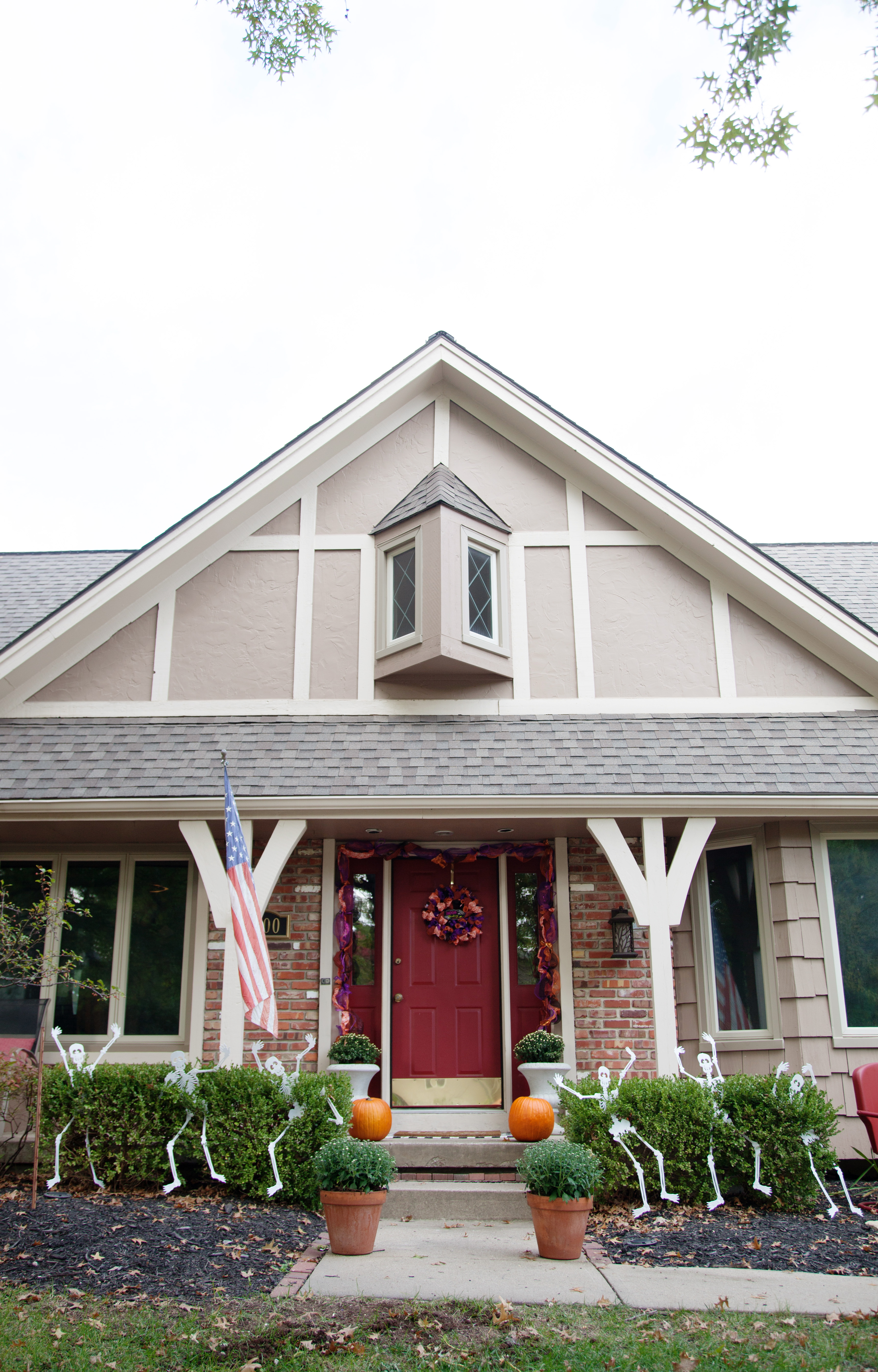 I didn't do much inside for Halloween but the most exciting thing I've added this year (again for my boys) are these crazy, whimsical spider webs.  Y'all if these are good enough for Emily Henderson then they are more than fine for an outdated wallpaper entry in the Midwest LOL  (especially when I found them 90% off at Target last year).  The boys think these are amazing and they are so big that I don't feel like I need to do much else inside to set the Halloween spirit.  I won't claim that I nailed the execution or that it isn't the equivalent of a yard blow up inside the house but in this moment if it makes my boys smile then it makes me smile.  🙂  #boymomwin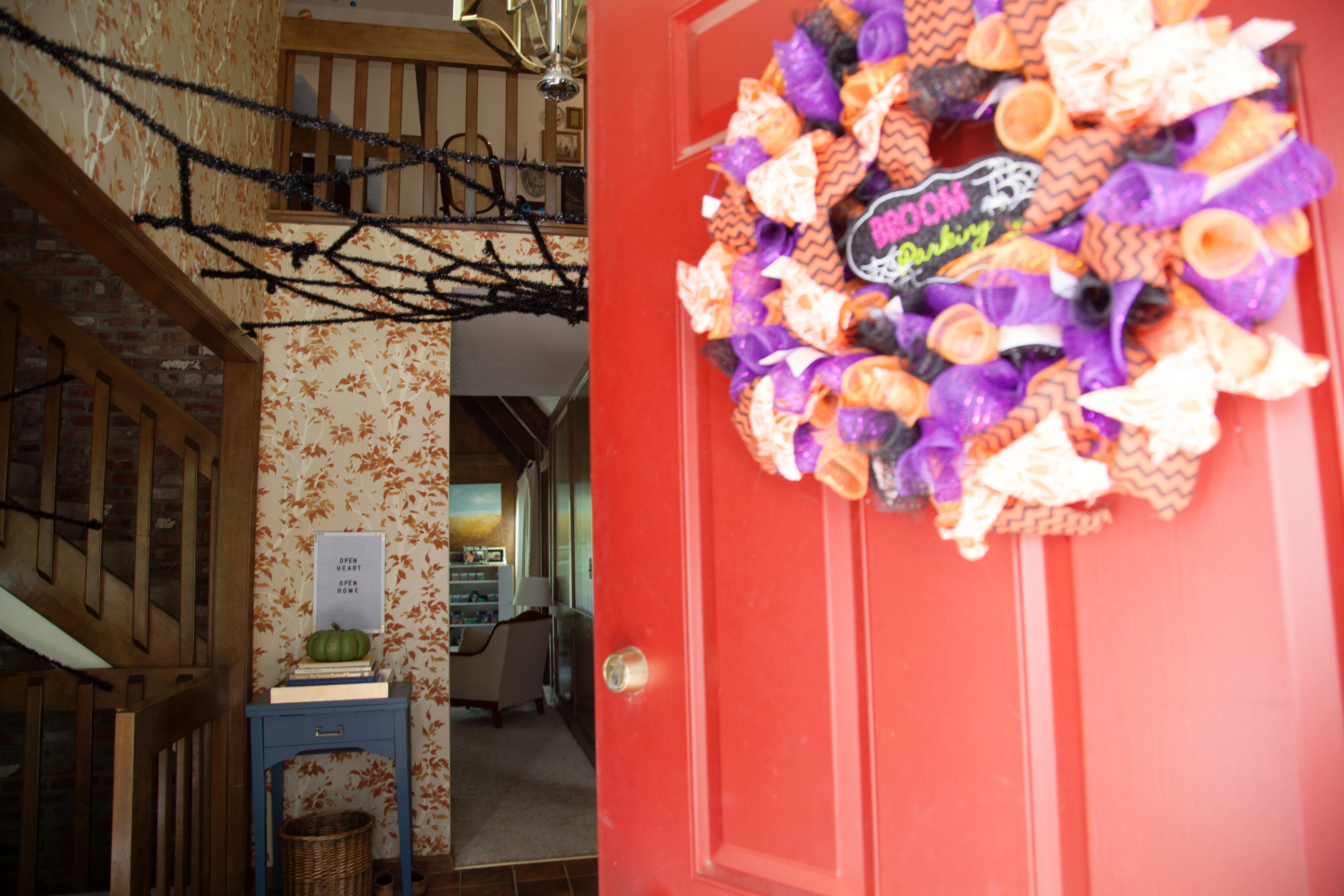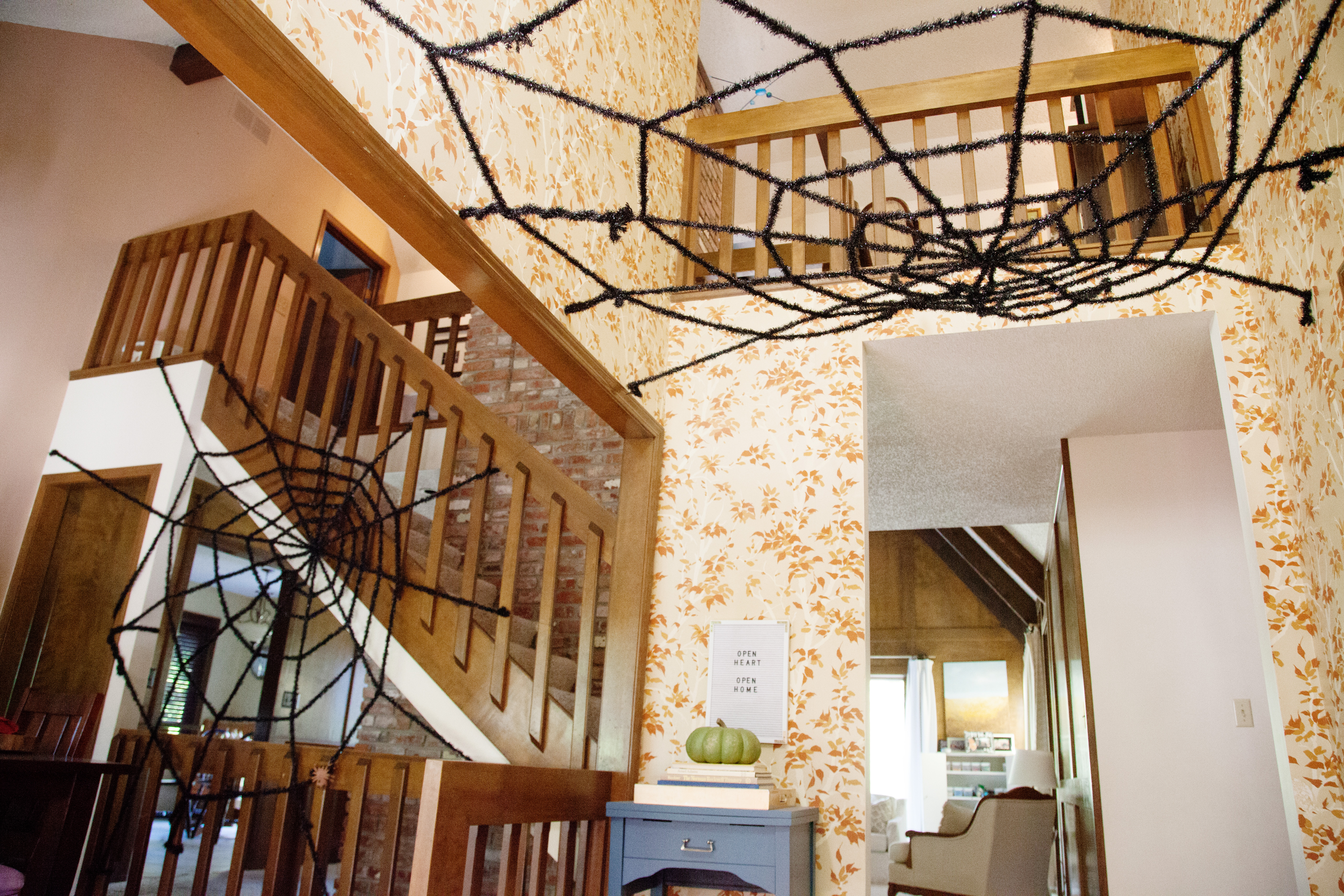 Do you decorate your porch for Halloween or just do fall decor?  I've just started doing a Halloween porch the last few years (because of the boys) and am still conflicted about if I should start fall with the Halloween decor or just interrupt the fall stuff for a few weeks with the Halloween decorations.  What are your thoughts?
Don't forget to pin!