Before I start saying anything about Hanukkah let me begin by clarifying that I am not Jewish.  Hanukkah isn't in my birthrite and everything that follows is what me & my Jesus loving husband and BFF's have managed to figure out on our own over the past 2 years.  This post is not an expert guide on how to celebrate Hanukkah.  I hope tho that it will be a reference for anyone who desires to begin celebrating this holiday, a Hanukkah 101 if you will.  🙂  I am going to do my very best to pass on whatever knowledge of this holiday I can but please, please, please know that if I get something wrong it is out of ignorance not because I am desiring to hurt anyone.  So if I get something wrong please be nice to me in the comments, ok?  Also keep in mind that all of these photos were taken either on a phone or in a hurry because I wasn't planning on blogging them when they were taken so the quality probably isn't top notch.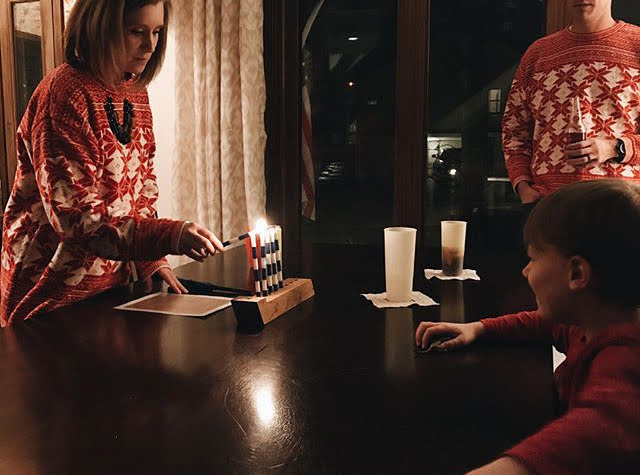 Ok, so why if I'm a Christian (which I am) would I want to celebrate Hanukkah?  For many years I felt like I needed to be apart of this tradition.  Jesus was a Jew and though orthodox Jews don't recognize Christians usually, Christians do recognize that our faith has Jewish roots.  Therefore, it is my belief that Christians celebrating Jewish holidays is honoring of not only our faith but also of the Jewish people.
Secondly, and this is specific to our family, is that the actual dates of Christmas and the days that surround it are incredibly busy.  I live across the street from my life long best friend and her family.  Now that we each have children, we wanted to create a tradition for our families to do each year.  After begrudging the lack of dates available for a Christmas celebration we took it as an opportunity for us to dig into Hannukah.  Straight out of college we took a few Jewish roots classes at a local Messianic synagogue. To this day some of the lessons we learned there guide how I view things.  For any Christians out there I highly recommend doing this.
Knowing that we wanted to celebrate Hannukah we had to figure out how.  To be honest the first year we pretty much made it up.  We did locate the blessings and light the candles, we didn't celebrate on the correct date or eat the right food tho.  (Indian food totally counts right?)  But that was ok because we did it. Before last year rolled around we figured more stuff out (apparently you eat brisket, not Tikka Masala) and to be 100% honest, it was an absolutely beautiful celebration.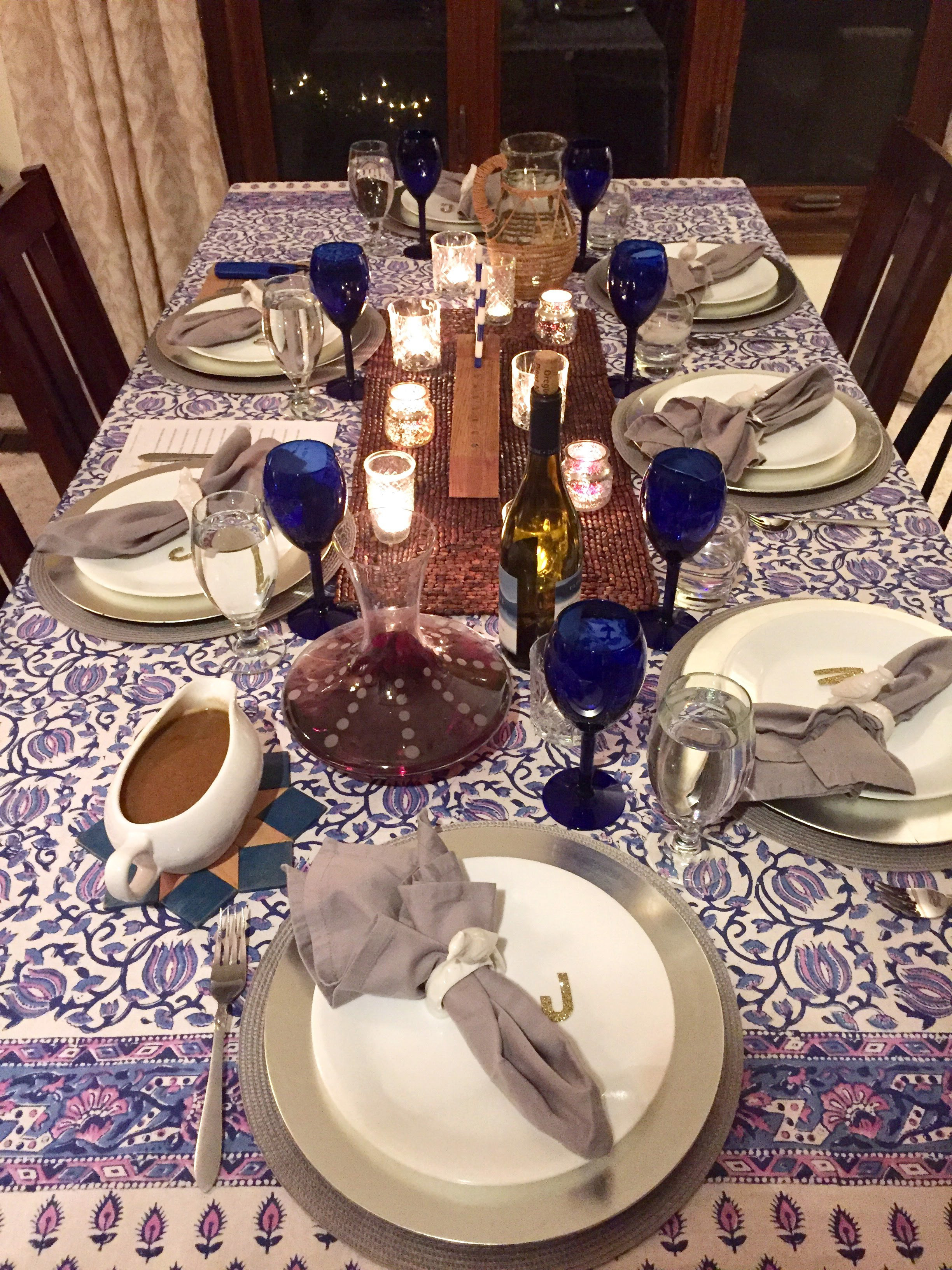 What is Hanukkah?
The simple version of Hanukkah is that the Jews were rebuilding their temple and needed oil for their lamps.  They had a small jar of oil, which was not enough to keep the menorah going.  The messenger they sent for more oil took 8 days to return but miraculously the small jar of oil kept the light burning the full 8 days.
Because we aren't Jewish we didn't grow up with the Hanukkah story.  Before the blessings on the first night we like to read a simplified version of Hanukkah.  Here is the one that we read.
To read much better & full descriptions of Hanukkah click here and here.

Hanukkah Basics:
When:  This year Hanukkah 2018 will begin in the evening of Sunday, December 2 and ends in the evening of Monday, December 10
How:  Each night for 8 nights after sunset, before the meal, the family gathers around a menorah and a female recites the blessings.  (Tho all families can and should celebrate, with or without a female present.) On the first night you recite all three of the blessings and each night after that you do two.  Here is a link to all three blessings.
What:  To celebrate correctly you need a menorah and candles.  Traditional Hanukkah food is prepared in oil. Foods normally associated with this holiday are latkes, beef brisket, donuts and applesauce.  Oily foods are served as a reminder of the miracle that the oil lasted 8 days when it should have lasted 1.
After the blessings are read candles should be added to the menorah left to right.  Then on the first night you light the shammas candle (the helper candle in the middle) and the far right candle.  Candles are added from right to left (just as Hebrew is written).  Candles must burn for at least half an hour, most traditional Hanukkah candles will burn for 1 hour.
No Hanukkah celebration would be complete without playing dreidel!  It's a bit like religious gambling, which is hilarious.  Our kids caught on super fast and we enjoyed playing it all throughout Hanukkah.  This is an easy to use printable reference guide to help you get started!  Click here for another step by step tutorial.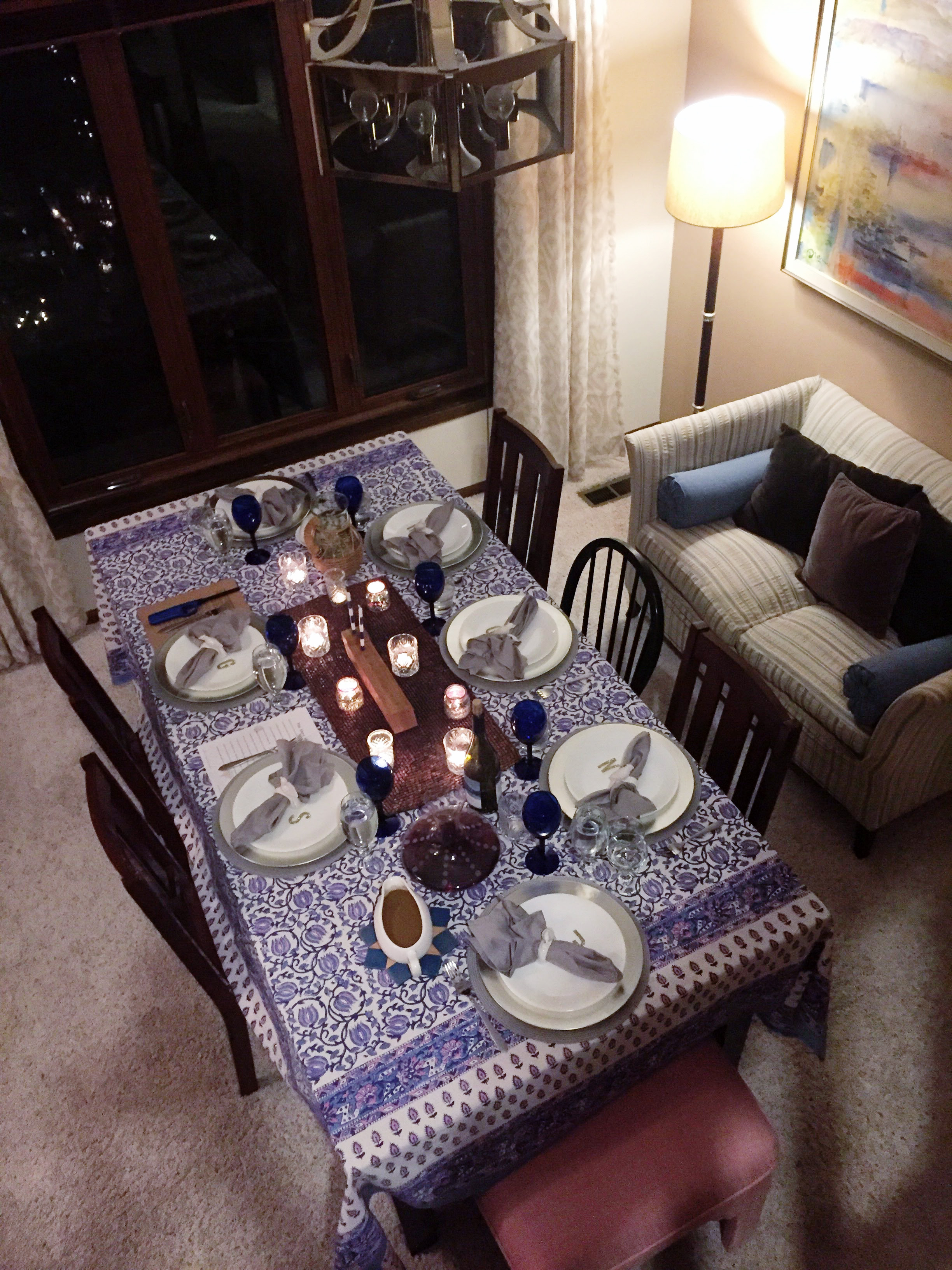 I have a pinterest board dedicated to all things Hanukkah.  I link to all of the links above as well as some fun decor & craft stuff to celebrate.  Click here to check it out!
Don't forget to pin!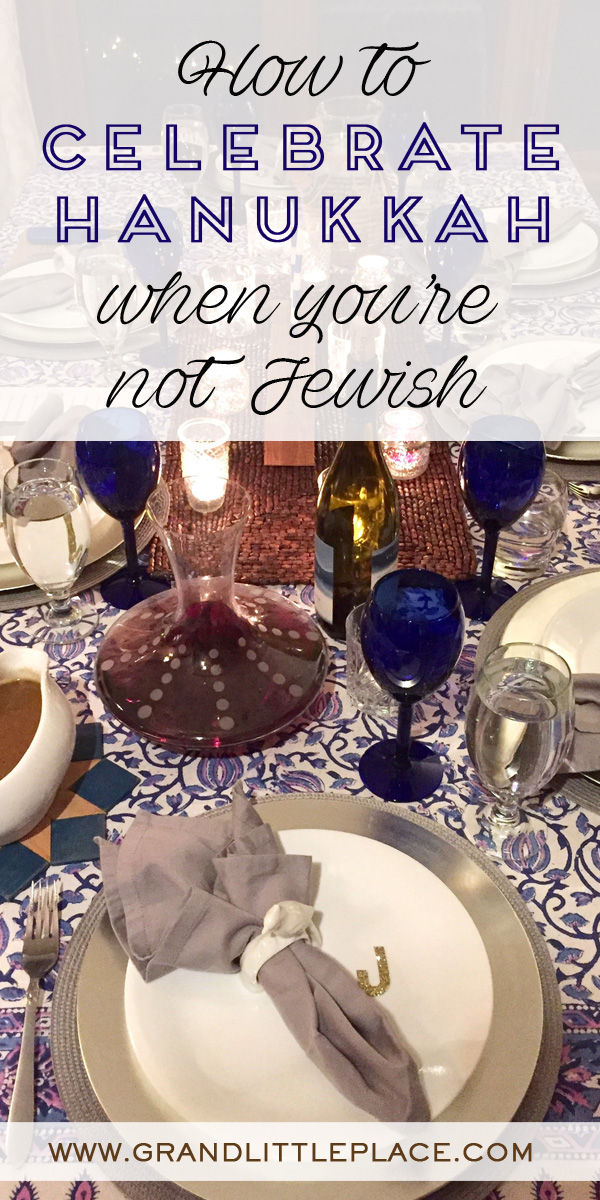 (This post may contain affiliate links.  If you shop from one of these links it helps support this blog.  Products do not cost more when you shop through an affiliate link.  To read all of this blogs disclosures and policies click here.)