My oldest son is about to turn 7.  SEVEN.  I can't even begin to wrap my head around that.  In my mind he's still brand new and we are still learning how to be parents.  (Ok, let's be real, he may be almost seven but we are still learning how to be parents.  I'm not sure that ever changes, does it?)  I feel like his newness is still real to me.  The excitement of impending motherhood still feels fresh.  I can still remember daydreaming over what his nursery should be.  So in honor of my Davis's birthday I'm taking a look back at his very first room.  This babe has had 4 incarnations of a room at this point, and it will be changing again this summer.  But this room was his very first one.  His dad and I chose each item so carefully and did a lot of DIY to create his gray, mint, and aqua nursery.
The showpiece of this nursery is the custom made crib.  My dad is an extremely talented carpenter who on the day he learned he would be a grandfather said he was making the crib.  I had no say in the design and honestly didn't know what it would look like until it was delivered.  It is made from 100 year old walnut that was cut on a circular saw at a mill.  My dad sanded it smooth but left enough of the cut marks so it's history would be preserved.  The 'W' is a tribute to our last name and is inlaid into the wood.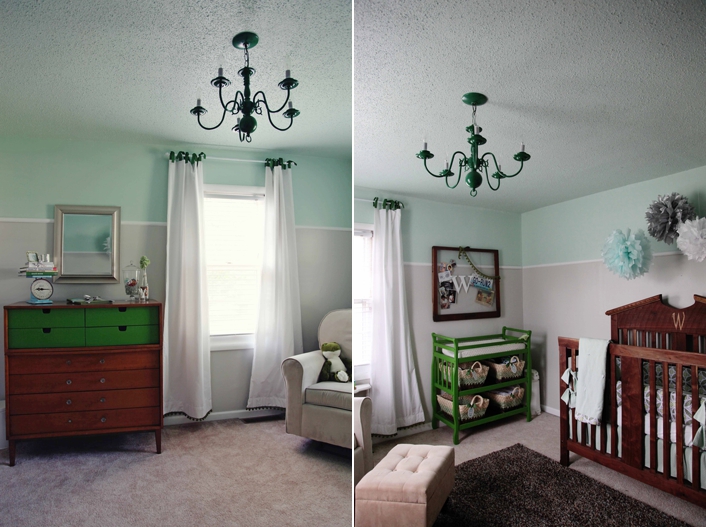 The light fixture made me so happy.  And if you ever want a DIY with nearly instant gratification do a painted chandelier!  🙂  If you ever want whimsy in your house go with a painted chandelier!  The green changing table I also really liked – but it was a massive pain to paint!  For whatever reason I brush painted it and as Sarah and I were painstakingly putting on the 5th (yes FIFTH) coat of paint she asked why I hadn't sprayed it.  I had no answer, I just had never thought of it.  UGH!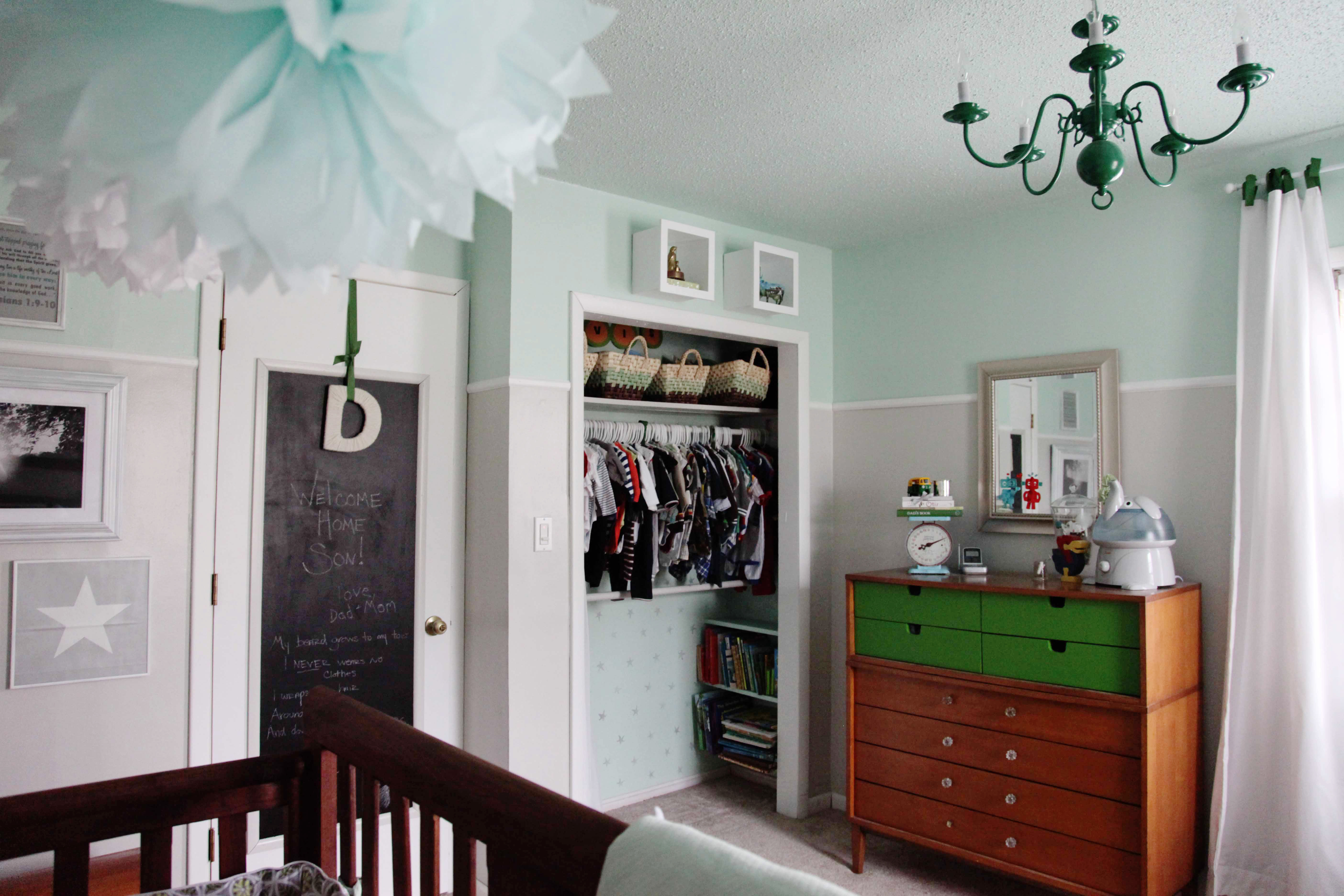 One thing that gave me so much joy about putting this room together was piecing it together.  I know lots of people like to buy a set of furniture, but that's just not me!  This dresser was a second hand find that was in great condition except the drawer fronts.  I wasn't sold on it when I bought it but my husband really loved it, so home it came.
I was a little freaked out because when I arrived to look at it (photos unseen) an older man met me at the side door of his home and led me to an attic.  He had several dressers that I looked at and texted pictures of to my husband.  Chris chose this one and for $30 this one came home with me (yes, $30).  The dresser is really unique because it's actually two pieces not one.  The upper drawer section is not attached to the bottom chest.  I don't know why it's designed that way. Because I didn't love it at first I changed the hardware but I have since put the original hardware back on (that I actually love now, ha) and painted the drawer fronts a navy (they were originally white).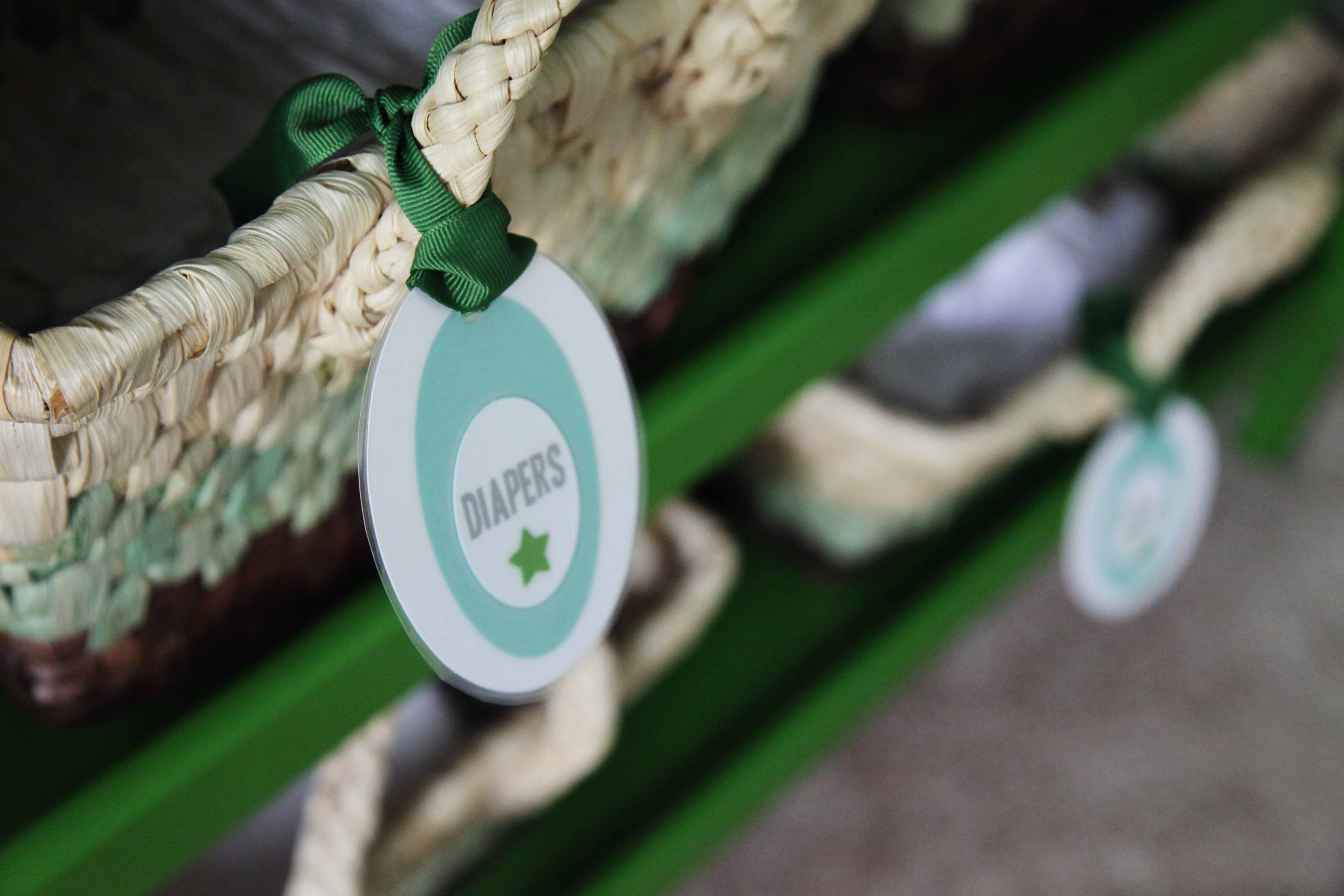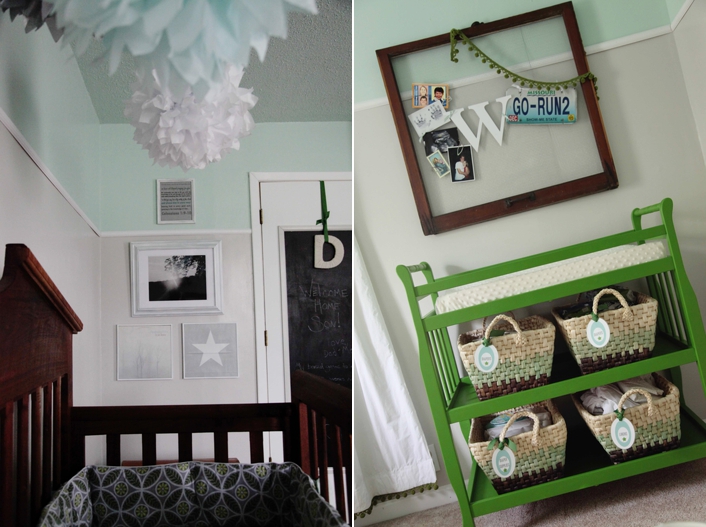 We were a cloth diapering family and loved it.  Click here to read my Cloth Diapering 101 if you are looking to get started or have questions.  If you are considering it at all we highly recommend it!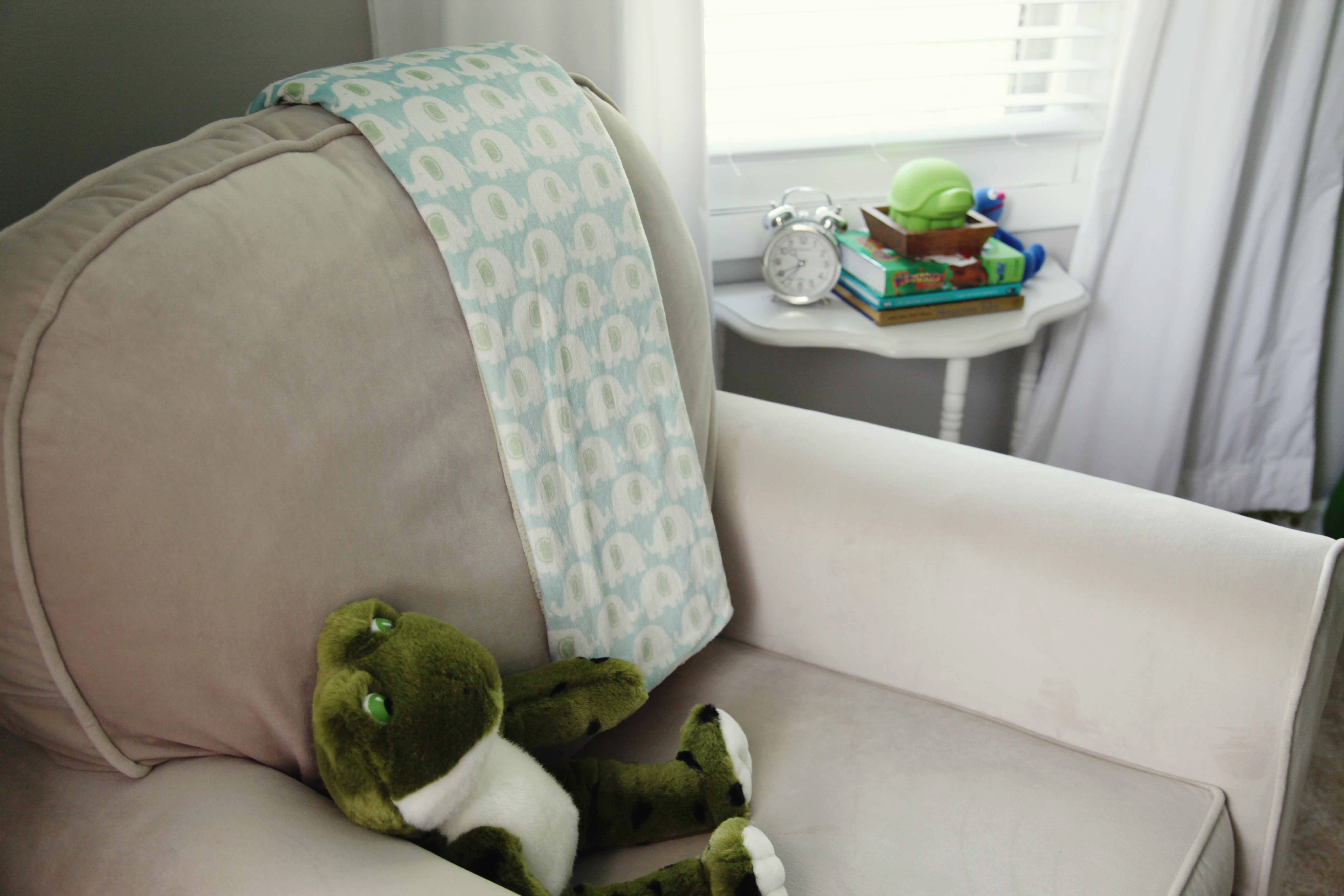 I didn't have a lot of opinions about baby gear going into motherhood, but I knew that I wanted the most comfortable chair I could possibly afford.  This one was AMAZING and if I could have reasonably used it in any other part of my house after we were done with it I would have!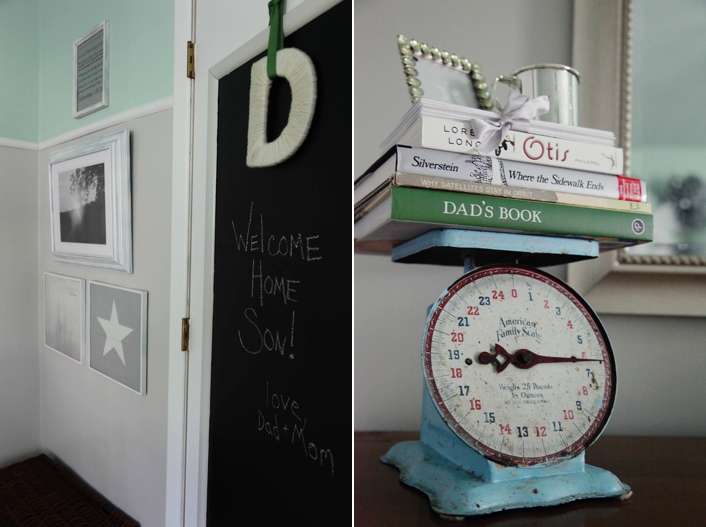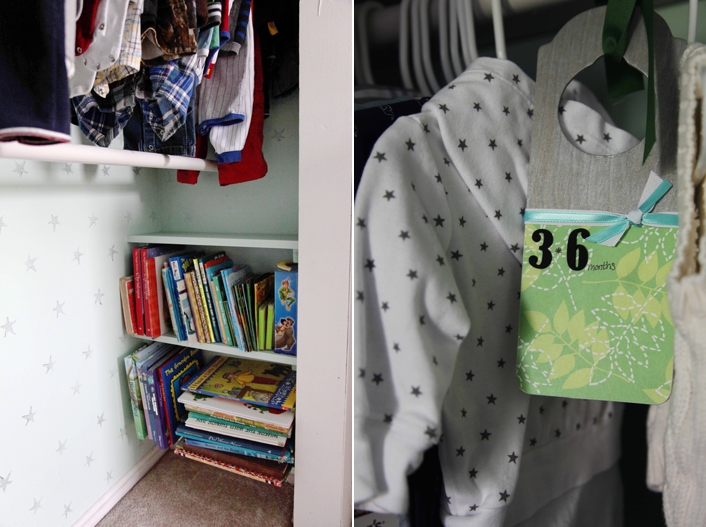 We painted the closet mint (the bedroom walls were grey) and I used a potato stamp carved into a star shape and silver craft paint to stamp the inside of his closet.  The bookshelves ended up being one of his favorite places to be in the room as he got old enough to navigate.  The clothing separators were a fun DIY using scrapbook paper, stickers and wooden door hangers.
This room was a joy to decorate.  It was a joy to be in.  So it was huge thrill when I got an email randomly one day from the editors at Apartment Therapy saying that they wanted to publish the nursery on their site!  I had submitted the images to them on a whim and didn't expect to hear anything back.  It took so long for them to respond I had actually forgotten about it.  You can click here to read the full feature.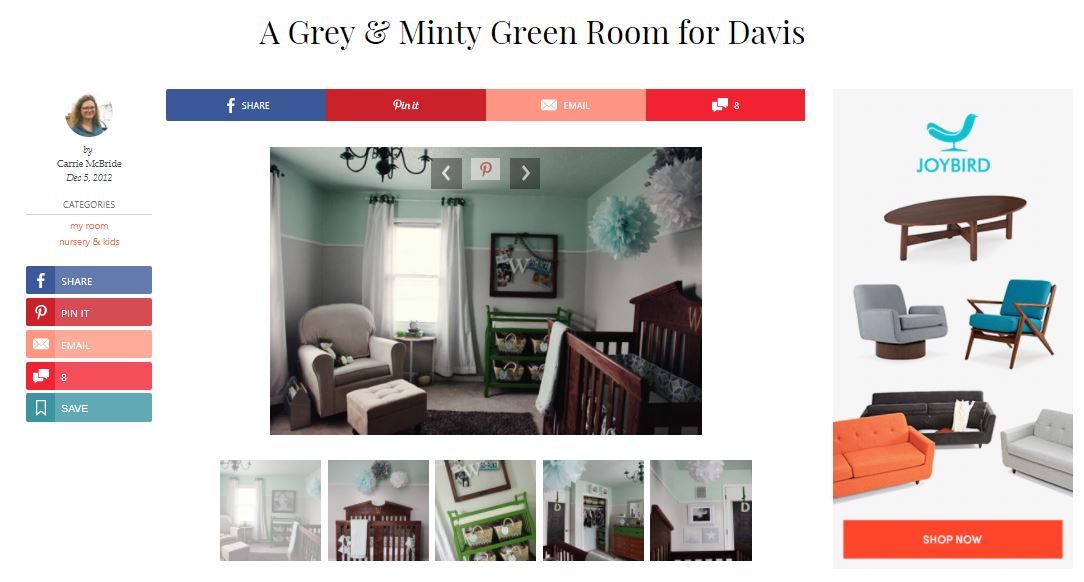 Thanks for riding along with me down memory lane!
Don't forget to pin!