(This post may contain affiliate links.  If you shop from one of these links it helps support this blog.  Products do not cost more when you shop through an affiliate link.  To read all of this blogs disclosures and policies click here.)
Our old house had 3 bedrooms, with the smallest of the bedrooms measuring in at just 9×11 – teeny!  Until our youngest son was born this was used as a guest room.  We always kept a full size bed and dresser in the room.  There wasn't a lot of walking around room but it served it's purpose as a guest room well.  Of course when baby #2 came along it was time for us to change it up to make a nursery just for him.  In all honesty it was time for the room to have a refresh anyway. It was even more fun that the change was something totally different!
Since this room was directly across the hall from our older son we thought it would be nice to use similar colors in each of the boys rooms.  We used a slightly more muted teal than the aqua that was in big brothers room but opted to use the same gray paint that was on his walls.  We swapped it up by painting alternating stripes of matte/glossy paint.  It was a little thing but it really gave this room a touch of something special. It also really lightened it up!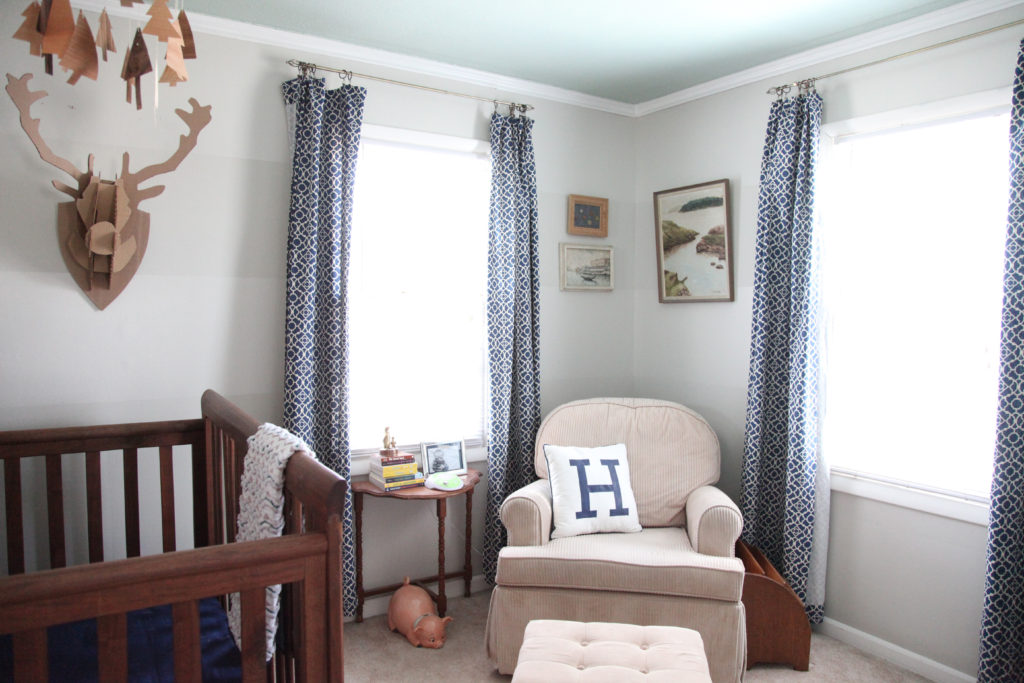 Another thing we did to try and help the spaces connect to each other was their curtains in the same pattern but in their respective accent colors.  H's accent color is navy and Davis's is green.  We were able to use Waverly's Lovely Lattice curtain panels since they came in both of the colors we were looking for.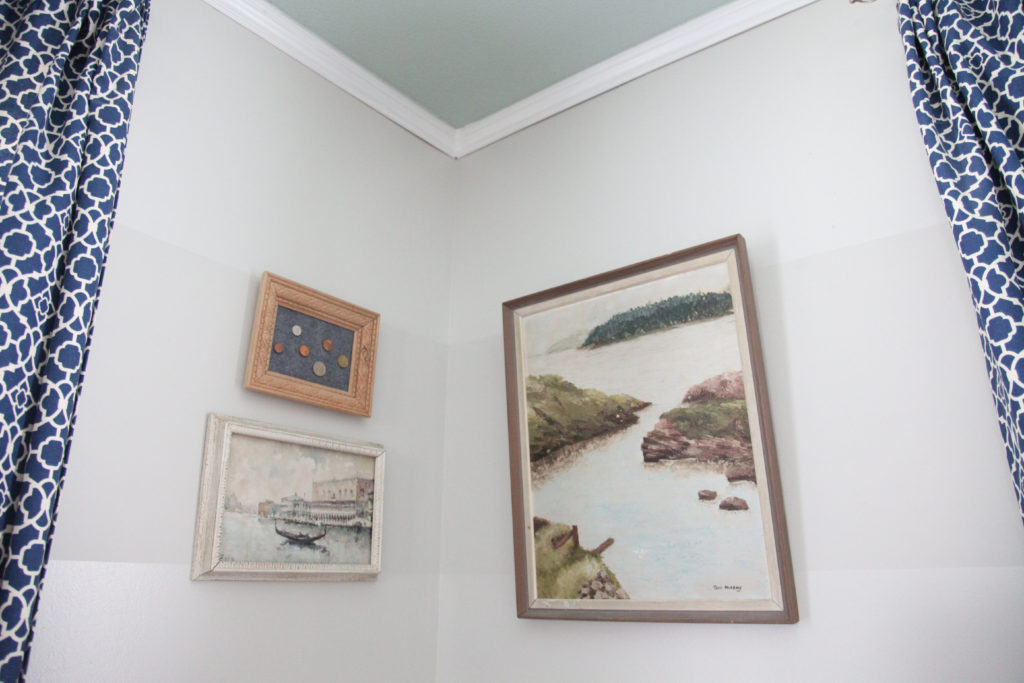 I try and use original art whenever is possible and luckily for us the painting on the bottom left came to us from my husband's grandparents and the painting on the right was a treasure we picked up while in Ireland. That painting was a no brainer for the nursery because we actually found out we were pregnant while on the trip!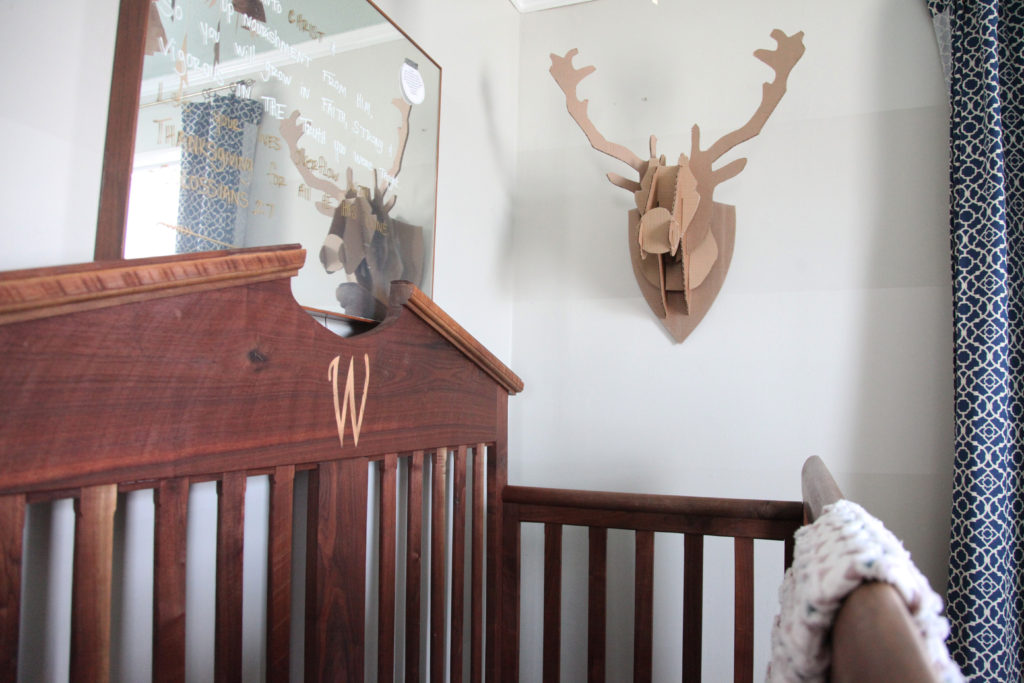 My dad hand made the crib from old walnut that had been in someone's barn for 80 years!  The wood had been cut on the circular saw of a sawmill and he was able to retain some of the cut marks while building it.  We are really lucky to have such an heirloom piece for our boys.
The cardboard taxidermy was a DIY that I sketched out.  It's a little rough around the edges but it's pretty fun!  The mobile is from Homespun Txtiles on Etsy.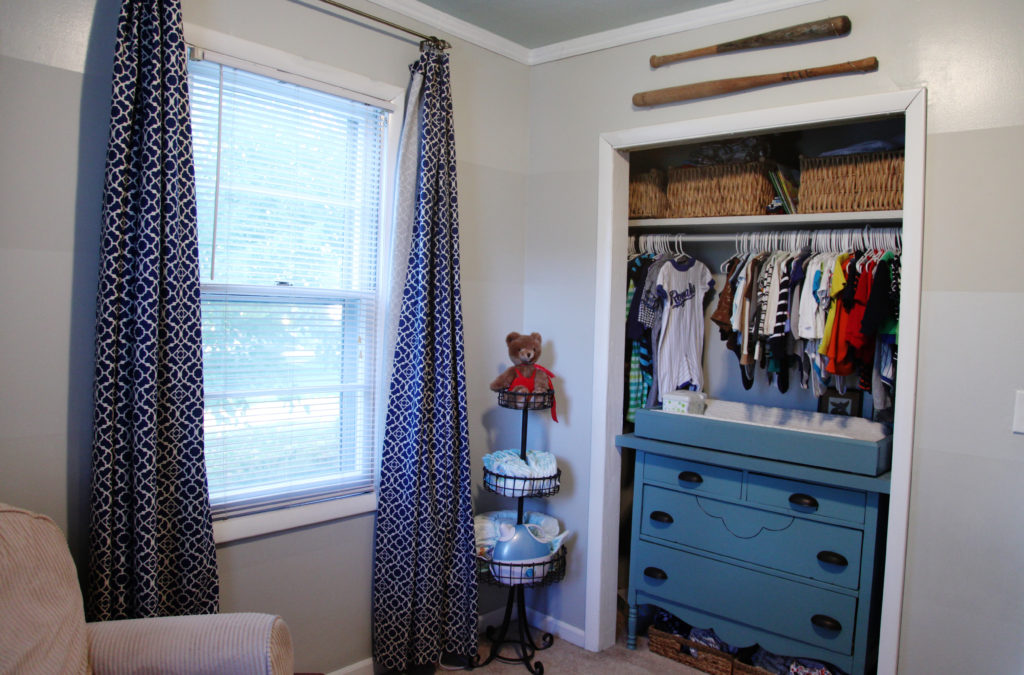 This is the functional, small space, make-it-work, side of the room. 🙂  I tried every combination I could think of to make this room work as a functional nursery.  In the end the only thing that made sense was to have the dresser in the closet.  I've had the dresser forever but in this case it proved to be just the right thing.  To maximize space we slide the dresser into the closet and built a changing tray that slid out.
HOW WE BUILT THE SLIDE OUT CHANGING TABLE FOR OUR NURSERY
My husband attached 2×4 supports to the side and behind the dresser.  Then he built a shelf on top of the dresser that attached to the stud supports.  We measured the changing pad and made a tray that the pad could fit into.  Our tray had a few inches extra all the way around.  Once those two pieces were built we bought drawer slides that were rated for the highest weight.  We attached 3 to the bottom of the tray/top of the shelf.   The tray/shelf were painted the same color as the dresser so it all blended seamlessly.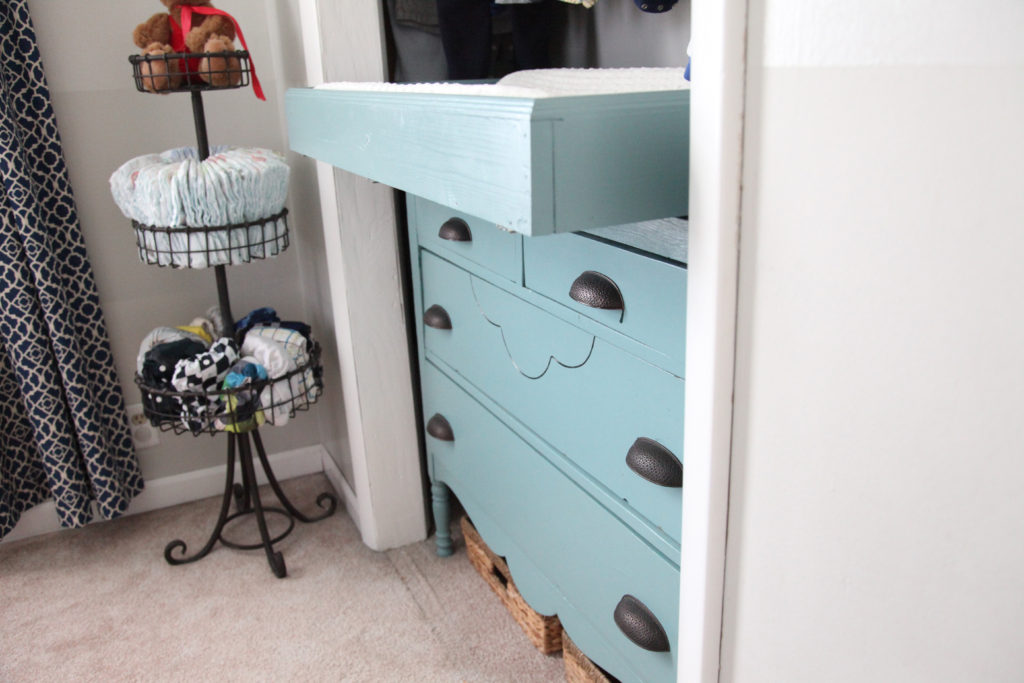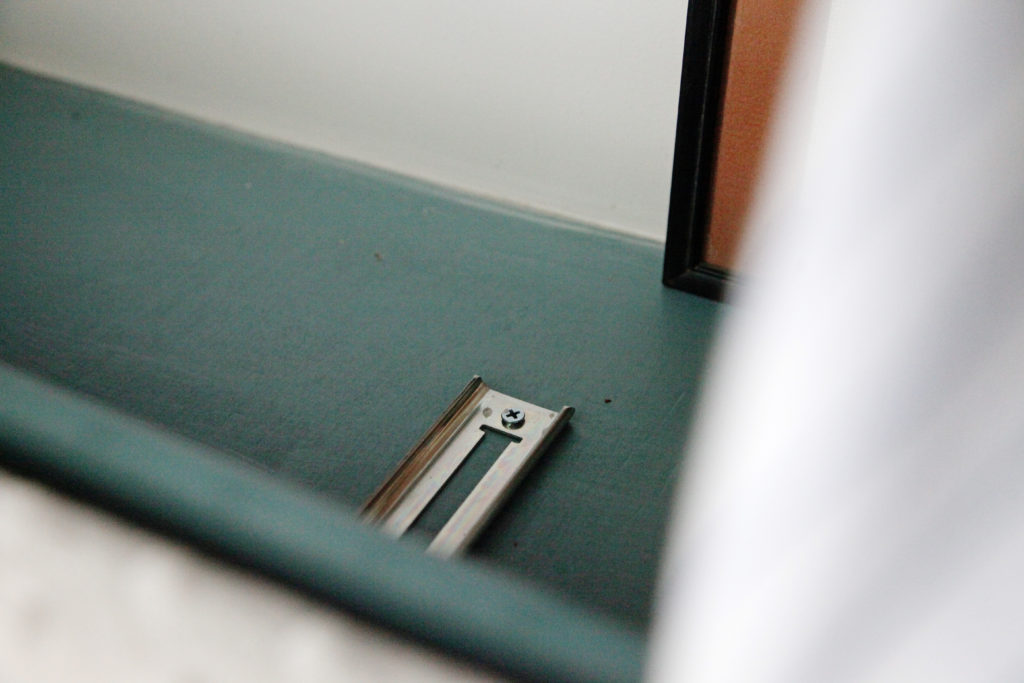 We added matching baskets to the top of the closet & under the dresser for all the things baby's need stored. The round 3 tiered rack in the corner held diapers.  That wasn't ever my favorite piece, but it served a purpose.  We primarily cloth diapered so most of the time our cloth diaper stash, along with the inserts were kept below the dresser and any disposables were in the round rack.
And that is how you decorate and make a 9×11 tiny bedroom work as a nursery – a little planning and a touch of DIY!  If you're trying to pull together a teeny nursery check out the guide below to get this look!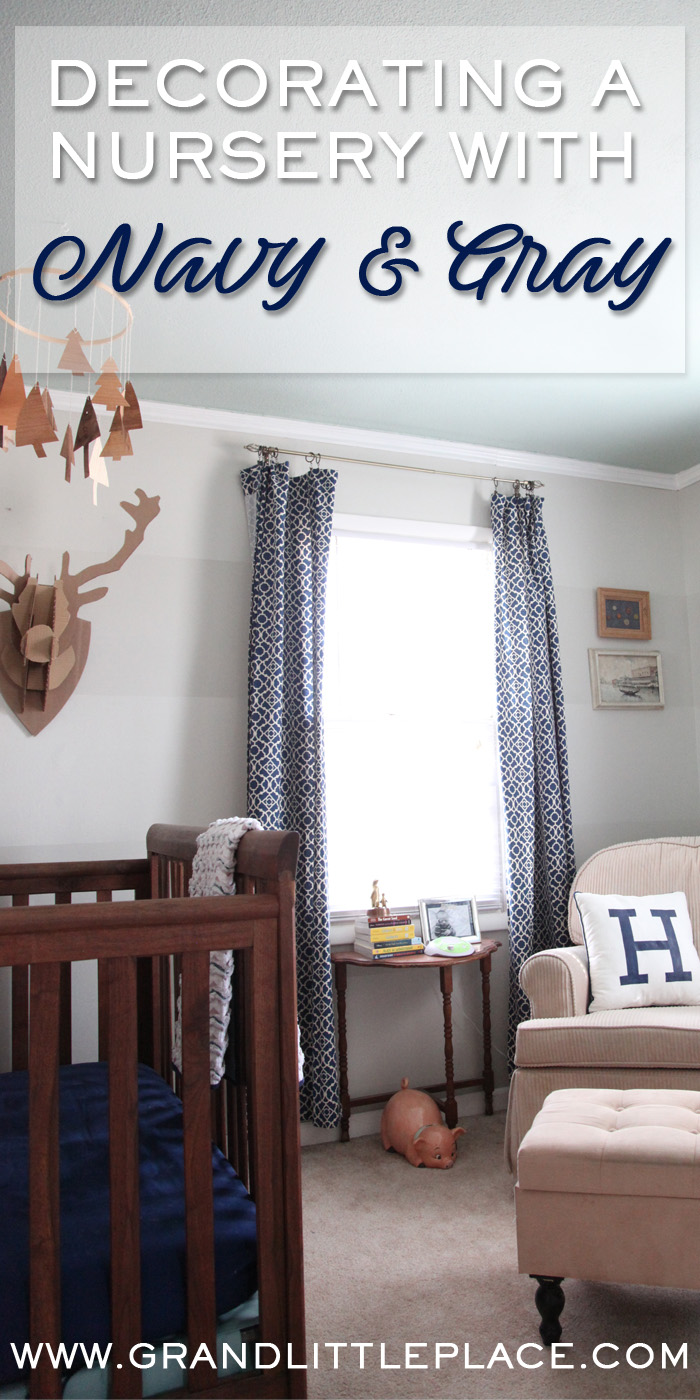 This was the way we built our slide out changing table.  It worked well for us and we had no issues.  However I can not be held responsible for any damages that may arise if you take this project on yourself.  Please due your research and make sure that anything you build for an infant is secure and safe.